Le Reve launches spectacular Falgun and Valentine's collection for 2023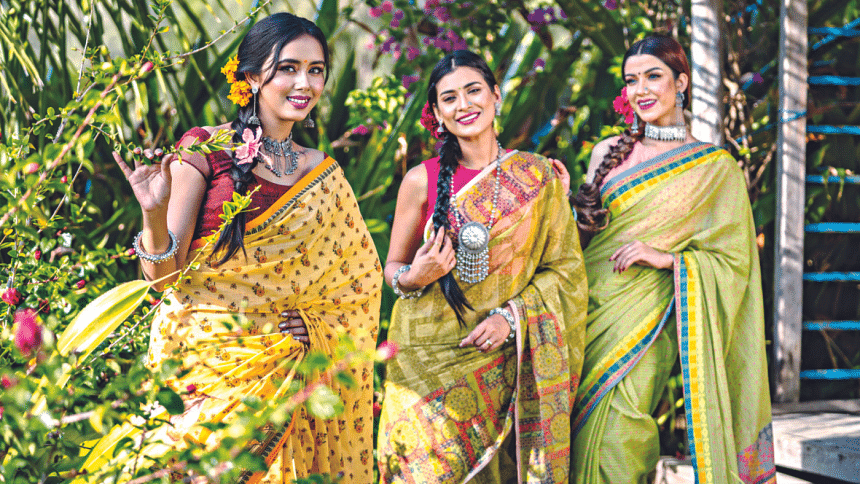 Le Reve is thrilled to make its Falgun Collection 2023 live. The collection embodies the spirit of spring, with bright and bold colours, and the latest fashion trends. The collection is a fusion of international fashion patterns and the vibrancy of the Falgun festival, making it the perfect choice for both events.
This year's Falgun collection features a range of colourful prints and motifs, including the Colourful Camouflage print that showcases abstract art impressions. The Sun-Soaked Floral and Vintage Floral prints are perfect for adding a touch of spring to your outfits. The crafted patchwork print is another standout feature of this collection. There are also minimalist prints like graphic placement, typography, natural stripes, and playful lines.
Le Reve's Falgun collection for women includes short and mid-length tunics, kameez, sari, shalwar kameez, shrugs, top-pant sets, and single tops. The sari collection is truly a sight to behold, with cotton and half-silk options for day and evening wear, as well as exclusive lace-bordered organza saris. Silk and muslin saris come in a variety of prints, borders, and anchal designs.
Le Reve's popular Panjabi collection also gets a touch of the Falgun festival with its range of Viscose, cotton, and jacquard-weave Panjabis with the statement and embellished plackets. Matching pyjama and pant styles are also available. Other casual and comfortable options for men include shirts, T-shirts, polo shirts, and more.
Girls will love the bright and fun frocks, tunics, ghagra-kameez, shalwar kameez, and tops in vibrant prints and comfortable fabrics. Boys can choose from classic Punjabi styles, pyjamas, T-shirts, polo shirts, and casual shirts. And for the little ones, there's even a special selection for new-borns!
Find the Falgun and Valentine's Day Collection 2023 at any Le Reve store in Dhaka, Khulna, Sylhet, Rajshahi, Narayanganj, and Chattogram, or shop online at www.lerevecraze.com.
Keep an eye on the official Le Reve Facebook page (www.facebook.com/lerevecraze) for more updates and information.