Getting your essentials the easy way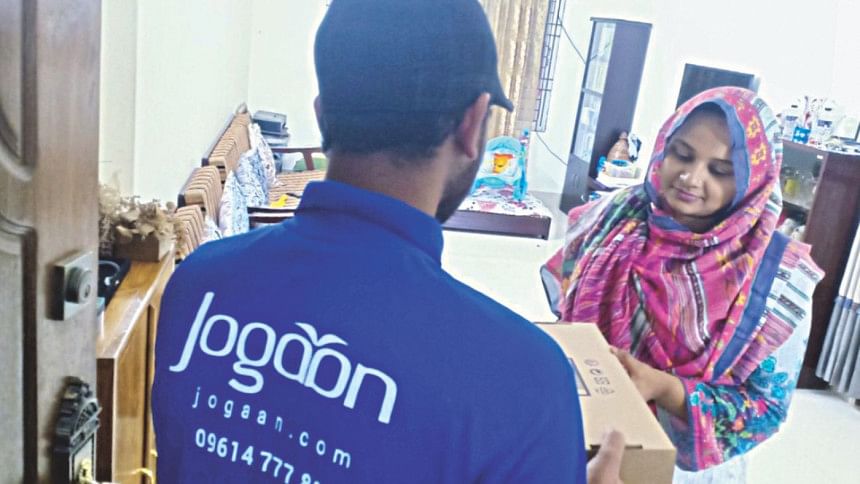 Jogaan.com, an online grocery shop with a clever play on the Bangla word meaning 'supply' or 'delivery,' is focused with the simple mission of meeting people's daily needs in the easiest possible way.
The brainchild of Syed Shahedul Hassan, Tanvir Ahmed Ibne Shafi, and Habibul Haq — three different people from three different professional backgrounds, Jogaan.com launched its services officially on 16 December, 2018.
The online shopping site focuses on the daily needs of the customers, especially the grocery items that cover food, beauty, and personal hygiene products, as well as cleaning products, baby products, healthcare items etc.
At the same time, they cater to corporate houses with stationary, grocery and other office needs. Jogaan.com will also start supplying pharmaceutical items, especially over the counter, to its customers in the near future.
Currently, Jogaan.com has around 2,000 products in their online store, but their target is to increase it to more than 5,000 soon. It always has special focus on baby products. Interestingly, they happen to be one of the best diaper suppliers in Dhaka!
At the retail level, Jogaan.com already covers 50 percent of the Dhaka Metropolitan City, including Gulshan, Banani, Uttara, Bashundhara, Baridhara, Mohakhali, Dhanmondi, Mohammadpur, Lalmatia, etc.
Considering the current context of the existing communication and transportation system, Jogaan.com promises to deliver the goods within three hours. To maintain this, they have personnel placed at the coverage areas who are always on standby to take the order and deliver in their respective areas as fast as possible. In case of any possible delay, customers are updated immediately. Only if the delay is approved then Jogaan.com moves on with the delivery. Jogaan.com also provides delivery updates to its customer in different stages of delivery through SMS and email. Moreover, a customer can know the actual status of the order by calling the hotline 09614777888. 
Jogaan.com gives credit facilities for its regular customers. They have a "Product Request" feature where any customer can get his/her desired product even if it is not available on the website. 
Jogaan.com also takes order over the phone. This feature is designed, especially for senior citizens of the country, who are not yet familiar with online purchase. The online site allows the customers to view their purchase trend of last couple of months and other historical data.
Jogaan.com plans to expand their services throughout Bangladesh within the next few years.
Photo courtesy: Jogaan.com
Special thanks to the co-founders of Jogaan.com: Tanvir Ahmed Ibne Shafi (Managing Director), Syed Shahedul Hassan (Director), and Md. Habibul Haq (Director)
To sign up and avail their services, visit www.jogaan.com
Follow Jogaan.com at www.facebook.com/Jogaan.e-commerce for their latest offers.