#food
Ethnic treats of Chittagong Hill Tracts in Dhaka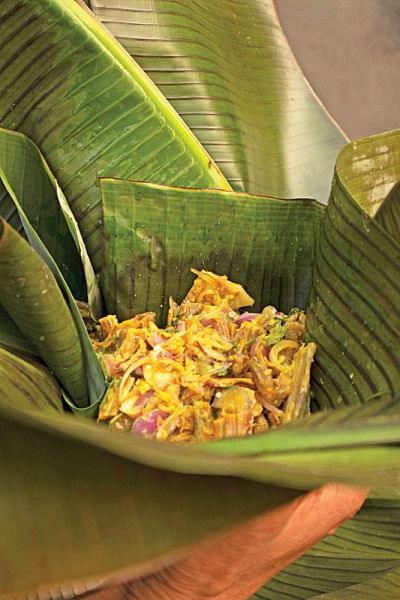 Far away from the capital lies the awe-inspiring Chittagong Hill Tracts, with its pristine natural beauty and distinct cultures. It is therefore obvious that the land is a treasure trove of exotic and delectable cuisines as well; delightful dishes worth trying. And even sitting in Dhaka, one can relish in these tribal treats, with the help of culinary ventures that have come up in the past few years.
These endeavours reflect much more than food, of course. They are inspiring stories of empowerment, entrepreneurship, and diversity.  
And these businesses not only make it possible for us to enjoy ethnic food in Dhaka, but also allow us to promote and support indigenous communities by doing our part as general customers. And as they source ingredients and various other supplies directly from Chittagong Hill Tracts, there is arguably a domino effect as well.
We approached four brands — two brick-and-mortar eateries and two online food businesses — which specialise in ethnic cuisines of the Hill Tracts. In addition to their ventures, we also asked the owners for recommendations of must-try dishes from their kitchens — thus, your bucket list of ethnic foods.
And hence, without further ado, we present to you, a guide to ethnic treats of Chittagong Hill Tracts in Dhaka.
Hebaang
As a pioneer of ethnic cuisine restaurant in the capital, Hebaang's aim was to introduce an authentic Chittagong Hill Tracts menu to the broader population. "Till today, whilst we also get many customers from tribal communities, our main target group comprises of Bengalis," informed Biply Chakma, one of the owners of the renowned eatery.
Having started online in 2016, and then expanding to a brick-and-mortar restaurant in 2018, Hebaang has come a long way, becoming a well-established brand, managed by four sisters including Biply.
From its delectable menu to the interior that complements well with the theme, Hebaang is a must-visit.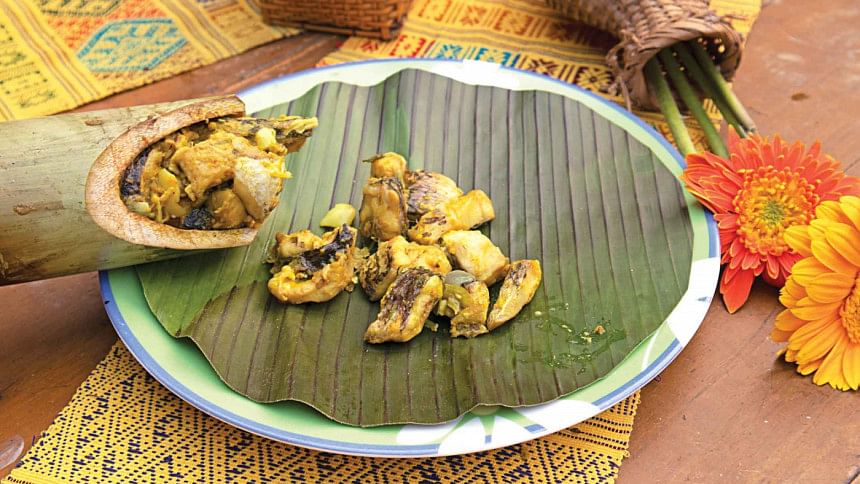 Recommendations: Bamboo Chicken is one of the most popular items in the menu and is also a favourite among the residents of Chittagong Hill Tracts. So much so, all the brands here, without any exception, have mentioned bamboo chicken or bamboo fish as a must-try item.
The exotic flavour and aroma of the dish — owing to the fact that food is stuffed and cooked inside bamboo — is not to be missed.
Biply further suggested a wide variety of items, including their special daal and the Sobji Seddho, which she says are a huge hit among customers.
And of course, when you're at Hebaang, don't forget to try out one or two of their hebaang dishes. "The term hebaang basically refers to a particular recipe method which involves cooking the food in steam," Biply explained.
CHT Express
After completing his formal education on culinary science, Arpon Chakma started CHT Express with the hope of upholding the culture of the hill tracts.
"There is a story behind every food," the owner and head chef said, having explored the rich plethora of ingredients found in the Hill Tracts and applying the much-cherished cooking techniques of the region. "At CHT Express, we want to explain our unique culture and share stories through our food," he added.
Arpon also does not shy away from the concept of fusion, experimenting with some of the items in order to make them more palatable for mass people. 
The eatery has a cosy feel to it, and with the walls featuring alphabets of tribal languages and textiles, the mood for an ethnic dine is quickly set.
Recommendations: Pajon, a brilliant mix of numerous vegetables and shutki, comes highly recommended by not only Arpon, but also by a couple of other chefs featured here.
Arpon says this food item is common during the Biju festival, and quotes a saying about the passion for using large numbers of ingredients in making this item: 'shat pode ghonto baish pode pajon.'
You should also try out egg hebaang from the menu, a delicacy boasting herby flavours that comes wrapped in banana leaves.
Sabereng
Recognising her mother's exceptional culinary skills, Parahita Chakma decided to open Sabereng, a mother-daughter venture of online food delivery service offering home-cooked authentic Chakma cuisine.
"She has been cooking for decades, with skills that have been passed down through generations," Parahita said. "My peers have always appreciated her food, and that's how we thought of coming up with this initiative. And even though our business is still young and rather small, we have made Sabereng into a credible brand with a strong customer base." 
Recommendations: If you enjoy spicy food, Mangso Morich Godiye is a must-have. Parahita says 'godiye' is essentially similar to bhorta, and there are various forms of it. Hence, for example, as the name suggests, Mangso Morich Godiye is a very spicy treat of chicken and chillies.
Sabereng huro is also a specialty in their menu. 'Sabereng' is basically an herb, and when used in this chicken recipe ('huro' means chicken), it gives a unique tangy, lemon-like aroma and flavour.
Parahita ardently adds that the personal favourite of both her mother and herself is bamboo fish.
Jummo Kitchen
For Engki Chakma, her online food venture started casually enough, "quite spontaneously and without much planning," as she says. But with very good response from customers, she did not have to look back, making Jummo Kitchen a hub for cuisines of Chakma, Marma, and Tripura communities.
Recommendations: Engki informed that her signature dish is chicken laksu (also called horbo). "I cook it with 'pahari deshi' (native) chicken, which has its own unique taste. The dish is much-loved by various tribes of the Hill Tracts, and is also a favourite among my Bengali customers," she said.
For desserts, try out Jummo Kitchen's special payesh that is made with binni rice. "The binni rice I use is cultivated in the hills, and its flavour brings a certain taste and texture to the payesh," she explained.
The fact that all these ventures use a variety of indigenous ingredients in their cooking gives these delicacies a very unique taste —something you need to experience for yourself!   
Dhaka now boasts restaurants featuring a staggering number of cuisines from around the world. Amidst this clutter, it will be worthwhile not to overlook our own diversity and variations — like the ethnic cuisines of Chittagong Hill Tracts!
Find these ventures on Facebook by their brand names to order online or for more info.
Photo and Food: Chiangmi Talukder Lena