Chef Asad — The King of Pastry
Ever since the beginning of his career in 2007, Chef Mohammed Asaduzzaman Noor has been a part of The Westin Dhaka. After completing his internship at Pan Pacific Hotel, he got the opportunity to work with The Westin Dhaka and has not looked back since.
"I remember I had a similar offer from another renowned hotel in the country but my heart was telling me to be a part of the Westin family," shared Asad, reminiscing the earlier days of his career.
Now working as the Pastry Chef of Westin Dhaka, he has grown a lot throughout the years. He has worked as Sous Chef, Chef De Partie, Demi Chef De Partie, Commis-I, Commis-II, and Commis Chef at The Westin Dhaka.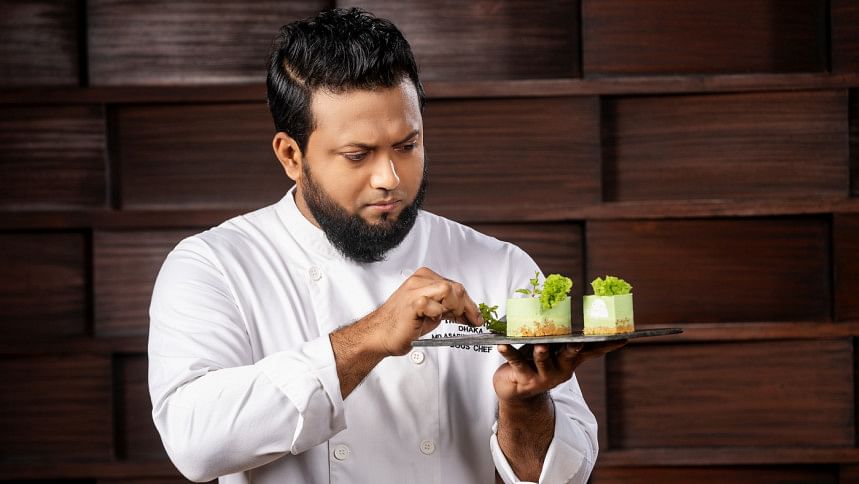 "Just like every other profession, I also had to go through many different phases before reaching the position I am in today," shared Asad.
According to him, when he started as a chef in 2004, this career was not considered to be a potential one. Always been good at academics, and even his parents questioned if this was the right career path for him, but Asad followed his heart and is now known as one of the most celebrated pastry chefs in the country.
During his career, he has also been part of many reality cooking shows as a judge and even worked as a food stylist for many brands. Having been in the industry for over a decade, he loves how the taste of his guests has evolved over the years.
"Even five years ago, guests would want us to create what we want, now guests tell us what they want. They know the ingredients and the texture, and want to be involved in the process," added Asad.
When it comes to preparing a new dessert, Chef Asad sees the plate as a blank canvas. He believes desserts are for the heart. All your senses need to be involved for you to enjoy any sweet delicacy.
Chef Asad also has big plans for himself in the coming years. He set some goals for himself and is working relentlessly to reach them. Sharing more about his plans, the Chef explained, "I like breaking down my goals. For 2023, I am aiming to become the Executive Pastry Chef here at Westin. And if you want to know my long-term goals, then in the next five years, I wish to do something of my own. Maybe an online pastry shop or it might even be a physical store as well. Let's see!"