Badhon wears Aarong Jamdani at the Cannes Film Festival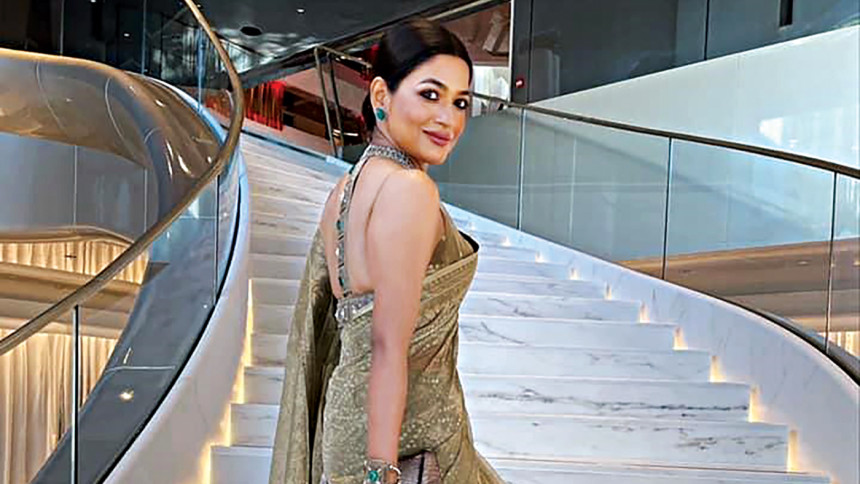 Azmeri Haque Badhon, star of 'Rehana Maryam Noor,' only the second Bangladeshi film to have premiered at Cannes, grabbed the spotlight on the red carpet in her stunning Jamdani and silver jewellery, designed and styled by Aarong.  
The sari worn by Badhon was a 100 thread count beige-olive half-silk Jamdani adorned by golden 'jori' thread. It takes nearly 90 days to craft one Jamdani sari of this quality by handloom artisans based near Sonargaon, Bangladesh (a World Craft City recognised for its history of Jamdani weaving). The attire was accessorised with hand crafted silver jewellery, the highlight of which was an ornate stone studded silver choker extending onto the back of the actor's blouse. 
"Azmeri Haque Badhon has made Bangladesh proud by elegantly representing our Jamdani heritage on the red carpet. We are thrilled about the attention and interest it has brought to the craft and to have supported Ms Badhon on her journey to Cannes," said Tamara Hasan Abed, Managing Director, Aarong, a social enterprise of BRAC.
"I have always dreamed about wearing an Aarong Jamdani one day at a special event. After reaching out to Aarong about my participation at Cannes, they shared their idea (about my possible wardrobe styling) and the sari, I had no doubt that this is what I would wear on the red carpet. I am grateful to everyone at Aarong who had worked relentlessly on a tight timeline to put this together," said actor Badhon.
Aarong has historically played a significant role in preserving, promoting and sustaining Jamdani craft by holding exhibitions, fashion shows, and supporting research through the decades. Most recently, at the Jamdani Festival 2019, held in collaboration with several partners, 200 by 200 thread count khadi cotton Jamdanis were produced for the first time in over a century.
Jamdani has been recognised as a UNESCO Intangible Cultural Heritage craft in 2013. Much of the Jamdani motif designs are weaved by artisans from memory and have been passed down through the generations. Aarong has worked towards documenting these motifs, and promoting a resurgence of the craft.