Dhaka Chic Fashion Fair by FDCB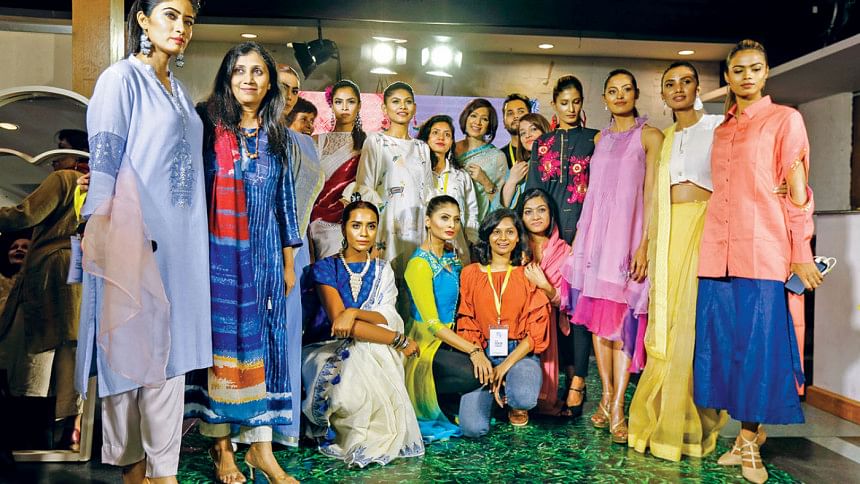 On the 30th and 31st of May, the Fashion Design Council Bangladesh (FDCB) hosted their multi designer event Dhaka Chic Fashion Fair. This event, like the previous gatherings by FDCB, was a continuation of their commitment to achieve an ethical and sustainable system for the fashion industry.
Guests and participants of the event came together for an evening of iftar and live music by celebrity performances to celebrate the new Eid and Summer wardrobes created by the renowned designers of the Fashion Design Council.
The designers of FDCB who showcased their new collections were, Maheen Khan, Kuhu Plamondon, Shaibal Saha, Farah Anjum Bari, Mumu Maria, Riffat Reza Raka, Afsana Ferdousi, Sadiya Mishu and Rima Naz. This season's collection is a fresh take on desi boho chic with the emphasis on light colors, simple floral motifs and graceful flowing cuts.
The inaugural ceremony of the fashion fair on Thursday, May 30, gave guests a glimpse of the exclusive designer wear and how different items can be paired together to create unique looks, with silk and cotton saris, dresses, shirts and kurtis in dainty dyes apt for special occasions. The colours that ruled the collection were the softest shades of yellow, pink, lilac and of course off-white. The fabric and cut of each outfit gorgeously enhances feminine beauty. The saris from the collection were paired with statement blouses that break away from the corset like fit to ones that give ample air flow for the ultimate chic look, and of course comfort. With such simple sophistication, one must pair these outfits with bright and chunky earrings to complete the summery festive look.
Photo: Orchid Chakma