new in town
Hydrobaby: Spa for your little one
Raising children in a city like Dhaka is no small feat. Challenges of all manners routinely plague the daily lives of us parents. Starting from the basics such as water quality, adulterated food, mosquitoes, to insufficient play areas, lack of proper schooling and avenues for kids to explore their true calling in life, there seems to be one issue or the other that make the process of parenting harder than it already is. Add to that, nuclear family units mean there is a lack of proper guidance from experienced elders on a daily basis, which means new parents are constantly experiencing one hiccup or the other in the adventurous journey that is parenthood. The dearth of child-friendly activities in our beloved, but poorly equipped city, is frustrating to say the least. This is where Hydrobaby comes in.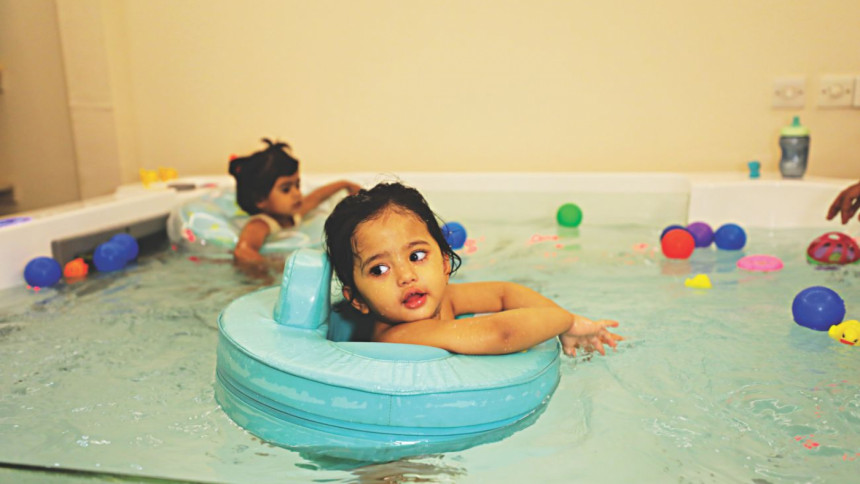 Born out of a mother's desire to bring world-class child care services to Dhaka, Syeda Shabiba Ali, co-owner and managing partner, intends to create awareness about the benefits of hydrotherapy for babies. Having spent extensive time in Europe, during which, her daughter was born, she came to learn the importance of letting babies spend time in water from early on in life. Being a new mother and no one to turn to for advice, Ali took childcare classes in Norway, where she learnt that since babies float in fluid inside their mothers' wombs, they have a natural ability to navigate in water. Following birth, if they are routinely allowed to spend time in water, it improves balance, enhances motor skills and freedom of movement as they are mostly held or are lying down. Her daughter loved being in the water from when she was only a month old; the exercise relaxed her, improved her mood, hunger pangs and helped her sleep better. Upon moving to Dhaka, the lack of exercise was affecting her daughter's overall disposition. She trained in Indonesia where baby spas and wellness centres are hugely popular. Furthermore, she has had a Certified Infant Massage Instructor (CIMI) training from International
Association of Infant Massage (IAIM), Indonesia chapter (IAIM) has its presence in over 70 countries and is one of the leading organisations, focusing on baby massage and care. Ali and her husband Saifur Rahman opened the doors of Hydrobaby, a baby wellness centre and spa in October 2018, the first of its kind in Bangladesh.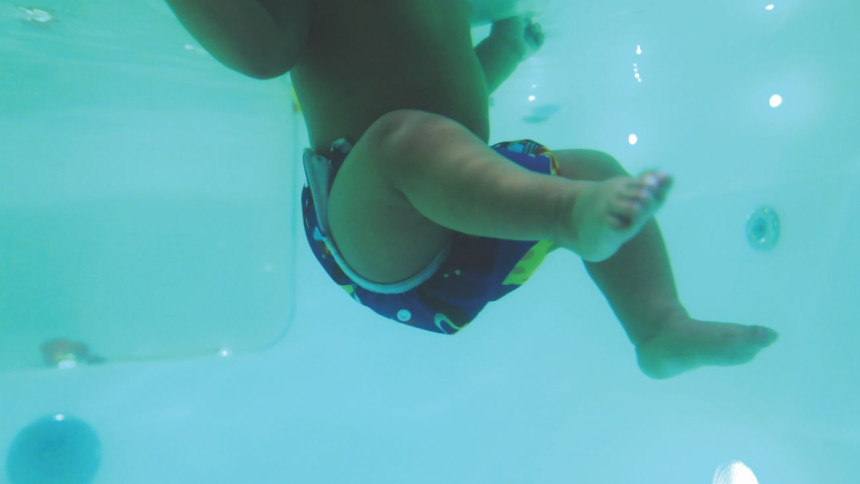 They offer two specialised services for babies, aged 2 months to 4 years old; hydrotherapy and baby massage. Hydrotherapy or water play is a form of flotation therapy where babies get to explore the water environment with the help of a specially designed flotation device. This allows the baby to have the freedom of movement. The water is treated to be pleasantly warm, sterile, and free of chemicals that ensures comfort and hygiene for baby.
Another therapy is baby massage, which is tremendously helpful for bone development, flexibility and growth. Ali performs all services herself, which is an added bonus. Since it started operations, response has been phenomenal, as parents are realising the benefits of these therapies for their children. An appointment based spa, one needs to make a booking in advance. Check out their page on Facebook for further details.
Photo: Sabrina N Bhuiyan