House of Ahmed: the new face of luxury ethnic couture in Bangladesh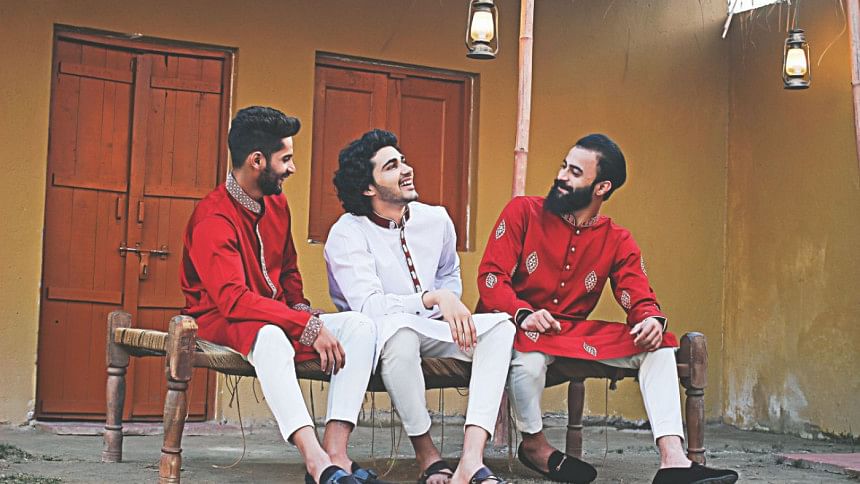 Bangladesh is the land of legendary artisans who have mastered their skills through years of specialised practice, and by the generations, these skills are passed down. This true Bangladeshi art form is reflected in the handwork done with threads, incorporating our traditions and culture in every piece of clothing that they touch. House of Ahmed, one of the most exclusive designer brands in Bangladesh, believes in the potential of such hard working artisans and created an organisation that always puts them front and centre.
The idea was quite simple; to form a team with a handful of these local craftsmen and turn plain fabric into attires that will be so appealing that it will be hard to turn a blind eye to them. And so, a husband and wife set out to do just that. Together, they procured yards of fabric and threads, designed all the pieces that turned into beautiful patterns, and led their team into the production of what can only be called luxury wear.
Their showcase of clothes, made by their finest craftsmen whose unending efforts night and day, produced the best made outfits to go on the racks, suited for the most elegant of occasions. Every fabric is as selectively chosen as the cutwork that is being decided upon; all patterns and impressions are meticulously planned by the artisans. The work put in by these artisans are unlike anything done by others and meets and exceeds international standards.
They are a proud team who are also extremely ambitious about exploring the technological side of fashion. Their newly launched website comes with one of the best user experiences, and are now working towards developing an app to give people more personalised services for a truly uniquely and modernised fashion experience.
House of Ahmed is primarily a men's designer brand focusing on creating designer Panjabi and ethnic wear. Each panjabi is made with some of the most detailed handiwork and stitching, that makes sure that every piece is uniquely beautiful and always compliments whoever adorns it. One of the key targets House of Ahmed is to uphold Bangladeshi tradition through some unique jamdani and muslin pieces that are truly there to take anyone's breath away at first glance. The women's line comprises of ethnic wear, work wear and casual wear. Their inhouse team can create the best out of customised orders from existing collections and has the fastest delivery service to make sure you look perfect in every occasion.
Their brand new design studio is located at CBL Delvistaa, Level 8, Road 12, Banani.
Most of the collection is also available online on their Instagram handle (@houseofahmedbd), or Facebook page: facebook.com/houseofahmedbd and on their website: houseofahmed.com
Content and Photo provided by House of Ahmed