New in town
Finally! A Pilates Studio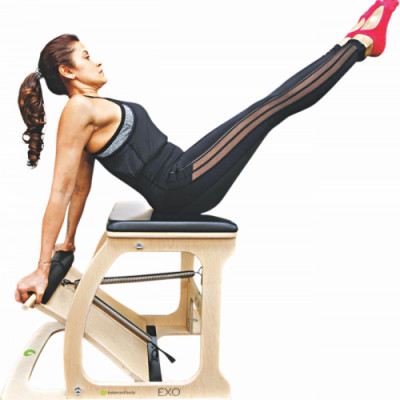 On screen Bollywood actresses keep us awed with their toned, zero cellulite physique, and flawless beauty. And in our subconscious mind, the thought resonates — 'only if!' We believe that if we had access to a world-class trainer, we could take our glamour quotient up a notch. 
Yasmin Karachiwala, fitness trainer to famous Bollywood celebrities likes Katrina Kaif, Deepika Padukone and Aliya Bhatt, has been brought to Dhaka by a distinguished local enterprise. Nudrat Karim, proprietor of the franchise 'Yasmin's Body Image for Fitness Studio' in Bangladesh, has brought Karachiwala to work her magic at the first ever Pilates Studio in town. 
"Pilates actually works from the core," Karim said. "… the centre of our body, moving outwards to the limbs. While there are many effective methods to losing weight, Pilates helps us maintain the desired weight, with an added benefit of muscle conditioning and toning of the entire body," she explained.
As we walked around the charming studio, Karim pointed out that people taking part in the Pilates sessions at Yasmin's Body Image would be able to perform free cardio-training as well. There are multiple options for customised sessions with trainers, or spending the whole day at the studio with a friend. However, a typical Pilates session in groups will include a total of nine members and especially designed exercise stations. The fitness studio also hopes to offer yoga, TRX and functional training facilities.
When asked about how a celebrated physical trainer like Karachiwala is expected to dedicate all her time in Dhaka, Karim explained that although Karachiwala will constantly be moving between Bangladesh and India, her primary objective during her stay in Dhaka will be to train instructors and help them attain international standards in pilates. The trainee instructors have all been hired from India.
Karim is well aware that an exercise routine can only work when coupled with a balanced diet. 
"You see, a healthy, nutritious diet goes hand-in hand with any sort of fitness regimen. Keeping that in mind, we plan on hiring a professional nutritionist, who is going to work on a one-to-one basis with members of the Studio, developing a feasible diet plan for each and every one. Additionally, we provide a body-fat assessment session that pinpoints every problem area for each individual. The goal, based on expert opinion, is to provide a unique and customised routine for each individual client."
---
---
With a quaint juice bar attached to the fitness studio and large windows overlooking a lush green setting above a quiet street in Banani, the Studio has created an ambiance that would draw people, rejuvenate and invigorate them. 
So, bid adieu to those flabby muscles and chronic pain since the solution has just arrived in town. 
By Mehrin Mubdi Chowdhury

Photo courtesy: Yasmin's Body Image for Fitness Studio

'Yasmin's Body Image for Fitness Studio' is located at the Tree House, 6th Floor, House 50, Road 23, Block B, Banani.

www.fitness-studiobd.com