Twists and turns with the blouse
There is one thing that we can strongly vouch for - our love for the backless or the most traditional sari blouses will never die. But we must also appreciate the new twists for the conventional saris, brought into the fashion world by eminent designers - dressing saris with T-shirts, crop tops and shirts instead of the regular blouses.
This new trend is surely chic, helping to add a major casual element to the usual. There is also an additional benefit of not needing to fret over the drama of matching colours and getting proper fittings. That's definitely a major thumbs-up for me.    
Having said all that pulling off the T-shirt look with the conventional sari is definitely not easy. There are definitely few things that we need to keep in our mind before we take the plunge.
Rule #1 

The T-shirt or the shirt must be the highlight of the dressing style and not the sari. Therefore the sari must be plain with no major designs or imprints made on them. Khadi, silk, chiffon, georgette sari in single and subtle colours look best when paired off with each other.
Rule #2

Accessorising is a must. You cannot hope to walk off, wearing an experimental combination like that and not accessorise yourself. The jewellery will help shift the attention and make the combination look far more bona fide. Think lavish earrings, statement rings, bangles etc.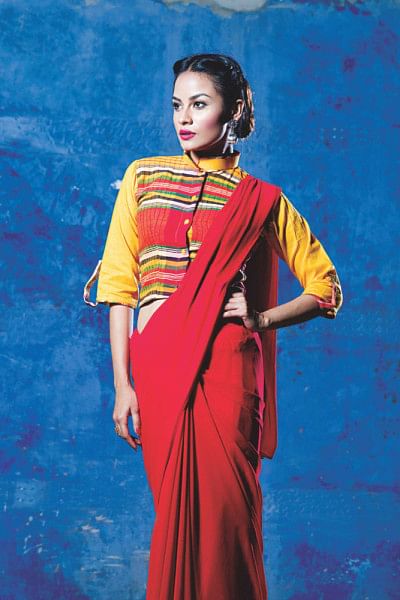 Rule #3 
The imprints on the T-shirts, shirts and crop tops must be interesting, bold and colourful. Stripes, polka dots or even Grameen Check looks amazing with plain saris. The basic idea is to highlight the modern style blouses and keep them as the major attraction item.
Rule #4 

In order to show off the fresh and innovative style, the anchal must be placed in such a way that it does not obstruct the viewer from noticing the entire look. Therefore the pleated lahenga style is a preferred way of wearing the sari.
Rule #5

Last but not the least you must be confident in yourself. Do not follow this style only because others are doing it, but because you love it yourself and have all the confidence that you can pull it off well as any celebrity walking on the ramp.
The sari is an evergreen fashion item, but the blouses have definitely evolved!
So, do not be afraid to experiment with shirts, tees and crop tops to give your age-old sari a modern and fad look.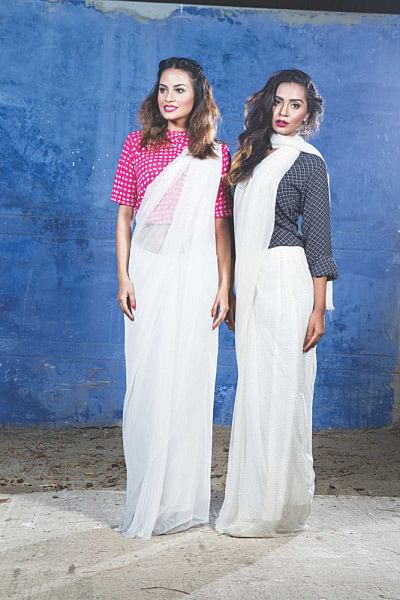 By Mehrin Mubdi Chowdhury

Photo: Sazzad Ibne Sayed

Model: Mashiat, Maisha

Wardrobe: Jahin Khan

Make-up: Noyon Ahamed