Eid day table décor: spreading a positive vibe
This Eid, the chances of your spouse and children joining you for a sit-down dinner at home, dressed in their festive best, is very unlikely, but that should not dampen your spirit. At least I will not let it pull me down, and since we are staying at home so much, why not play around with home décor and interiors? I most certainly will give my table décor a makeover.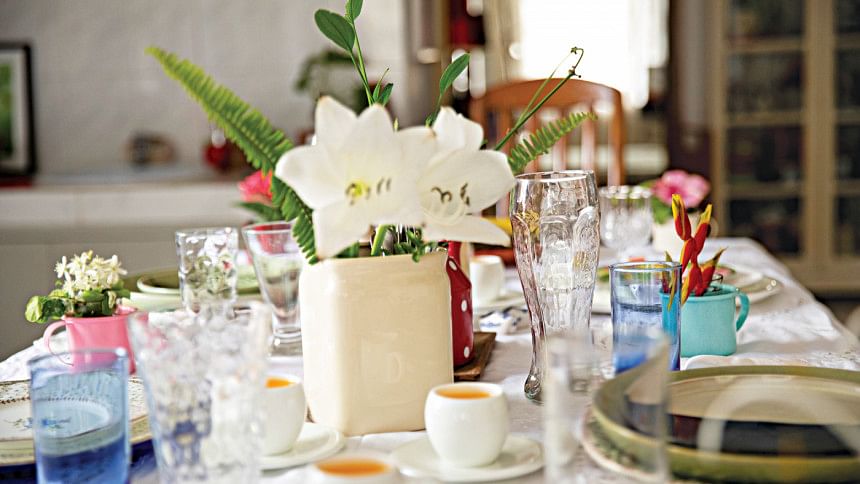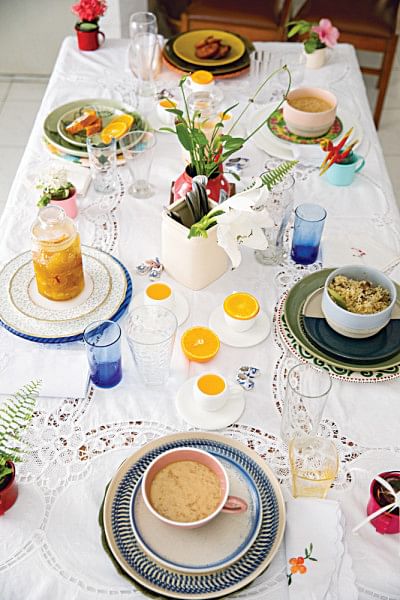 But my Eid menu will be very simple — polao or beef tehari, Mughlai chicken korma or beef rezala, and gurer payesh and pantoa for desserts and Eid snacks. I will keep it very basic because I don't have the heart to go overboard on food when so many of us are finding it hard to make ends meet. However, I have decided to go for a grand table decor, breaking out my best china. On Eid day, I want to dress my table with all the beautiful cutlery and crockery I have collected over the years.
Eid breakfasts have always been my thing. I remember the old days when I had just set up my house, my father would come directly from the Eid jamaat to have breakfast with me. Ever since, it has become a custom at our place to host Eid breakfasts, even long after he left me.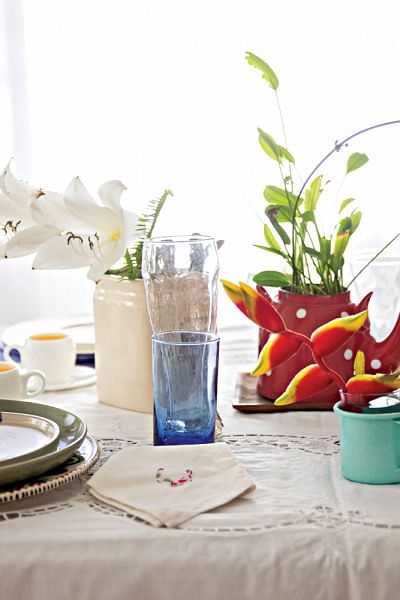 Baby chicken whole roast, hot parathas, carrot halwas, spicy bhuna beef liver, brain masala, roasted potatoes — I would pull out all the stops for that breakfast spread, although this year, it's going to be just for my small family. Thus, my energy will be vested towards table decor instead of the menu, I am toying with a few ideas that I am sharing with you.
Your layout plan can be eclectic, vintage, and casual; a colour theme or an afternoon high-tea setting. Whichever you plan to pick, make sure you carry it throughout the table. My six-person dinner table will follow an eclectic layout — for each chair seating, I will go for a mix of plates and glasses so that each seating looks different from the other.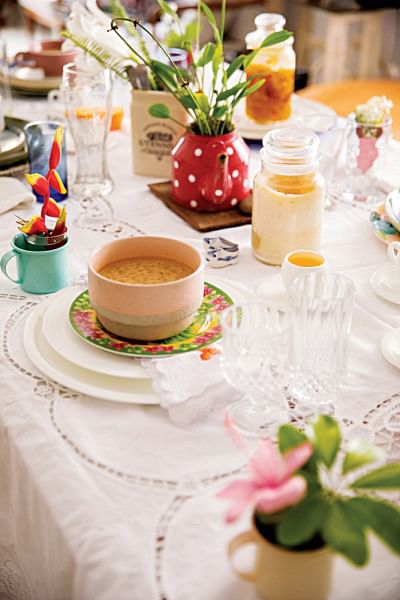 You may find the idea too haphazard, but if you plan carefully, each seating will boast individuality. As it's going to be just an immediate family jamming session over Eid breakfast or lunch, why not go for the dissimilar look? The white crochet lace tablecloth will do just fine as a background for the non-matched setting.
For the eclectic look, I will bring out green printed plates and contrast it with my blue tall glasses and place them on a red placemat. The burst of colours is going to be a cheerful surprise for the spouse during my special Eid breakfast. My son, who is not obliging towards my crazy ideas, will have a casual setting with his favourite blue recycle glass plate and a short yellow glass. I will go for my vintage look, white plate in blue prints bordered in gold, a white lace cotton napkin, and my cherished Villeroy and Boch cutlery.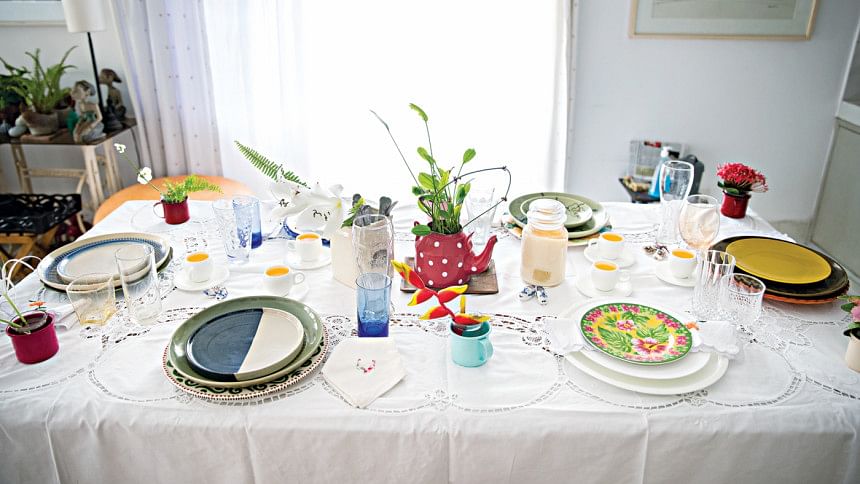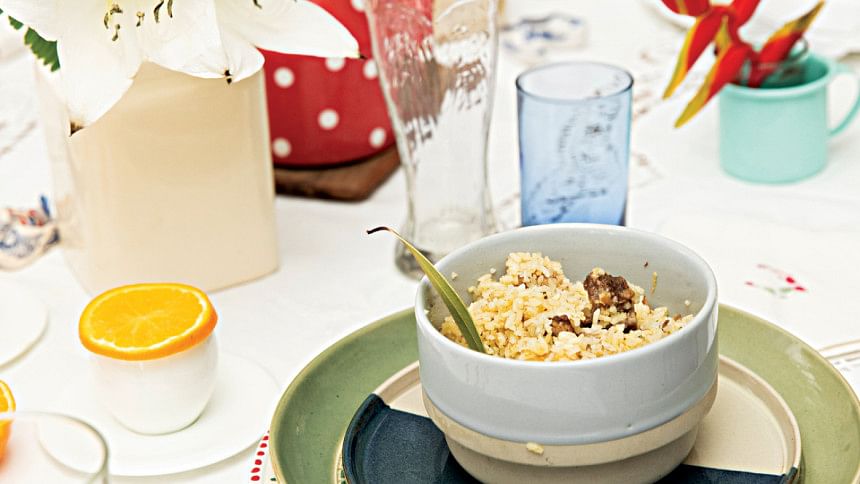 For the colour-themed teatime snacks, I picked the shades of pink, baby pink, salmon pink, hot pink and going all the way to warm magenta. A high-tea tier dish serving deshi pantoas and savoury pancakes and then, for a boho chic look, I would go with wood and bamboo plates and earthy trinkets to enhance the decor; maybe a half cut open old coconut as the centre piece, stuffed with coloured fruits of the season.
The look and setting will be colourful and brought to life by adding garden fresh seasonal flowers. Lilies are in season, thus a stalk of amazon lily or spider lily, and pink tiger lily with fern twigs will make the table look grand. 
This year, we will celebrate Eid modestly in terms of food and clothes, not spend too much on ourselves, and rather, use the money for charity. But you can go the extra mile to make yourself happy by giving your home a festive air.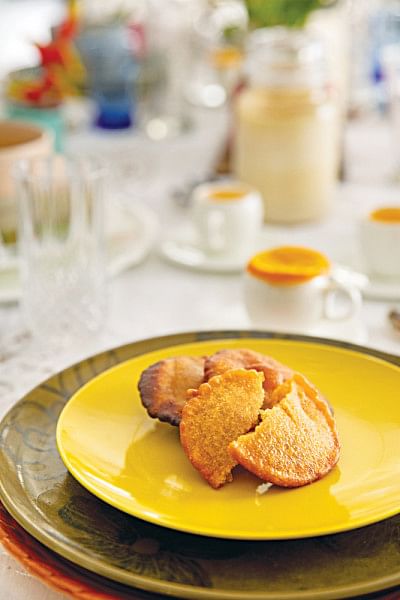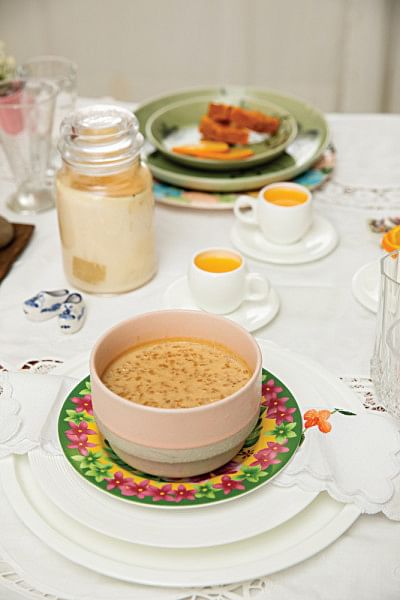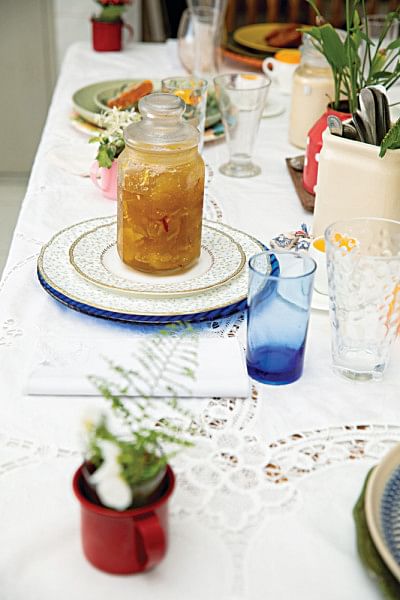 Photo: Sazzad Ibne Sayed
Styling: RBR