Nails to impress
Beautiful long nails are desired by women of all ages, but having the perfect nails all the time is anything but easy. Maintaining the health and the look of your nails can be quite painstaking. Still, with some time, effort, and possibly investment, you can have your nails looking salon-perfect at all hours of the day.
HEALTH IS KEY
Just like your body, your nails need to be in good health too. Weak nails break easily and are a nightmare to work on. Healthy, strong nails do not break on their own and give off a natural shine. To strengthen your nails, use coconut oil on them once or twice a week. You can also use cuticle creams and nail hardeners for better results. If you have weak nails, consider taking supplements with the recommendation of a physician.
Remember, good health on the inside will portray good health on the outside; having proper nutrients in the diet will show great results for not just your nails, but your overall physique.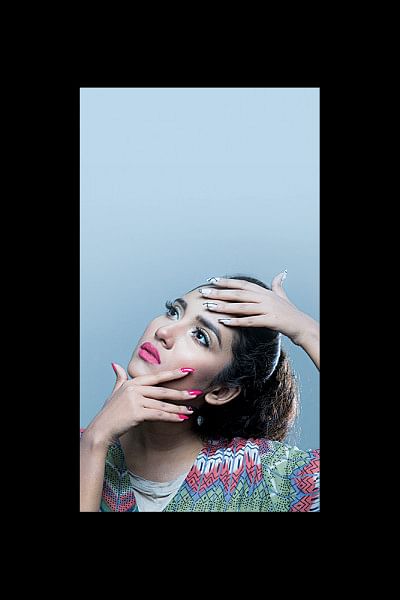 SHAPING THE CLAWS
Once the nails are long and strong, it's time to get them in shape. If your nails are in a good shape naturally, this step can totally be skipped. But if not, we have your back!
First, the nails are to be cut into the desired shape. Stiletto, square, and coffin are some of the most popular ones. Once they are cut, the shape is to be perfected using a nail file. This will make the edges blunt and the shape more prominent.
COLOURS AND COATS
Colours are what brings our nails to life. It instantly makes our nails look chic. The choice of shades may vary from person to person. Monotones are very much trending at the moment, and so are pastels this spring/summer. Whichever shade you go for, always try to buy nail polishes from renowned brands to avoid discolouration and harming the nails. Using a base coat is advised to protect the nails. Gel and acrylic paints have been very popular lately due to how shiny they look and how long they last. They are quickly replacing our traditional polishes in terms of shades, intensity, shine, and durability. Nail salons in Dhaka offer gel/acrylic manicures. These polishes can be bought from stores and done at home as well. A UV lamp is required to dry them, which can be purchased from Amazon and similar places.
NAIL EXTENSIONS
Nail extensions can be an option if you want hassle free perfect nails. Nail salons offer extensions in
different lengths and shapes. You can look into the types of extensions they offer and pick one you love the best. Artificial nails on the other hand are easily available in the market. From local malls to online stores — you can find them almost everywhere. Good quality is hard to understand; but you can always depend on reviews to get a good value for the price.
MAKING THEM ARTSY
Nail art is trendy, creative, and simply beautiful. There are hundreds of designs to choose from and all of them are unique in patterns, schemes and so on. French manicures are the simplest form of nail art. Intricate designs, though tough to do, look absolutely gorgeous. You can get nail art done at parlours and nail salons for an affordable range.
You can also try them at home by watching YouTube tutorials and following along! With a few tools, you can get an artistic look right at home with practice and patience.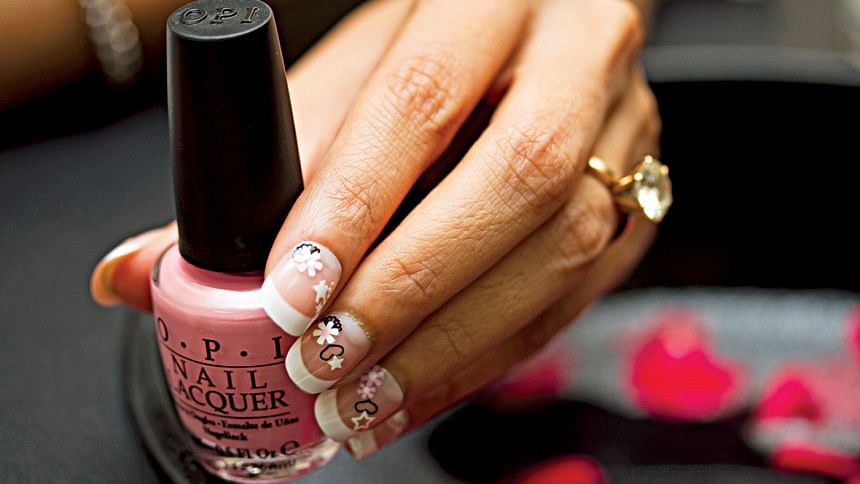 Tips
Use board or glass nail file instead of a metal file to prevent weakening.
Try to use non-acetone nail polish removers to avoid damaging your nails and the skin around it. Using peel-off base coats are an easy way to remove polishes by simply peeling them off.
Top coats can make your manicure glossier and last longer.
Use nail stamps (eg. the Konad nail stamp) to achieve nail art easily at home.
Photo: LS Archive/Sazzad Ibne Sayed