A glass full of bliss
If there is one thing that does not go with the soothing rains of the season, it's the stifling humid heat that comes before or after it. For caffeine lovers, it is a moral dilemma to forego a steaming mug of high-octane work elixir. It's times like these that kicking back with a glass of cold coffee or iced tea seems like a slice of paradise on Earth.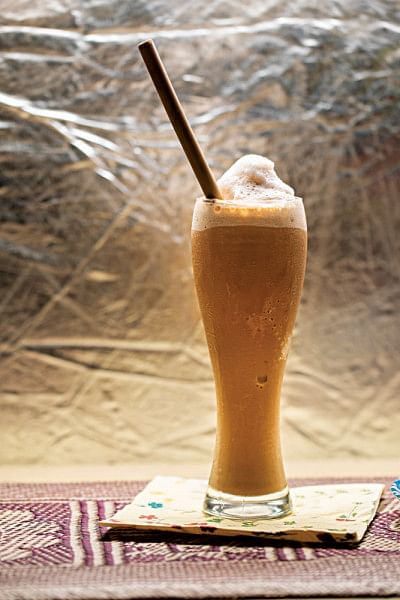 This season also happens to bring one of those unfortunate bouts of lack of appetite. Gulping down soups or heavy broths just do not sit right for the stomach. To answer all these little troubles, smoothies may as well be godsend for a late morning or early evening snack you can drink, or a drink you can have as a meal! Seasonal fruits and all the fresh ingredients you can get your hands on for the perfect glass — there is very little that can compare to this.
To get you started, here are some recipes for you to try, and don't forget to get creative!
MOCHA COCONUT ICED COFFEE
Ingredients
1 cup coffee, brewed and chilled
½ cup coconut milk
3 tbsp chocolate syrup
1 tsp vanilla extract
1 can full-fat coconut milk, chilled
2 tbsp sugar
2 tbsp toasted coconut slivers
Whipped cream
Method
Add the sugar and chilled coconut milk to bowl and beat with a mixer until peaks form. Pour 1-2 tablespoons of chocolate syrup to the bottom of a glass, add ice cubes then pour the coffee in. Next, add the coconut milk and sugar and stir. Top with whipped cream to taste along with a sprinkle of toasted coconut.
SUMMER GARDEN TEA PUNCH
Ingredients
1 cup water
     cup sugar
1½ tbsp fresh mint, snipped
½ cup orange juice
¼ cup lemon juice
1 cup tea, brewed and chilled
1½ bottle club soda, chilled
Fresh mint leaves or rose petals, for optional garnishing
Method
In a large stainless-steel or nonreactive saucepan, combine the water, sugar, and mint. Bring to a boil, remove the saucepan from heat, and let steep for 20 minutes. Strain mixture through a sieve to discard any solids.
Add the brewed tea, orange juice, and lemon juice to the mixture, stir continuously to mix. Cover and chill for at least 2 hours or up to 24 hours. Just before serving, slowly pour the chilled club soda into mixture, stir gently. If desired, sprinkle with mint leaves. Serve punch with ice cubes.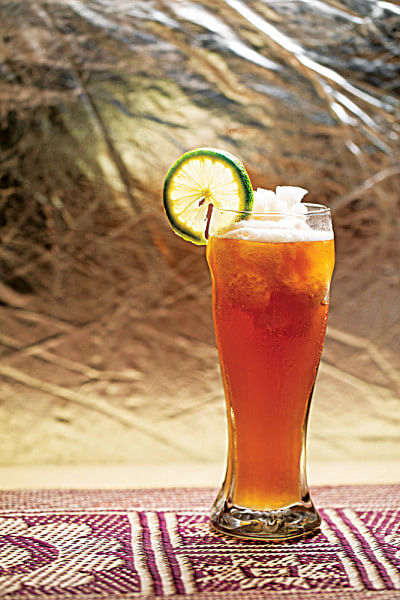 MANGO AND STRAWBERRY SMOOTHIE
Ingredients
1 cup strawberries
1 cup mango puree
½ cup plain or vanilla yoghurt
4-5 ice cubes
Method
In a blender, blend all the ingredients until mixture is smooth and frothy. Optionally, slice some mangoes and strawberries and freeze them overnight. These can be used as a substitute for the ice cubes.
CINNAMON, HONEY AND GREEN TEA SMOOTHIE
Ingredients
1 cup green tea, brewed and chilled
½ cup milk
1 tsp cinnamon powder
1 tbsp honey
½ banana
Method
The green tea can be brewed beforehand as preferred, and be kept chilled until ready to use and serve. To make the smoothie, add one to two scoops of ice to blender along with all the ingredients. Blend until smooth. Serve immediately with a few slices of banana and a drizzle of honey on top.
Compiled by Iris Farina
Photo: Sazzad Ibne Sayed