Plants for interior décor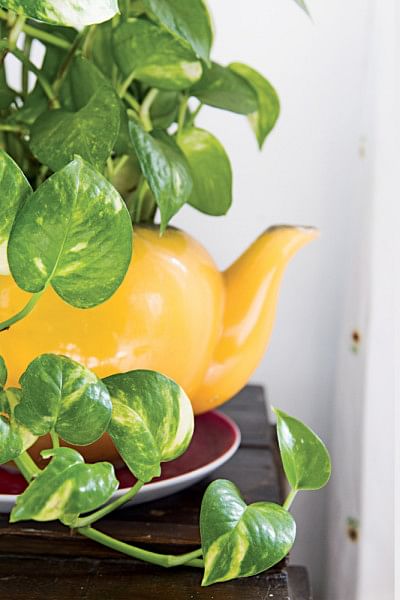 Plants brighten up our moods and help reduce stress and anxiety; the greens friends make us feel calmer and self-aligned. Thus, their use in contemporary interiors is gaining traction among both homemakers and interior consultants. Not only do plants make living spaces more pleasing, but indoor plants can act as an accent pieces to create a certain drama in the room.
A big Ficus, fern bushes, Bakul or Spanish cherry plant placed at the most sunlit area of the room draws all the attention of the guests towards it, giving them a warm first impression.
Adding plants in your rooms creates a visual interest, and it is therefore of utmost importance to understand the strongest and weakest points of your room. While decorating your space, you should concentrate on the areas that need brightening up and make a decision after looking around the space from different perspectives; this will help you choose the best spot.
Remember to emphasise your style of interior decor; if you are into a boho chic décor or flea market styles, your plant pots should reflect the same tone. Do not mix styles, like if the rest of your home displays a modern décor, then do not use plants pots with bohemian look, as it will only cause a visual disturbance.
Large plants are more suited for people who do not want to overcrowd the room and if you want to use individual plants to create an ambiance, it is best to choose just one with an interesting silhouette.
While small plants look beautiful in interiors due to their versatility and low maintenance, they are perfect for basically any space in the house. Small plants can be placed in a composition of three or five. It can be placed along with your decoration items, and it can act as a centrepiece in your living room centre table. A small bush of fern placed at the centre of your dining table becomes the point of focus while laying the table for four or six people. Indoor plants like snake plant, monstera deliciosa, different variety of pothos, spider plant, rubber tree, and bird's nest fern or maidenhair fern are best for indoors and can thrive on indirect sunlight. Now, armed with information, go choose your first plant! We hope you enjoy the experience.
This week in Star Lifestyle, read about how to make popsicles and also how to be footloose in skirts.
Photo:LS Archive/Sazzad Ibne Saye