Loving and Living with Plants
Teresa – tale of an orchid lover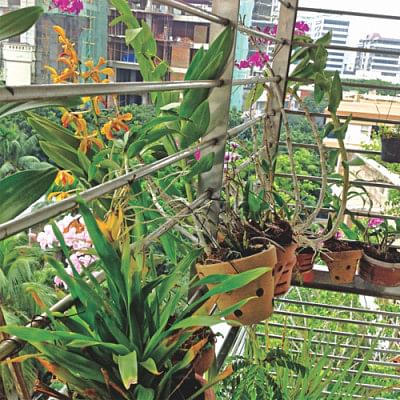 For over a period of three the sixth-floor balcony of a neighbourhood building attracted me so much that overtime I became its observer.  I am speaking about a hanging orchid garden that is beautifully arranged. I have been constantly following this living space, witnessing its changing colours and noticing the arrival of new-comers in the plant family.  
I decided to meet the person behind this creation and one day finally met Teresa and her family, who are not only nature lovers but also retainers of the legacy of our culture and heritage.  
Meeting Teresa was inspiring.  She is the heart and soul of this garden. 
Teresa, alias Farhana Islam, is a senior management professional at Grameenphone and also a painter.  The paintings on the walls spoke of her creative zeal. Teresa narrated her love for orchids: "I try to be in touch with nature, see things in detail, the life cycle - the change of day and night and change in the nature actually resembles the beauty of life." 
"The inspiration came from my khala," she added. "I developed a fascination for orchid when I visited Thailand with a few friends and saw the wealth of orchids there. I think my khala now holds the largest collection of orchids in the city. Arts and crafts run in the family. Painter Quamrul Hassan is my maternal grandfather,' she said. 
"I am a regular visitor of nurseries and usually do not miss the annual 'Brikkha Mela'.  I found Rifle Square Pushpa Shimanta at Satmasjid Road to be a good source of orchids too.  Raising orchids is simple; they just need some love and care. Dry coconut scrubs-chobra/shell and charcoal are the main elements needed for growing orchids which are always available at any kitchen market'.  
Teresa detailed out her way of doing things   "Orchids mainly need diffused sunlight which is available in almost all verandas. A bit of shade, indirect sunlight and some splashes of rain are all welcome. 
"During summer, it's important to spray water twice a day. On cold damp days, once is enough. Watering the roots is also needed based on the moisture condition at the roots. So it is always important to touch the base and see if it is dry and needs watering or not."
Adding further, Teresa said: "Some periodic care is also needed. It is also important (once in three weeks at best) to take care of the base of the orchid and if necessary add a mixture of charcoal and fresh coconut scrub fibre."
 Regarding the price of the orchid, Teresa informed, "The price of orchids is varied and some are in high the ranges too. But getting an offspring from the mother plant ultimately helps. The prices of full bloom units are around Tk.400 to Tk.2000, depending on the scarcity of the breed.  Young saplings are also available at Tk. 200 per unit.  The best thing about orchids is that when properly nurtured they re-bloom every year with a splendour greater than that of the previous year."
 About arranging the plants within the confines of the veranda, this is what she had to say: "It looks nice when orchids are lined up based on colours of their blooms - starting from purple, pink, violet, maroon, yellow, orange, red and other available hues.
For me, it was a wonderful experience to meet a gardening enthusiast who has blended her urban existence with nature and quite comfortable, if I may add. 
I often hear that it is difficult to maintain gardens in our apartments. Actually, the balcony can be interpreted as a blessing in a way. The confinement and the overall space will somehow dictate your choices and how you play with those options in creating something that is uniquely yours. 
I consider caring for a plant akin to raising a child with both requiring ample attention, love, care and most importantly understanding their individual traits and nature.  Teresa, despite her demanding professional life, has made a nice balance of her different identities.  Her young daughter is growing up and from her childhood experiencing a life around nature. 
It is especially important for all of us - parents, teachers and people responsible in moulding the character of our children, to teach them to love, care and bear the responsibility they have towards nurturing mother earth.  
Inspired by Teresa, I decided to convert one of our balconies to an orchid garden in the coming season.  I feel you will do the same!
Please feel free to send emails ([email protected]) and share thoughts, feedbacks and photos of your garden, or tell your story; or ask any questions on gardening issues. 


Photo courtesy: Laila Karim