Small space greenery
Think about your life, when you open your eyes in the very early morning, the flowers and creepers of your room-side garden in rows are bidding 'good morning' to you as the sparrows are chirping, and the small study is no more boring with the books alone — is decked out with a garden, in which the parrot couple with their green wings and red lips have breathed life.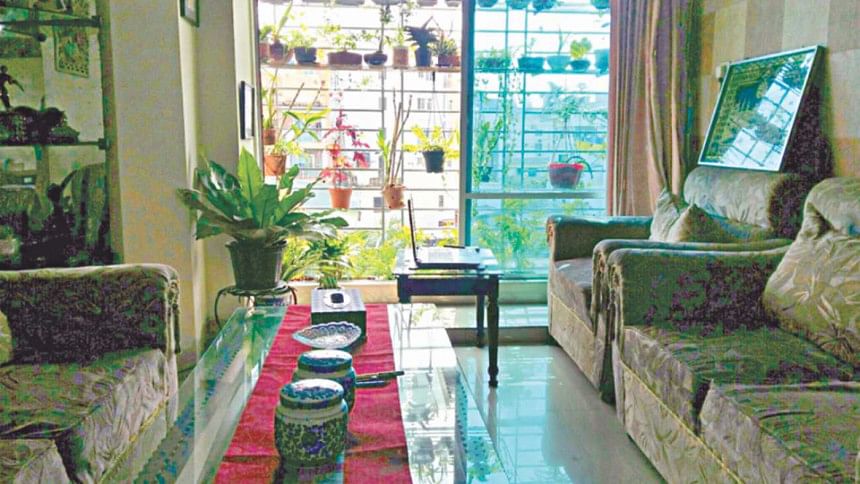 While you browse, their eyes follow you, and sometimes you feel like talking to them too. Is it not beautiful and refreshing! 
The small book corner invites you to spend more time there. Now, you love to take frequent breaks from the  page of the book or screen of the laptop – just to look at the wall garden where the roses in colours and shades have started blooming in this moonsoon. 
Your dining area is no different, it has the view of your wall gardens around it, same with the washrooms or the kitchen area, green patches are everywhere. Your guests nowadays, soon after stepping into your living area, start off with the word 'wow – what a view!' 
You are flooded with appreciation of your visitors – who spend quite a substantial time looking at and talking about the new arrangements, the plants and flowers that inspire others for a green apartment life. Are these not enough to feel that life is beautiful? 
I am speaking about a recently renovated flat that had a total transformation, with ideas that contributed to creation of an  environment friendly living space to the family. It's a total transformation of the brick walls to the greenery.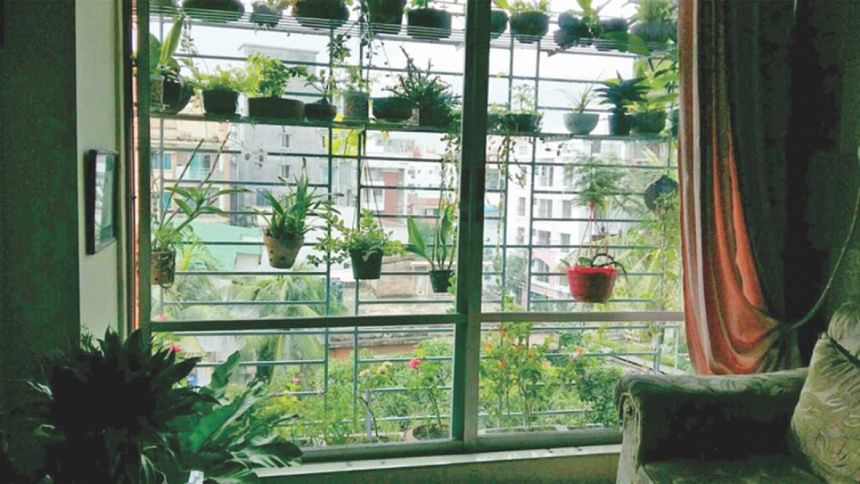 In our culture we have a general notion that nurturing green is not possible in limited space.  But we can think the opposite that it gives us more scope to generate ideas for a better living. In many ways small space is  a blessing too to manage in our busy and complex lives.  
Jahanara and Firoze, when they bought this apartment to live in with their three daughters, were concerened on how they were going to accommodate everything. The couple being in government service had to compromise with their means and ends, but they managed well. 
For Firoze who cannot live without touching a plant in his daily life, it was a struggle  initialy, to fit his love of  plants in the available little open space. People associated with him know well the depth of his love for a green life.  
In his long professional life he left a mark in all of his workplaces with the trees and structured gardens. In his busiest working period even, he was keen to make time to see the local places with trees, gardens, nurseries and jungles or woods whether it was in country or in his foreign trips.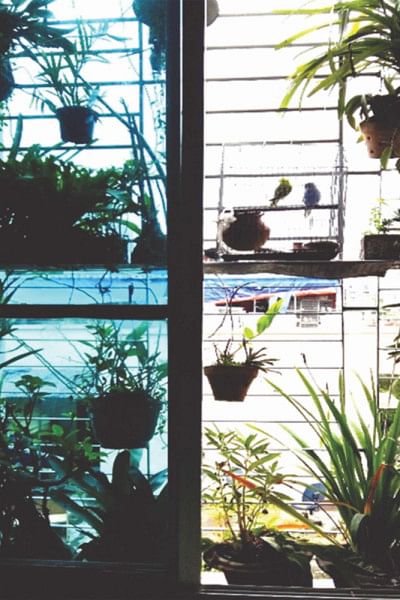 The children and his wife after the initial heartbreaks, have accepted the truth that the suitcases on return from a trip would occupy more space with seeds and saplings or even with some unusual rocks from the visitng country than their cherished items. His office colleagues knew it well that the plants in his chamber or around the office are to be well cared for as "Sir will not take any excuse if the plants are in bad shape." 
As time approaches of his official retirement, his wife was concerned about his hobby and lifestyle. She made a secret plan to surprize Firoze when he was out of the country for  a few weeks. On his return – it was a great surprise to see the pleasant changes around him. 
One wall of each room was knocked down to make a vertical  garden there, filled with different sizes and shapes and colours of plants and pots. This is the best gift perhaps Firoze  got from his wife – besides the daughters! This innovative act not only pleases Firoze, the entire family is now enjoying the beauty of their flat-garden house. 
What did Jahanara do? She wanted to break the perception and monotony of a small flat's concept. She removed the stereotyped window of each room and created open-wide space for free passage of   sunlight and air, and also to install the greenery.  With small containers having flowering plants, ferns and creepers the entire open space of each room was now turned to  vertical gardens – each rooms looked wide, open and airy with abundance of sunlight. In this transformational job, all of the furniture were re-adjusted, some even discarded! It is indeed a brave thoughtful step Jahanara took. The  new look of the apartment is now truly inspirational and inviting!
Please share your thoughts and stories, experience related to plants and gardening. Mail us at lifestyleds[email protected] and your letters will be forwarded to the writer.
Photo courtesy: Laila Karim