Loving and Living with Plants
Our Brikha Mela - Calling
Finally, I made it! I have been eager to visit the Brikha Mela, our annual visitor, to adhere to the calls of the plants since their arrival in the city. Breaking the ties of daily routine life is not easy, but my earnest request to the readers is, do not let anything occupy your schedule next weekend and book your day for at least 3-4 hours for a quick round of this fair.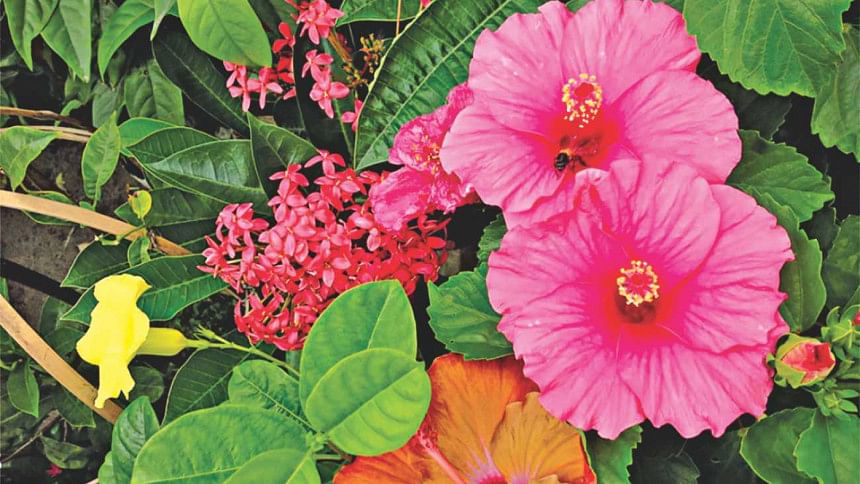 It will instantaneously uplift your mood, and make you look forward to the fair till next year. 
This is one annual event that has had a positive impact in the lives of city dwellers, contributing towards more greenery amid this concrete jungle. Since the start of the Brikha Mela in our city in the early 80's, the volume and varieties of plants have grown. The Brikha Mela is not only growing in size, but also expanding its horizon -- from local to global, introducing us to new species of plants and flowers, cacti, herbs and more.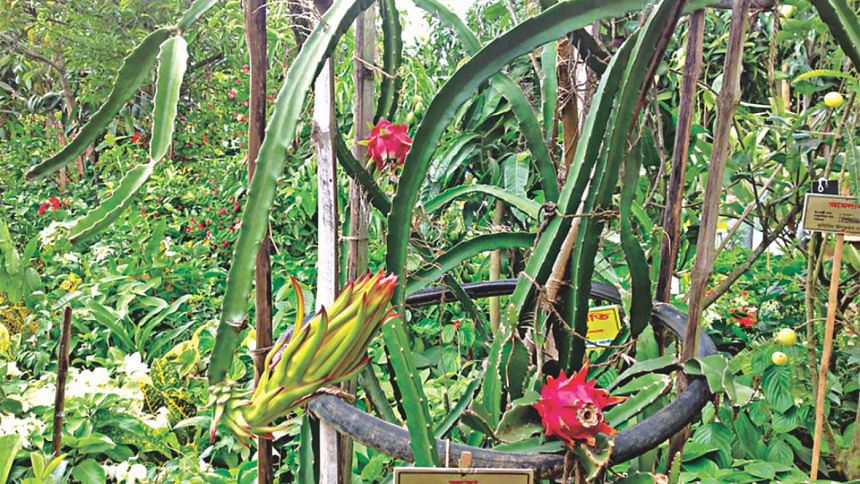 It's a banquet of greenery and colour. The fair caters to every plant lover's needs, whether you are looking for a new variety of mangos, searching for orchids you once saw in a foreign airport, a herb used in a recipe, or simply plants for your balcony or rooftop garden. No worries -- go to the fair and you will find the desired plants and seeds with live samples. 
If you are a lover of fruit bearing plants and want to start an orchard in your farm house, I would suggest you to go now and make your selection from a wide variety; mangos are still there to show their individual traits. Prices are competitive and stall attendees are there with professional and technical information and services.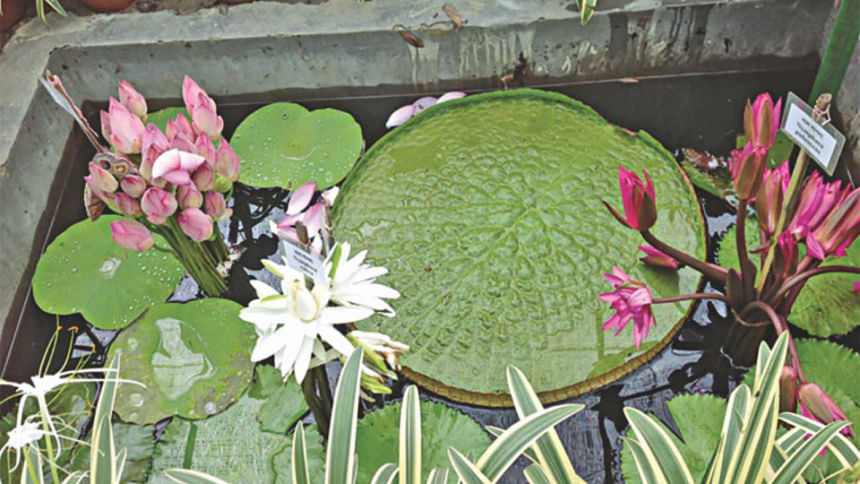 If you are an old timer like me, the mela will take you down memory lane. After over half a century or more, I suddenly found my early year's tree friend – bhuti jam (a wild variety of blackberry) tree at the mela. I used to climb this tree with my cousins. The bitter tasting berries did not matter much to us, but the pleasure of climbing and plucking was important to us. 
I met another lost love – Jhumko Phul at this mela. I am not sure how many of us have heard or seen this earring shaped flower, known for its intrinsic layered design in a mixed purple colour; it is no less than any gold and diamond studded jewellery. This flower loves to be very private – makes you spellbound at first sight irrespective of your gender. The Jhumko Phul was special in my nana's garden for decorating the gate arch. I was overjoyed to see these special kinds of flowers in the city after such a long time. 
Like so, the Brikhar Mela has been introducing us to the new and old varieties of flowers every year and bringing back the forgotten or unseen. This year, there is a separate corner for Arabian dates (khejur), which is attached to our religious sentiments and essential to breaking the fast during Ramadan. Now, the plant is ready to start a second home in our country. Arabian date lovers will find several varieties with price tags starting at Tk 1,000 to as high as Tk 1 lakh with sure results in three years of plantation.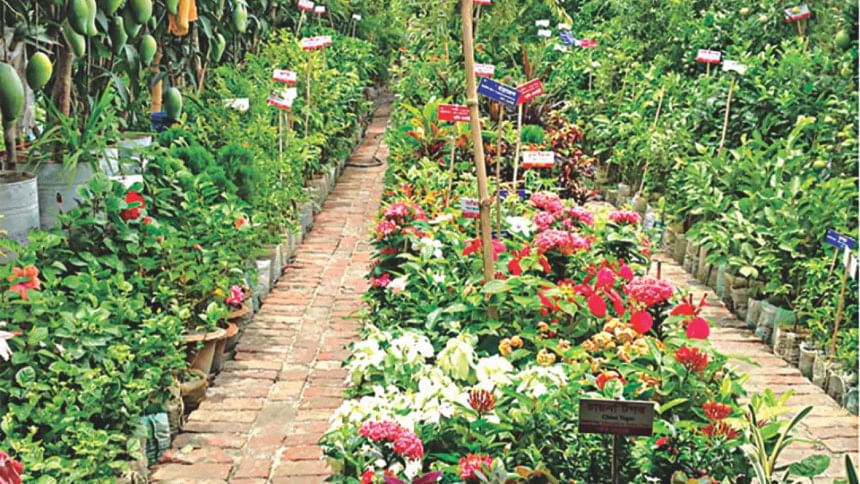 I think one of the biggest achievements of our liberation is the agricultural revolution. It is amazing that people in agriculture, from a farmer to a scientist, are not only helping to feed this huge population, but also bringing new possibilities through their relentless work. Our agricultural heroes, with or without an academic background, are making the impossible possible, setting examples, going beyond geographic barriers and other limitations.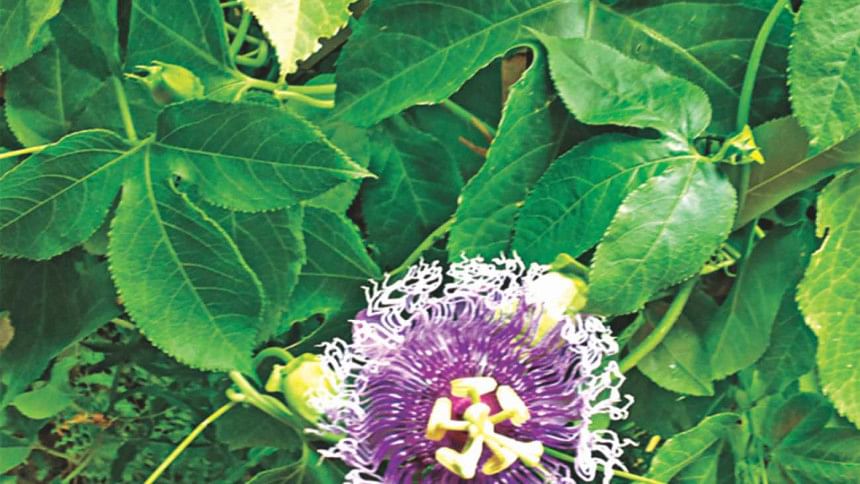 Their will and hard work made many plants, like the date tree, settle down here. I feel this mela is bridging the gap between the past and the present, paving the way for a brighter future for the next generation. It is a marriage of love and business. Who imagined a jackfruit plant standing tall with its baby on its lap in a drum container! Adjustment is the mantra of life! The days of waiting to see the mukul or fruits for 7-12 years are gone. Nowadays, no need to wait for even a year to taste your garden produce -- one season is enough if you plant the right sapling and do the necessary nurturing.
In response to a reader who recently asked where the lotus seed could be found in Dhaka, I would advise you to visit the mela without delay.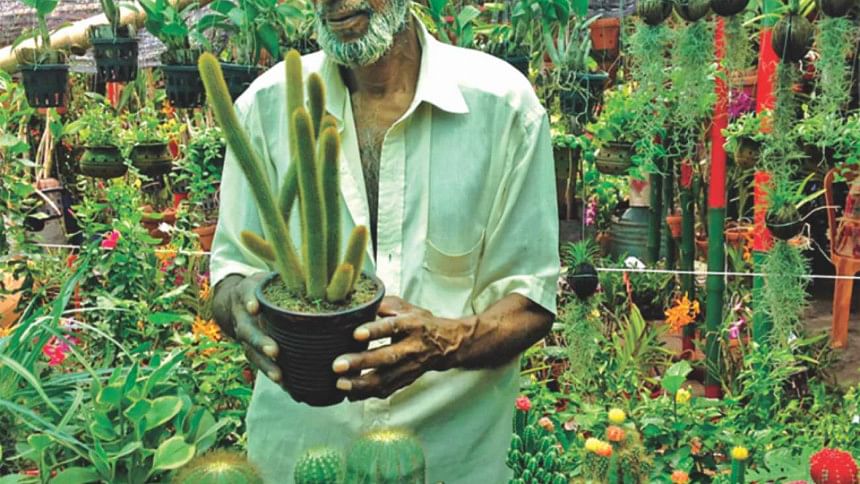 From the left side, the first stall is waiting for you with the seeds and required information on planting lotus with a live demonstration. The seeds of the lotus are sold at Tk 20 a piece. Apart from the mela, you will find the seeds in Baldha Garden, the stall owner has informed me. The experts also said that it is better to use the roots than the seeds for lotus planting. And the plant base is to be made carefully with a right mix of soil, sludge and fertiliser. It is good that the mela arranged a dedicated stall to cater to the rising love for this majestic, exotic but fragile star flower – the lotus, our Paddo to help the water garden lovers.
Before the mela ends, please visit with your children and loved ones. I also request the fair authorities to extend the date and keep it open till the monsoon ends and arrange a winter fair as well.
Please share your thoughts and stories and love for plants and green life with DS. Mail us at [email protected] and your letters will be forwarded to Laila Karim.
Photo: Laila Karim