Loving and Living with Plants
Orchids find a new home
The famed orchid is not an indigenous bloom and came to this land from one of our neighbouring countries. Like gracious hosts, nature lovers of the country welcomed orchids with open arms. These are now must haves on special occasions - weddings, birthdays and anniversaries are incomplete without them. As the demand for orchids increased, florist presented a wide array of flowers, some imported and with high price tags. As more and more people appreciated the beautiful flowers, some of our larger nurseries started selling various orchid species to enthusiasts. 
I fondly remember my introduction to orchids while boarding on a Thai Airways flight many years ago. As we took our seats, the entire group of female passengers were greeted with orchid sticks. On my return, I was again pleasantly greeted with flowers, which I, in turn, gave to my daughters. 
Over the years, my relationship with orchids cemented and grew stronger. It is no longer a 'foreigner' in my garden but has somewhat become 'indigenous'.  A few days earlier, I was fortunate enough to take a trip to one of the orchid plantations in the country. We made a half-day trip to the farm only about 45-50km away from Dhaka. 
The first sight was simply unforgettable! 
We are familiar with expansive paddy fields in a rural setting, but never thought of a similar scene spread across 25 acres of agricultural land. My instant reaction was 'orchid finally found a new home!'
The orchid plantation is a brainchild of Itemad Ud Daulah who established the estate at Dulma, Enayetpur, Fulbaria Upazila, Mymensing back in 2001. Over the years, the cultivation of a single variety (dendrobeum) has now turned into an enormous venture. 
Individual plots are allocated for different species. The farm is rich not only with its offerings, but also with the professional knowledge and skills of the human resources it has engaged.  We had the chance to speak to a researcher who is not only working there but also doing his PhD thesis!
With experimentation the hobby took shape into a business enterprise and by 2005 the venture got registered as Dipta Orchid Ltd., which eventually became the first exporter of orchids from Bangladesh. Dipta is now considered one of the largest farms in terms of its size and variety of its products in the country.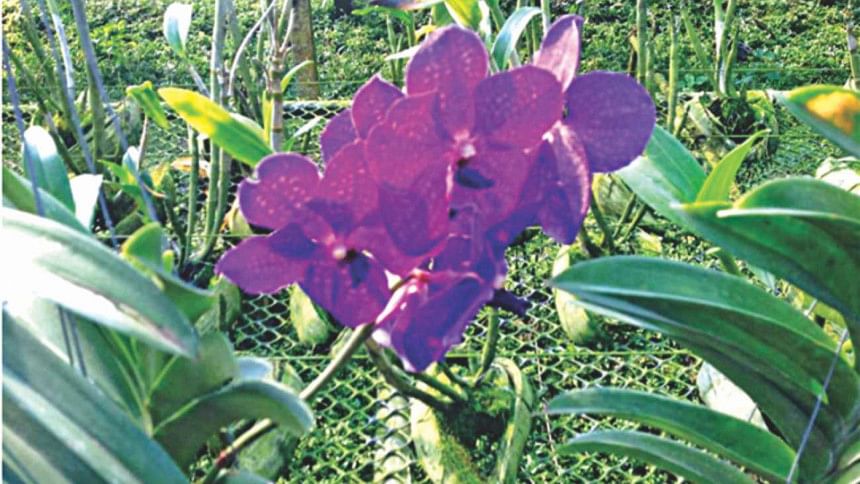 Although the farm is open to public, prior permission is necessary for a visit, which is understandable. The cultivators offer special discounted prices, which is an added incentive to visit the place. 
We made the visit just out of curiosity, but the courteous officials and staff welcomed us and took us to the aisles, briefed us on the initiative and handed over flyers with tips of cultivation. Usually we see orchids hanging in our balconies and some of us may have experience of planting them in small pots on a small scale. We were simply amazed to see the orchids on a soil base similar to rice, wheat or sugarcane plantations!  
Although it was not the season for orchids, we bought a carton load of flowers and had to struggle to fit it into the car. Obviously the price and the wide variety were contributing factors for the hefty purchase. We also learnt that they are able to supply flowering plants in hanging pots, as well as floor pots for soil based planting, especially for the tall varieties.  Currently about ten types are in their list but to make it economically viable minimum order size is to be for 50 pieces to get the whole sale price.  
Free delivery service within Dhaka city is offered for over Tk 4000 per order, but currently limited to the northern part of the city (Banani, DOHS, Gulshan and Baridhara locations). 
For more information, you may visit their Facebook page at www.facebook.com/ diptaorchids.  Along with orchids, the farm has also started whole sale marketing of gerbera cuts, provided orders of 100 pieces are made. 
In many countries, places like Dipto's orchid plantation are marketed as tourist spots.  We are yet to develop this concept here. Dipta is a must visit for any nature lover, especially those who love orchids!
Share your thoughts on everything and anything related to gardening. Mail us, [email protected] and your letters will be forwarded to Laila Karim.
Photo courtesy: Laila Karim