Loving and Living with Plants
To my readers….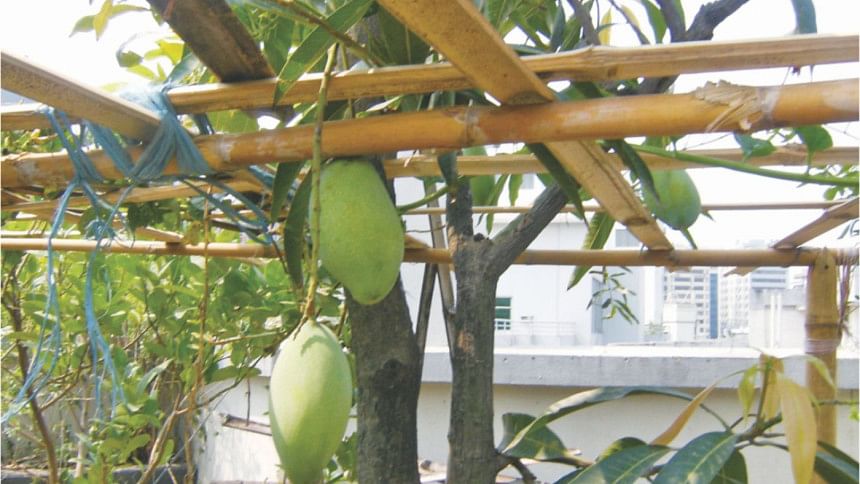 Dear Readers, it has been few months, that I have not communicated with you.  However, I am going to be all yours today and shall try to respond to some of your queries:
From:  Shayma, DVP, Toronto 
Q.1  I would like to grow Dhone(coriander) pata and Pudina (mint) pata in small pots. However, few of my attempts have failed. My herb plants just won't survive. First time I watered too much, so this time I was cautious. Still no luck. Should I try during the spring/summer season? Can you please advise.
Dear Shayma, 
I am happy that you are trying to grow our own herbs in a totally different environment and climate.  I am also happy that you are learning from your experience. For the tiny plants, it is difficult to bear with excess of any sort (I think it applies for everyone). Too much of watering causes suffocation and obstruction in supplying oxygen and air to the roots and finally contributes to the untimely death of the plants.
Now about nurturing your favorite herbs – Dhone pata and Pudina pata  - these are easy to grow in a family environment with little personal attention and care.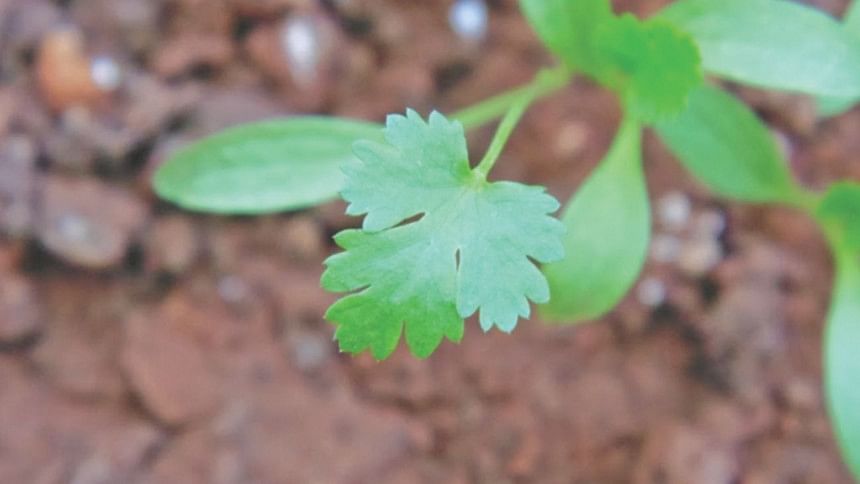 In this summer you can try again;    firstly, select the right location where the plants will get some sunlight and air every day.  The herbs   grow well in a non-disturbing environment (to be safe from strong wind and direct heat of the scorching sun). You may select your sunroom or balcony or the window panels which have these characteristics.  For home consumption, you need to have moderate sized containers with 9 to 11 inches depth with a wide open surface.  Fill two thirds of the body with soil rich with the ingredients and one third will be the growing space for the plants.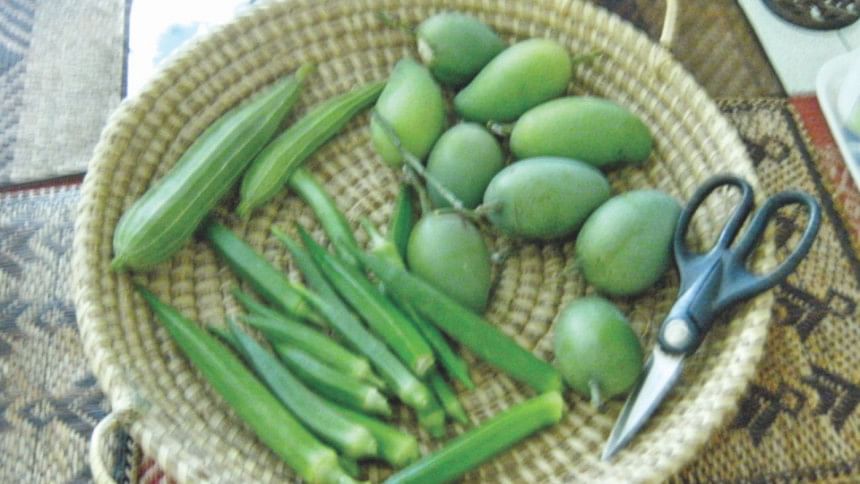 I have seen nurseries abroad keep all kinds of gardening materials by  category. Like us, plants have their own needs and choices – such as for the leafy ones, soil and nutrients are different than the flower or fruit bearing groups.  So, get the right bags of soil and build  homes for your herbs. Buy some dhone/coriander seeds – about 25 grams or so and let these soak overnight in a separate container. Sow the seeds and cover the surface with an old newspaper.  Over the next few days, the tiny green faces will pop up.  Allow them to grow for two to three weeks' time.
Now your dhone patha is ready to pluck.  Just spray some water every alternate day and check the soil bed and make sure it isn't too wet!  Do your first harvest from the concentrated area and allow the rest to grow with some space. From time to time, shift the side of the containers to the other side and with an used fork, shuffle the soil with soft hands so that this does not hurt the plants, especially the roots and bodies. Instead of using the seeds, you may use the roots of the purchased bunch and plant the healthy roots with a few inches distance.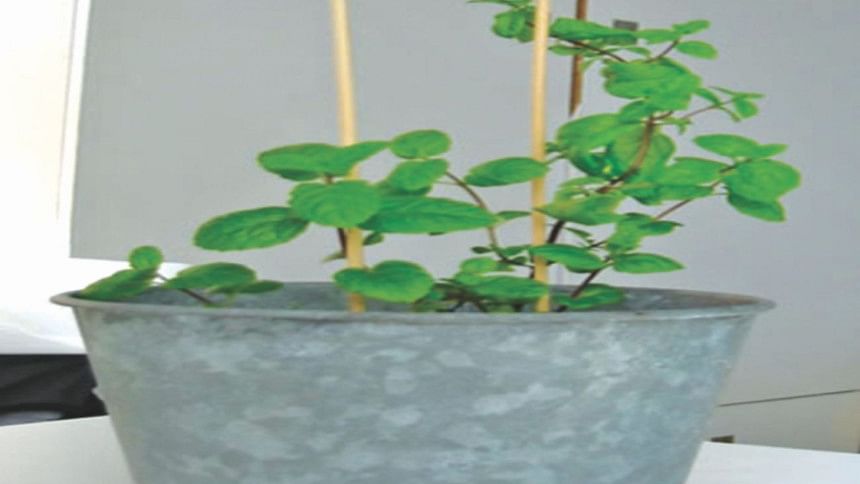 Now about Pudina -one of the most essential and favorite herbs popular for its unique fragrance that compliments almost every item we have daily and even during special days. It would be wise to have one's own supply. Planting is easy too and similar to coriander. The only difference is that you just buy a small bunch and after using the leaves, plant the branches in your prepared container bed and nurture. Mint roots are like runners – they just run and make their own territory!  Within a few days, the new branches will come out and will start expanding their bodies with nice green leaves around the body of the main stalks. After an interval of two to three weeks, just spray some water with a pinch of urea (fertilizer or treat them with some fresh soil – very little and see the result)! One cautionary note - don't pluck many leaves during the initial episodes; just take those mature leaves in the next phase and pluck the twigs and bigger leaves. This will allow the mother plant to grow more; remember mint needs enough space to grow and mint needs lots of water but make sure to avoid water logging. And don't forget to re-pot your plants each year.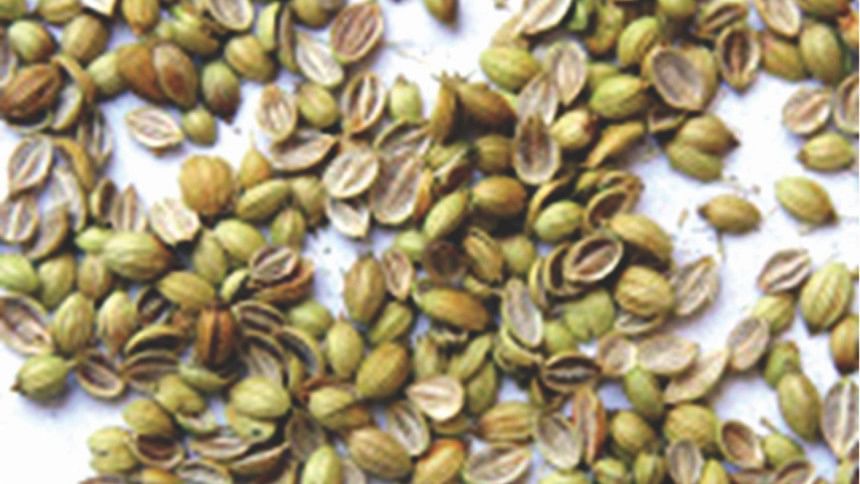 Q.2.Zarif, Dhaka
I have some large plants potted in drums at the veranda, which receives a lot of sunlight but also rain water. I feel some of the drums are getting waterlogged. How often do I need to water these plants, if at all during these rainy days?
Dear Zarif,  
Thanks for sharing your issue. It's great that you have space that has enough access to both sun light and rainwater.  Actually there is no set formula of plant watering or care; it rather depends on the individual need of the plant. The associated environments and factors will tell you/us what to do and not to do. For any planters, it is essential to follow some common rules such as arrangement of drainage system which for container planting is critical.  When the container accumulates excess water, just allow the water to go out through the holes.  In a drum arrangement, there should be some extra holes in the upper side of the body to remove the extra water.  On regular sunny days, watering is a must. Actually the upper soil will tell you whether it needs water or not and how much is required.   In addition, for healthy growth, please remember to give a pinch of TSP around the circle of the plant a few inches away from the main trunk.  Except those rainy days, remember to water your plants in a routine manner and don't forget to shuffle and change the soil from time to time, especially before the fruit bearing and after the harvest season. Change of the container is also a good idea after a good interval.  
Q.3. I have a small vegetable garden on my rooftop. I was wondering what vegetables I can grow this season? Please also mention which types are suitable enough to be planted in large pots.
Thanks for asking me about roof gardening – this is my favorite area! Now in this season, go for all kinds of gourds (bitter, sweet and water).  Just prepare the big containers/full or half drums for the individual type and the items required for the climbing shades like macha.  You may also go for the long beans in the same manner. For egg plants, chillis, okras or similar standing plants,  medium or bigger earthen containers are ideal. Get the young saplings (or seeds) from a reputed nursery and plant those and let them grow with your love and care. For healthy and extended life of the plants, bamboo stick support is needed when the plant is about 7-10 inches height (bind the stick with the body of the plant). Mix dry neem leaves to keep the insects away and protect your plants from unwanted attacks and damage by any means. Wish you a good harvest in this season!    
Photo Courtesy: Laila Karim