A tête-à-tête with George Anthony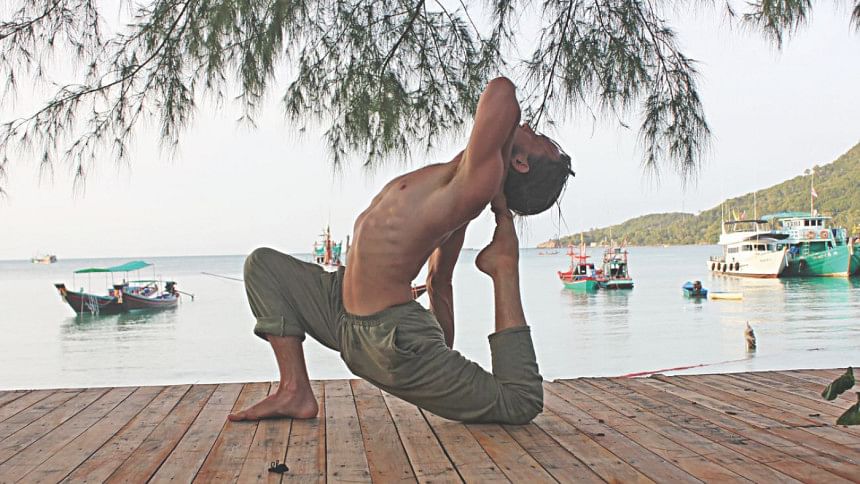 I had the pleasure of meeting George, an inspiring yogi, on one of my yoga training getaways in Koh Samui. His dedication to the practice, his sincerity and his humour, his commitment to his students, caught my interest. After exchanging a few words, I asked him for an interview and here it is.
How did you get interested in yoga?
For me, yoga started as an interesting combination of wanting to remember the feeling of my younger years playing in the forest, being immersed in nature, and my very immediate desire to escape the misery I was experiencing in my college years with a party lifestyle, out of shape, and overweight, when I was generally depressed and anti-social.
I had some idea of the spiritual aspect of yoga from music, notably some of The Beatles's later works, and also a World Religion course I took in my freshman year. The physical aspect of yoga was also starting to become more mainstream and it seemed like a good thing to explore.
Where did you learn yoga? What kind of yoga do you teach and where?
I first learned about yoga from articles and posts online. I would look up one or two poses and try them every morning and evening for about 20—30 minutes. I read about breathing and meditation. Around this time, I dropped out of college and moved home and started taking classes at my local studio with some beautiful teachers. They inspired me and I took off.
In what ways has yoga benefited you?
The benefits extend into every moment of my life. But to say simply... awareness has come to the way I exist, the way I relate, the way I integrate with the world around me and the world within me. I value harmony as my highest ideal. This means I aim to honour my deeper needs, to nurture my body and soul, to respect others, to be grateful for what is provided and given and gifted, to honour the will of others when their will is good and to bring awareness to them compassionately when they are unaware or hostile.
Can you please describe a typical day in your life?
Recently, I've moved back to Thailand and started working as the lead teacher with a 200-hour yoga-teacher training program. We run courses every month, and I'm on for six months out of the year. During this time, I lead morning or evening practices with a workshop midday on the art of teaching. In my free time, I share good energy with people through dance and music, meditation, fitness exercises, swimming, or exploring my new island home.
I especially love dancing as it really combines so many wonderful elements of human joy, connection, play, and mindfulness.
I'm anticipating the months off. I will be diving deeper into my own practice, as well as manifesting a lot of creative projects in music and art. I am an avid drummer. I make thumb pianos and I want to try some other small crafts. I'm also getting excited to spend some time doing art of sacred geometry, 'yantras' and the Hindu 'devata.'
What advice do you have for someone who has never tried yoga?
Find a way or place you feel comfortable in to begin. It does not have to be a yoga studio or gym. Get a group of other beginners together and invite a yoga teacher to your home or community.
Beginning and keep beginning is all that really matters. Find a teacher and a practice that captivates you with inspiration and energy or revelations. Take your time and practice often instead of trying to do a lot once or twice a week. Yoga is more about changing our habits of perception and daily life than our bodies, or our abilities on the mat so a regular practice of the simpler things will have a much more profound impact on your emotions, understanding of yourself and relationships, and life itself. Life lives for life.
What advice do you have for yoga practitioners?
Remember, the practice of yoga is about moving towards greater energy, stillness and compassion in all aspects of your life. This is walking the balance of discipline and surrender. Energies naturally flow and ebb, yet we can also hone them into a very refined point of focus and this brings our attention close to the source of our being. This helps us to surrender some of our ideas about who we think should be or how to react to the external reality and we will experience greater peace and love with all the more we enter the mystery of our being and let go of ego identity.
If you're mostly practicing physical yoga, start to learn more kriya and pranayama. Mantra is also a powerful practice. And for all, find time for daily stillness, quiet in nature, and meditation with a consistent technique on a regular basis.
Don't limit yourself, there is no 'correct way' of practice or belief system. There are countless ways and in the given time, each person is doing what is best for them, even if from another's perspective, it may seem to be totally off track. Your journey is a teacher and it's very intelligent and creative AND it exists beyond time.
If we could see all of time, we would understand why we have to go through the ups and downs that make it 'difficult' in the moment sometimes and also see how all the different journeys are part of each ones' learning and the beautiful tapestry of life.
What are some of the things you do to take care of the world or yourself that you have learned along your journey?
Taking care of myself is a primary way in which I take care of others. To be healthy, love inspired, and energetic means I naturally do things that support others. One of the reasons I wanted to become a yoga teacher was to get out of work that caused harm and waste.
I smile towards and acknowledge people in public, and almost always make myself "available" for that kind of interaction. People who are looking for knowledge and healing, I'm happy to share with.
In the last few weeks in Thailand, I've started small road cleaning projects to get sand off the roads which cause a lot of motorbike drivers to slip and fall.
Around this time last year, I visited Afghanistan and taught yoga to some young kids there to help them heal from the trauma of war and poverty with a charity- The Miraculous Love Kids.
If you want to find out more about yoga from George visit his website www.sajeevayoga.com