Kundalini rising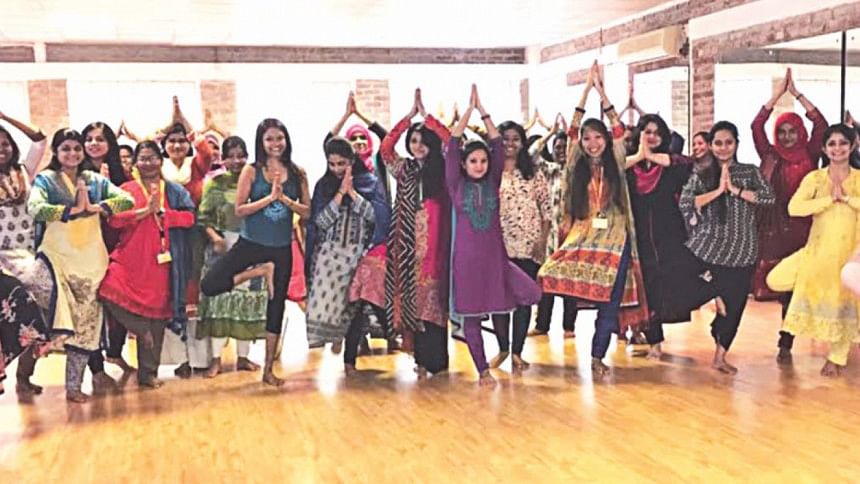 To celebrate International Women's Day, I had the opportunity of sharing my knowledge on yoga with two groups of corporate working women: those at DHL and Standard Chartered.  Prior to this, I also conducted similar sessions for women at Nestle, IDLC and H&M.  What I found was that there is a great deal of interest and enthusiasm in learning more about yoga, meditation and mindfulness but women find it difficult to make time for themselves, prioritising their work and family obligations over their own wellbeing. 
I conducted a short perception survey of 60 working women who had never done yoga before and here is what I found:
Is yoga good for your
Health and fitness?  100% said yes
Mind and inner peace?  100% said yes
Energy level?  100% said yes
Is yoga suitable for everyone?  100% said yes
Do you do yoga regularly?  100% said no
Why not? 95% said 'no time'
5% said 'lack of classes near my home'
What other forms of exercise do you do?
Aerobics - 5%
Treadmill - 5%
What this survey tells me is that people in Bangladesh are now aware of the benefits of yoga but it has not yet become an integral part of one's lifestyle.  There are however over 15 instructors teaching yoga in Dhaka alone. Compare this to when I began teaching, in Amazon Club, in 2006: awareness around yoga was much lower and there were perhaps no other teachers. 
We have come a long way but we still have a long way to go before we catch up to America…. Or India! In America, yoga has been identified as a growth industry.  According to Statista, the number of yoga and Pilates practitioners has gone up from 16.5 million in 2008 to 25.4 million in 2015. According to the NIH 2012, nearly 10 percent of U.S. adults and 3 percent of children participated in yoga in 2012, up from 5 percent of adults and 2 percent of children a decade earlier (National Institutes of Health).  Lululemon, best known for its flattering yoga pants for women, has started opening stores just for men.  Medicare has started covering the cost of yoga classes as part of cardiac rehabilitation programs. A Harvard-MIT study completed this year shows that relaxation-response techniques, such as meditation, yoga, and prayer, could reduce the need for health care services by 43 percent.  A Harvard Medical School report suggests the benefits of yoga are not just cardio-vascular, but also yoga improves body image, self-confidence and metabolism rates. 
In India what we see is harder to classify. Many people practice some variation of yoga at home but hardly call this yoga. It has become much like a morning stretch.  Thus it is harder to estimate the change in yoga's popularity over the past few decades.
Shazia Omar is a yogilates teacher at Studio 107. She may be reached at [email protected]  or www.shaziaomar.com
Photo courtesy: Shazia Omar