Make a sweet little sin with The SweetSin Coffees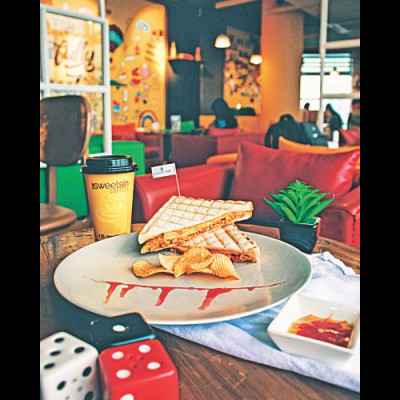 Sugar consumption is closely related to an instant release of dopamine, the chemical responsible for that feeling of happiness and gratification we crave so much. We keep consuming until the guilt takes over, and eventually starts feeling a little like a sin. Well worry not, because a sweet little sin like this is all you need to liven your dull days. The SweetSin Coffees is one of those casual hangout places in the city that has been here for a while, and is very much loved for their cool ambience and great food.
Found on the 8th floor of Navana GH Heights, this has become the go-to place for most coffee lovers in town, as well as the sweet-tooths out there always looking for a different form of dessert. Scrumptious waffles and coffees that feel like a hug are their specialty, but they also offer other dishes.
Starting things off, the star of the menu is definitely their red velvet waffle, and one of their best sellers too. This waffle is dense and heavy, filled with cream cheese frosting, and has a light coat of cream cheese sauce on top. Because of the richness of the dessert, it tastes best when combined with the ice cream. Overall, besides being the perfect dessert for sweet fanatics, it can pass as a dish itself. While some love indulging in creamy richness, others prefer something with a little crunch and tanginess. That is where the berry cream cheese waffle comes in. With a berry pie filling and generous coating of cream cheese, it makes the right dessert for those who want something sweet, but not over the top.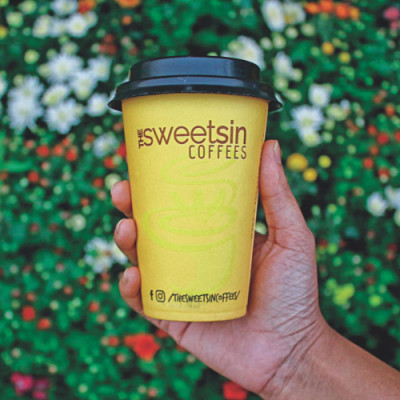 Coffee lovers rejoice, for you will surely find a cup of your choice here. The tiramisu cappuccino is very rich and has the distinct tiramisu taste that is really hard to find. If you want something milder but still different, go for the caramel cappuccino that has a hint of caramel taste and smell to it, separating it from your average cup of coffee. Besides these, SweetSin also has an array of other choices of espressos, Americanos, cappuccinos and macchiato. Not everyone has a thing for hot drinks, and that is completely fine because the chillers menu is pretty long too. Frothy drinks with a heap of cream in a wide range of flavours, ranging from hazelnut to blueberry to chocolates and caramels, there is something for all taste buds.
For a little savoury before these amazing desserts, SweetSin's new additions to the menu include two mouth-watering pastas. The fettuccine alfredo has a rich creamy texture from the cream cheese used and generous chunks of chicken. What is so great about this particular pasta is that unlike most of its kind out there, one can consume tons of it without feeling full because of the fine cream cheese that isn't too overpowering. In terms of spiciness, this is pretty mild, but if you are looking for a spicier dish, their Pasta Bolognese is the ticket. Incorporated with meat sauce and tomato puree, the Pasta Bolognese has a unique texture to it with a medium level of spiciness.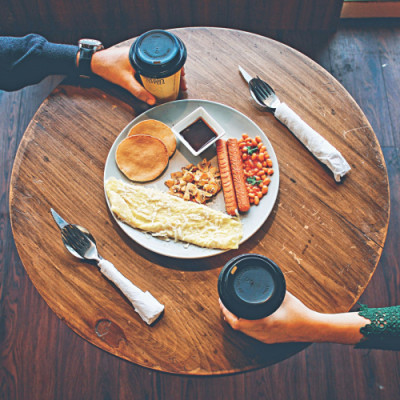 SweetSin is also recognised for their popular brunch platters, namely Platter 1, a crowd favourite. It includes a good combination of sweet and savoury, catering to all sorts of tastes. Other than these, the menu also comes with brownies, sandwiches, wraps with customised dressings and fillers and other platters so nobody misses out on the fun.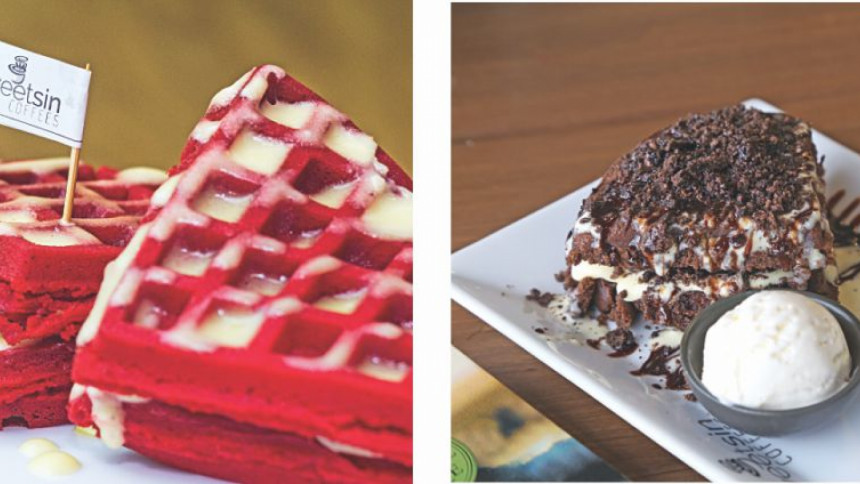 When it comes to ambience, this place really takes the cake for the amazing view from the 8th floor, the warm lighting, wall art that make great photo backdrops, and the little fun and games corner full of magazines and board games to spend time on, while waiting for the delectable meal to be served!
Photo courtesy: The SweetSin Coffees