Falgun flavours
As the chilly winter days meld into the more comfortable spring weather, people prepare themselves to celebrate its arrival with the spring festival. Bashanta, the Bangla edition of spring, is associated with freshness and new beginnings in all spheres of life. It is the symbol of colours and rejuvenation, often glorified in prose and poetry, and serves as the muse for many an artist. It is the symbol of life and its resilience. It comes with the message of hope and joy.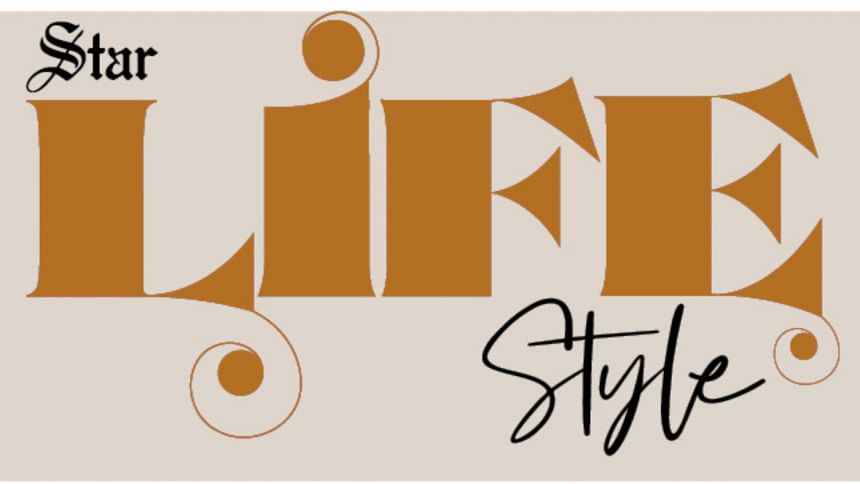 Nature seems to burst with joy at the arrival of the new season; the trees and plants adorned with leaves anew, with buds blossoming into blooms. The skies are a happy blue, inviting to the soul. The cool and refreshing south west wind begins to blow.
Changing seasons call for a change in food habits. It is necessary to modify our palate according to the climate. Enjoy these few delicious items on the occasion of the coming of the new season.
ALMOND AND RAW BANANA GALAWAT
Ingredients
100g almond slivers, peeled
250g raw banana, boiled
1 tbsp almond paste
2 tbsp oil
¼ tsp cardamom powder
1 tsp ginger garlic paste
¼ tsp garam masala powder
½ tsp red chilli powder
½ cup tempura powder
Salt to taste
Method
Finely grate the boiled raw banana. Heat oil in a pan and add ginger garlic paste and fry it well, to a light brown colour. Then add the garam masala and red chilli powder and sauté. Now add almond paste and sauté for a minute. Add the grated raw banana and cook till the mixture leaves the sides of the pan. Adjust the seasoning and finish it with cardamom powder. Cool the mixture and divide them into small equal dumplings. Give then a patty shape, coat with tempura batter and crumb with almond slivers. Grill the patties on a non-stick pan till golden brown. Serve hot.
SUNSET GLORY
Ingredients
1 cup pineapple juice
2 cups sprite
2 tbsp rose syrup
1 cup crushed ice
2 pineapple wedges for decoration
2 small sprigs mint leaves
Method
Take two tall glasses. In order to get a nice colour gradient, first put crushed ice in the glasses. Pour pineapple juice. Then add sprite. Over this add rose syrup. Stir the mixture a little bit so that the contents get slightly mixed, but still they can be seen separately. Decorate the glasses with pineapple wedges and mint leaves or with decorative straw of your choice.
MURGH MALAI TIKKA WITH MINT CHUTNEY
Ingredients
250g chicken breast
1 tbsp ginger paste
1 tbsp garlic paste
2 green chillies
1 tsp coriander powder
1 tbsp cream
1 tbsp yoghurt
4 tbsp lemon juice
½ cup mint leaves
½ cup coriander leaves
1 tsp chat masala
½ tsp sugar
1 raw mango
1 tbsp ghee
Salt to taste
Method
For the marinade —
Marinate the chicken in the lemon juice, ginger-garlic paste for 30 minutes. In a separate bowl mix together the yoghurt and cream and whisk well to eliminate all lumps. Now add the mixture to the chicken and marinate for a few hours. Thread the chicken pieces onto the skewers. Heat ghee in a pan. Cook the chicken until cooked through and slightly charred around the edges. Take the chicken off the skewers, sprinkle with chaat masala and serve with chutney.
To prepare the chutney —
Take garlic, green chilli, ginger, sugar, salt in a small jar of a grinder. Grind them until medium coarse consistency. Add coriander leaves, mint leaves, lemon juice and 1 tbsp of water. Grind until smooth.
BADAM PAK
Badam pak is one of the most delicious sweet dishes that is made with lots of nuts and ghee. The best part of this delicacy is that is not very sweet, just enough to satisfy your cravings.
Ingredients
1 cup almonds, crushed
1 cup mawa
1 cup sugar
½ cup ghee
½ tsp cardamom powder
¼ tsp nutmeg powder
½ cup water
Method
Mix water and sugar in a pan. Bring to a boil. Add mawa and make it smooth. Put almond and ghee. Cook over medium heat till the mixture leaves the sides of the pan. Mix cardamom and nutmeg powder. Remove from heat and spread the mixture on the tray. Keep it for cooling. Cut into squares. Badam pak is ready!
PATRANI MACHI
Patrani machi is a Parsi recipe where the fish is braised in spices and then wrapped in banana leaf before cooking it. The fish, which absorbs all the flavours while being slow cooked, is relished during the festive occasion of spring.
Ingredients
6 fish fillets
½ cup grated coconut
1 bunch mint leaves
1 bunch coriander leaves
10 green chillies
10 cloves garlic
1 tsp sugar
1 large onion
1 tsp cumin seeds
2 lemon
2 tbsp ghee
Salt to taste
Method
In the mixing jar, add mint, coriander leaves, grated coconut, green chillies, cumin, garlic, onion, sugar and salt. Grind it until it turns into a fine paste. Apply the above mixture to the fish pieces and sprinkle lemon juice over it. Now cut the banana leaves in such a way that it is big enough to wrap each fish pieces properly. Heat the leaves on both the sides and wrap around the fish, then tie off with a string. Now, grease the baking tin and place the fish in it. Pour some ghee over each fish pieces and bake it for 15 minutes. Your Patrani machi is ready to be served.
SHAKKARPARA
Ingredients
1 cup whole wheat flour
1 cup refined flour
4 tbsp ghee
Salt to taste
Oil for deep fry
1 cup water
1 cup sugar
Method
Mix whole wheat flour, refined flour, ghee, sugar, and salt with a little water and knead into a tight dough, keep it covered with a damp cloth for half an hour. Divide the dough into five to six equal balls. Roll out each ball into a flat chapatti of three millimetre thickness. Cut into diamond shaped pieces with a pastry cutter or knife. Heat oil in a pan and deep fry over medium heat till brown and crisp. Drain onto an absorbent paper and cool.
Making the sugar syrup —
In a pan, add sugar and water and bring it to a boil. Reduce heat to medium and keep stirring this mixture until sugar dissolves. Check for sugar consistency between fingers. As soon as the sugar syrup thickens, turn off the heat and add all the cooked shakkarpara in it. Start mixing the syrup and shakkarpara together to evenly coat them all over the shakkarpara. You will see the syrup sticking to the shakkarpara. Now the shakkarpara is ready to be served or packed in an airtight container once completely cooled.
BATASHA
Ingredients
250g sugar
75ml water
Method
Keep a pan on a stove and add in sugar and water. Mix well and let it boil. Keep stirring till the mixture resembles a thick paste. Scoop out small portions of the paste on a sheet or plate. Allow it to cool completely and serve.
MALAI LADDU
Malai laddu is a mildly sweet dessert that is very soft and melt in the mouth with the hints of kewra and cardamom. It is made up of cottage cheese and condensed milk. With few ingredients and very little time, a scrumptious dessert comes into being.
Ingredients
250g cottage cheese
½ cup condensed milk
2-3 drops of kewra essence
¼ tsp cardamom powder
Pistachios for garnishing
Method
Churn cottage cheese. Put cheese in a mixer. Pulse it once.  In a pan, add cheese and condensed milk. Cook on low flame. Add kewra and cardamom powder. Stir and mix well. Remove pan from the heat. Take out the mixture in a plate. Once it cools down, take a portion and make laddu with it. Garnish with chopped pistachios. Refrigerate for half an hour and serve.