Tempt with Taant this Eid!
It is a fact universally known that Bengali women love their saris. We adore saris of all kinds- silk, chiffon, georgette, cotton —name it, and we want it! And this love knows no discrimination. In the closet of every self-respecting fashionista hangs a wide variety of saris in various colours, textures and designs. Wispy laces share space with heavy Katans, and embellished, crystal-studded net saris jostle for room with simple cotton Kota and Jamdanis. Amidst the beloved, painstakingly amassed collection of saris, Taant saris, especially those woven by rural artisans over handlooms, hold a special place. Native to Bengal, our very own handloom saris bring to life the richness of the culture, and its heritage. One would be hard-pressed to find a woman who does not own a taant sari; they are versatile and traditional, and exude grace.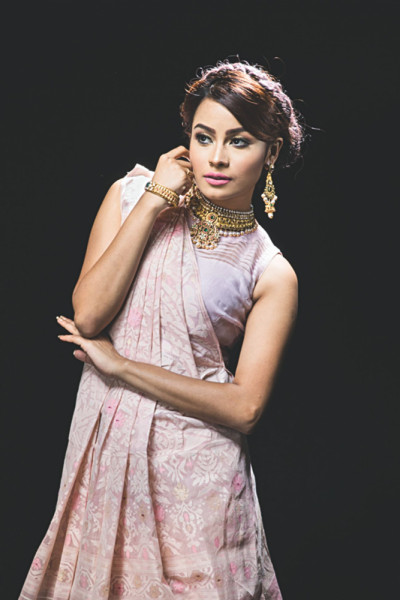 A stalwart of the Dhaka sari scene is Tangail Saree Kutir, particularly well-known for its variety of Taant saris, including plain cottons and the exclusive Jamdanis. Very few sari lovers could claim to not have heard of the store, on Bailey Road.  The handloom cotton saris are thin and airy, proving ideal for the humid summers that Bangladesh is known for.  
There are many variations of intricate patterns and colours, including geometrical motifs and traditional Bengali decorative art forms, with the weave incorporating a range of colours, often within the same sari. A Taant sari, elegant as ever in its understated splendour of silks and cottons, is suitable for wear on almost all occasions, like Eid, Pahela Baishakh, and even weddings.
Eid-ul-Fitr is an occasion when we all want to bring out the best in ourselves, on the outside as well as the inside. While the allure of imported fabrics is hard to resist at times, a Taant sari with its graceful, subdued designs woven with love and affection truly sets one apart in a crowd. They are effortlessly elegant in their own understated way, a far cry from the obvious flash of crystals, sequins and bright colours of mass-produced, dozen-a-dime synthetic saris. On Eid morning, when the air is fresh and crisp, a Taant in a soft shade of cream or baby pink is absolute perfection.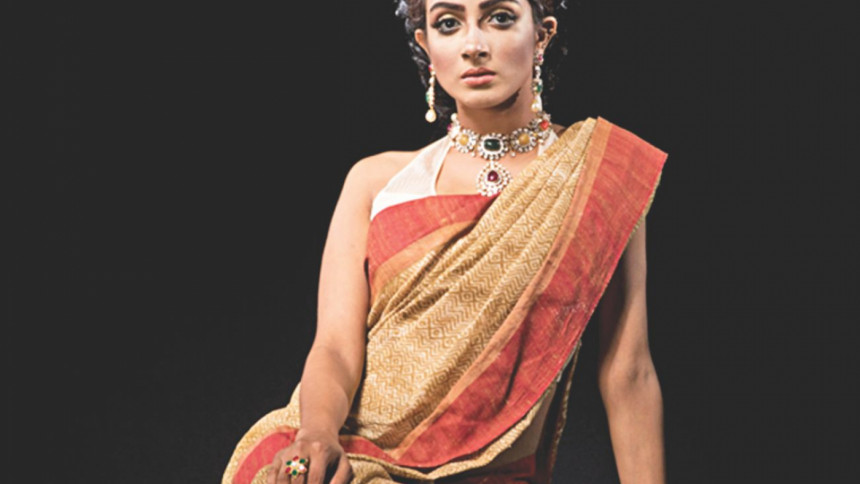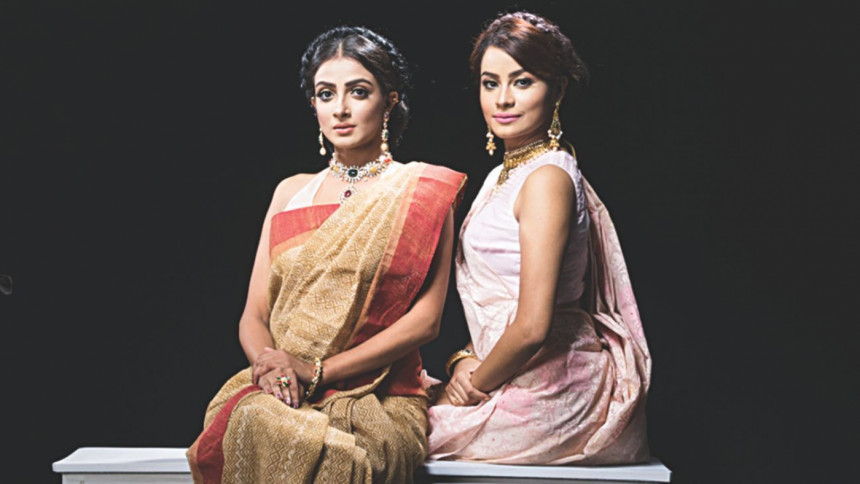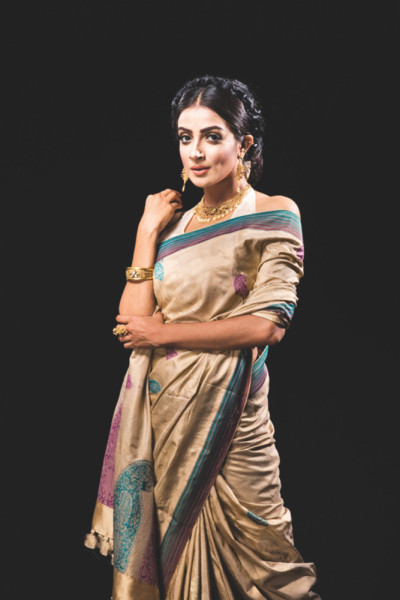 The best way to accessorise a Taant is to follow the less is more mantra, especially in the daytime. A string of pearls, simple gold or diamond studs are more than enough in the early hours, with simple makeup and a hairdo to complete the look.  
As the day rolls on and gives way to night, it is time to up the glam quotient in jewel tones like emerald, ruby and sapphire, to look fabulous and festive. A blouse in a contrasting colour adds an interesting twist. At night, gold sets with intricate details featuring precious gemstones, kundan and pearls work really well. This is your moment to shine; choose delicate chokers with oversized earrings, or layered necklaces that would elevate the simple Taant into festive wear. Matching bangles and rings add some cheer as well. In terms of hair, a chic simple french knot, or a loose knot, looks classy, and will help beat the heat. Glamorous makeup is a must with this attire. The eternally favourite smoky eye is a look that most Bengali women love. Pair it with either a bright or nude lip colour, as both look equally good! So without further ado, ditch the imported fabrics, go back to your roots, and tantalise with Taant this Eid!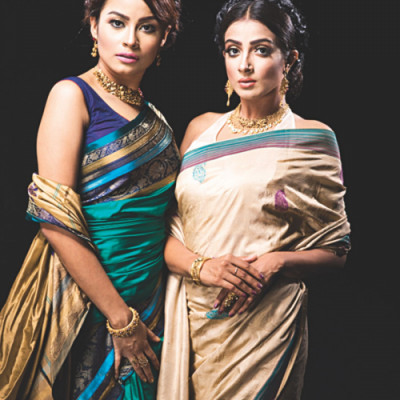 By Sabrina N Bhuiyan      

Photo: Sazzad Ibne Sayed

Model: Mashiat and Doyel

Wardrobe: Tangail Sharee Kutir

Make-up: Farzana Shakil's Makeover Salon

Jewellery: Jarwa House