Cover story
Tales of BEAUTY through the AGES
Covered in a shimmery red dupatta, the bride looked around timidly for her confidante. Her gleaming face, resembled the glow of the moon. A tiny black dot peeked between her perfectly arched brows. Her lips, in a light rose tint and cheeks in a flamingo pink, looked absolutely perfect for the evening. And that's all there was to her makeup — and that's all she needed, because her shining grace already surpassed the beauty expectations of the audience. Her beauty was second to none, and this is perhaps how most of us recall the brides of the yesteryears.
Even though the olden days were simple and modest, the makeup style perhaps lacked a bit of art. It lacked the fancy of the mind. Today, with makeup, anything and everything is possible. You want to bring in an inspiration of a colourful butterfly into your makeup? Done. You want to resemble a sensual cabaret dancer... the possibilities are infinite.
To get a proper appreciation for the splendour of our current makeup industry, we spoke with some of the more distinguished makeup artists (MUA), and below are just some of the interesting bits of information we knew you'd love.
If one thing became evident from speaking to these talented ladies in the business, it's that the future is certainly bright for the industry. With thousands getting into the business every year and trying to showcase their prowess, the MUA ladies of the era provided nothing but more encouragement.
If we had to hand out a word of advice to all the hopeful makeup artists of our nation, it would be to keep on shining bright. The world is certainly your oyster!
Noyon Ahamed

The free-spirited artist
Freelancing is a term that has had a tremendous impact in the world of makeup, just as it did in other fields of business.
Not all creative makeup artists have a brick and mortar studio, some move their cosmetics boxes along to wherever their clients want them, and Noyon Ahamed is certainly that person — one who enjoys being a freelance makeup artist, shattering the trends of the long-lasting makeup studio culture.
"Today, people don't care much about a permanent makeup studio, as long as your goodwill is decent," said Noyon Ahamed. After a short stint as an assistant to quite a few famed makeup artists, it was time for Ahamed to move on and start a business of his own. But he lacked the capital to set up a permanent studio.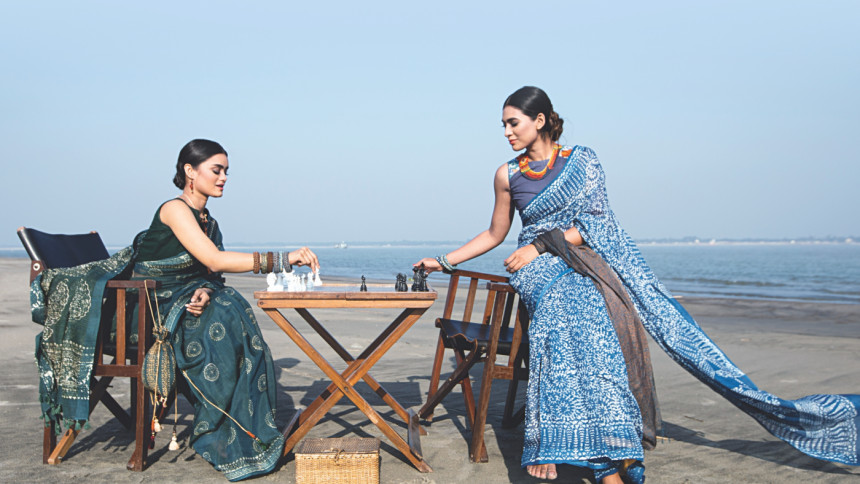 Over time, as he became a professional in his own right, people soon began to notice his talents. "Clients would specifically look for me when they came to the studio because they liked my aesthetical play with colours," remarked Ahamed.
I invested my savings on high-end makeup tools, and today, there's no turning back for me. I get regular calls from fashion shows, model photoshoots, TV programmes and many other similar initiatives," said the makeup artist.
This was just the story of one freelancing makeup artist, and there are many others in this field who are also self-employed. This is certainly a positive note for the emerging newcomers who want to venture into the field and make a name for themselves. For no longer is a permanent studio and thousands of clients necessary to begin a business that one admires.
Sadia Moyeen
The iconic makeup artist
No article on makeup can ever be complete without speaking about Sadia Moyeen, a celebrated name in the local industry; it would not be a stretch to call her a trailblazer for the MUA (make-up artist) trend.
With the industry continuously going through constant innovations, reduction on makeup has started to mean amplifying on skincare. Instead of caking on foundation, this year and onwards, we expect to see the rise of layering serums and moisturisers, enhancing the natural look. It won't be wrong to say that 2020 is a year full of no-makeup selfies for everyone.
Graceful as always, Sadia Moyeen agreed to revealing the secret behind her signature makeup look, which ironically, is very similar to the current mantra of simplicity, saying, "The look that I had been trying out all these years has suddenly become all the rage! In the yesteryears, it was really hard to convince anyone to go for the natural makeup look, especially a bride, but today, this is what most brides are opting for, and somehow, I feel delighted."
When discussing matters of the future look, she pointed it out without hesitation — flawless, dewy skin was certainly meant to be the highlight of the future.
During our discussions, Moyeen also gave some fruitful style suggestions like avoiding excessive makeup, wearing too much jewellery, or clothes that do not identify with our personalities. "Our looks and styles need to enhance our personalities, not overshadow them," said the famed makeup artist.
When asked about her thoughts on the proliferations of the unnatural methods to amplify structural beauty, the renowned artist said, "Ageing is an unavoidable process in all our lives that we must accept gracefully. Of course, a lot of methods such as Botox and lip enhancements have become the fad today, and there's nothing wrong in that, but if you ask me personally, I'd say there's no alternative to herbal skin care. It doesn't have side-effects and if regularly applied, helps to relieve even the most undesirable signs of ageing over time."
While on the topic of cosmetics collaborations and the future of the industry, she said that Bangladesh is an untapped market that is soon to witness the height of the billion-dollar industry. "The middle-income group of our society cannot afford the expensive products as of yet, and the rich are consistently travelling abroad to get these items. So, until and unless these products are made available to everyone, it'll still take some time to establish themselves in the market. But we are hopeful, that is the future after all," said Moyeen.
Of course, we couldn't wrap up without her words of advice to the youngsters of today. "There's simply no shortcut to hard work. Be honest, have integrity, use good products and provide good service, and you'd definitely be able to etch a mark," said a gleaming Moyeen.
Farzana Shakil 

The torch bearer of elegance
The most sought-after makeup artist of the decade spoke of her journey, saying, "I have been in this business for quite a long time now, around 23 years, and thankfully, have been able to witness the rise of the industry from the forefront. 
Today, the business is booming in Bangladesh. The general masses are much more aware regarding skin care, hair care and styling. Everyone — both the young and old, have enough exposure to the rest of the world and what is happening around them. They have the means, the physical fitness, and even time to spend on their personal wellbeing, and I am absolutely ecstatic by the thought. This uplifting trend will only continue and increase in the future."
As we went on, we started discussing what qualifies as signature looks for FS.
Shakil was proud to single out her trendsetting styles. "The smoky eyes, the bridal gold and bronze eyes, have been introduced by me, in Bangladesh. Everyone who has been around in the industry for the last three decades can vouch for this, and I am grateful to be acknowledged," disclosed the famed creative artist.
When asked about the future of the makeup and the cosmetics industry, the style icon replied, "The future of makeup is all about simplicity and people feeling good in one's own natural skin tone. And as for the cosmetics industry, it might not have made a mark as of yet, but the future certainly seems to be brighter, because the industry is booming and peoples' affordability is going up by the day. It's just that our makeup artists need to get more international exposure, and eventually, when there's a strong global pull — the collaborations will automatically take place, and I do see a future to all of this — despite seemingly bleak outlook at the moment."
She also pointed out the difficulty in affording expensive international cosmetics brands by the rising middle-income group, and also the increase in travel and global accessibility by the higher income groups.
 "Online pages have also curbed the business mandate — it's easier to access, sometimes even lower in cost, because of the absence of the physical store overheads, online sales have become more feasible than the former," asserted Shakil.
Shakil also touched on the damaging side of social media education. "Certainly, everything is available on the Internet today, and I laud people gathering knowledge from it, but I still find no alternative to books and the primitive ways of gathering knowledge. We had to work so hard back then, reading books after books, and getting into the depth of the study with all our dedication, and I believe our roots are much stronger today because of all the hard work. My suggestion to all newcomers would be to work as hard, and perhaps even more. Go through reference books, besides watching the YouTube videos, do thorough research, and you'd definitely be able to stand tall amongst the crowd," affirmed the renowned MUA.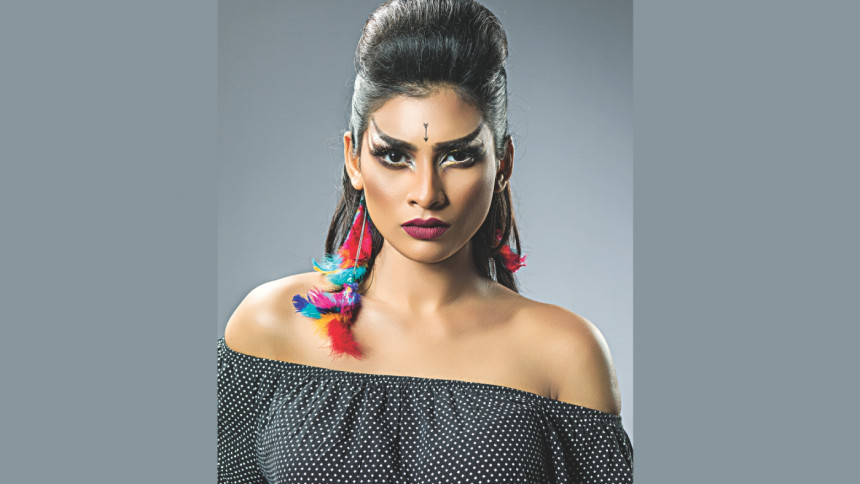 Raisa Naushin

The queen of experimentations
"From childhood, I had been inclined towards painting, and I think as I grew up, my canvas simply shifted from the paper to the human face," said Raisa Naushin, the MUA.
While discussing more on the recent trends in makeup, Naushin said, "During our grandparents' days, makeup was very simple. It was a regular affair — like a bride looking slightly different from her typical self.  Then came the '90s, and it was totally a different ball game altogether! This is the era when people used to hide behind their makeup. Then, subsequently over the years, the inclination towards fairness and the inbuilt prejudice minimised, and people became more confident about their natural skin colour. And so, minimalism took over."
While discussing about her field of expertise, the topic of signature looks came up: that one special look that helps a makeup artist stand out, especially in a world full of copies and inspirations.
Raisa Nowshin admitted to us the same. "I am popular for the glowy, bronzy look — which I feel is also very much IN at the moment," Naushin acknowledged.
On questioning how today's MUAs kept themselves updated regarding the latest trends, Naushin said, "Well there's certainly an influx of information. There's YouTube, Pinterest, Instagram, and so many other platforms, and most of the videos are in detail, so all you really need is a lot of practice and then make modifications and develop your own creation."
Everyone knows that in most of the developed nations, MUAs have collaborations with world famous cosmetics brands, or have initiated their own line of cosmetics. Unfortunately, Bangladesh lags behind in this field, and we wondered why.
"Bangladesh is currently a lower middle-income country in effect, big brands do not find the market as lucrative at the moment, and maybe that's why they have not entered as of now. But the future surely holds a lot of opportunities in this field. The Bangladeshi cosmetics industry would emerge, and we would soon see a lot of collaborations and productions," acknowledged the hopeful makeup artist.
When asked whether she would be interested in this field, Naushin was prompt with her reply, "Of course! Why not...? The only hindrance is that I am a perfectionist, and until I find a brand that matches my expectation, I would not collaborate, but when it does — I'd be more than interested."