My sweet beloved
Do we eat to live? Or is it live to eat? For many of us, the latter is true. And for a large number of these gastronomically inclined people, desserts reign supreme. Many of us in the cities are quite familiar with the delectable doughnuts, muffins and pastries, thanks to the recently booming baking industry in the cities. But I am sure many of us also wistfully remember the joy that was a fresh steaming mishti, a roshgolla or perhaps a jilapi, often dripping with sheera, or syrup as we know it. There has been a long and on-going love affair between the people of Bengal and their beloved mishtis, leading to many regions developing their own specialties and delicacies.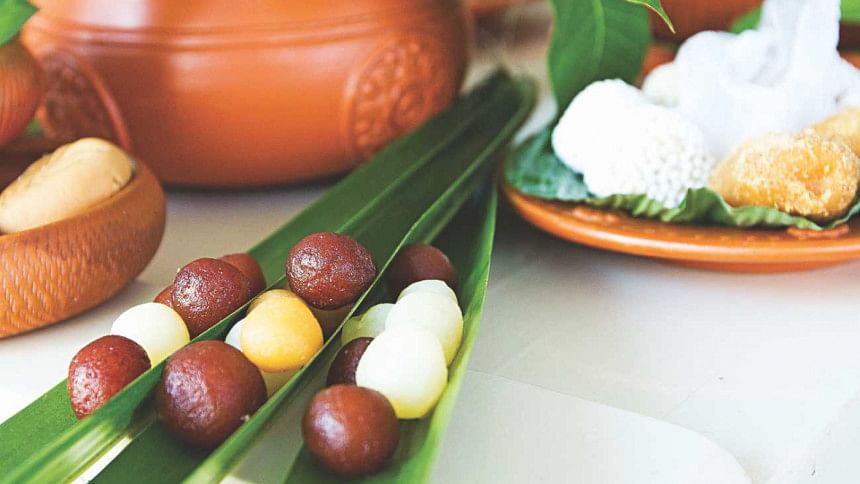 Natore 
Another sweet with a heritage of more than 250 years is the Kachagolla of Natore. It has a history of serving royalty, in fact. 
Legend has it that Queen Bhabani of Natore had one Modhusudan Das of the nearby Lalbajar region supply her with sweets. Modhusudan once had a bit of trouble with an absentee employee and about 80 kilograms of chhana (is fresh, unripened curd cheese made from milk) sitting in his shop, intended for supply to the queen. 
So, while trying to figure out how to save the chhana from going bad, he added some syrup, and kept stirring, only to see the syrup evaporate. To see how the chhana fared, he tasted it, and found it quite delicious. 
Thence began the Kachagolla...oh, by the way, the queen loved it too, and it became a regular feature on her table.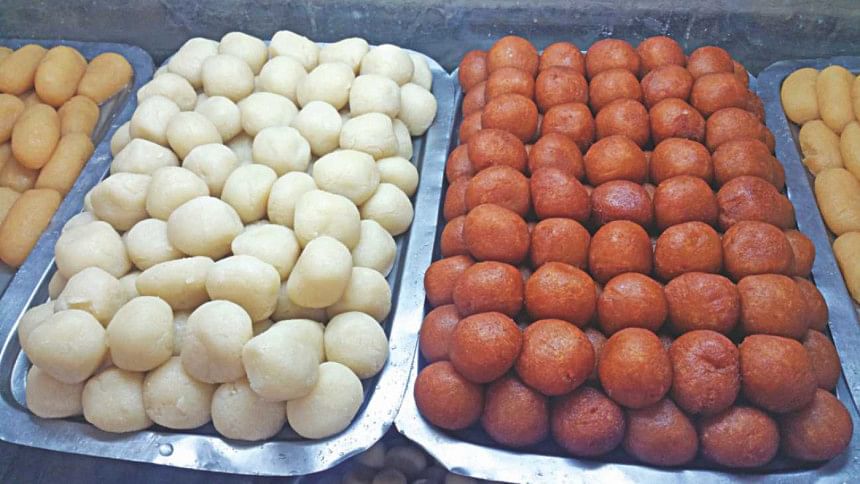 Comilla

How can we forget Comilla? And it's oh so delicious roshmalai? The original Matribhandar of Comilla was in fact so well known for their sweet delectable that many tried whilst others borrowed the name in their efforts to mimic the famous roshmalai. Roshmalai is made of small soft beads of curdled meat sitting in thickened sweet creamy milk. And the one from Comilla just happens to be seeped in the sweet making culture --and hence experience-- of a hundred years at least!
Chandpur

Chandpur has a contender to offer against Jhalokathi's roshmalai, with a very interesting name – the 'One Minute Roshgolla'. The One Minute though just happens to be the name of the shop, which had humble beginnings as a roadside tea stall. The sweet is purely made of cottage cheese, as about 25 kilograms milk is used to make just 13 kilograms of roshgolla at One Minute, said Shampad Shaha, son of the original owner Bharat Shaha, who has since passed away. 
Brahmanbaria

Another well-known mishti happens to be Brahmanbaria's Chhanamukhi. 

"About 60 litres of milk and 10 kilograms of sugar are required to make just 10 kilograms of chhanamukhi", said Gopal Das, a mishti maker at Mohadeb Mistanno Bhandar, to give us an idea of the item's richness. It is a hard, square and sugar dusted sweet. 
To make chhanamukhi, the milk is first made into chhana, or cottage cheese. The cheese is then compressed into a flat block, cut into square pieces and then fried in syrup. The deeper the fry, better the chhanamukhi! 
Sadly, since the supply of suitable milk is often short in supply, the legendary mishti of Brahmanbaria is not always available in all the shops of the region. 
The chhanamukhi is also known as Lady Cany in the area, and there is an interesting anecdote behind that. Apparently, during the British colonial raj, Lord and Lady Canning had high praises for the chhanamukhi when they had the one made by Mohadeb Paar of Mohadeb Potti, which led to the sweet getting its local name. 
---
---
Jhenidah

Roshgolla is perhaps the one sweet which will have the least number of detractors—such is the popularity it enjoys. A well-known version is available in Jhenidah, at the stores by the two brothers Shymal Biswas and Ashoke Biswas, in the region's Kaliganj area. They have held on to the tradition of making it from their father, who passed away in 2013.
So be it the sugar rush you crave, or the mood-lifting endorphins released by the sweet essence in the very first bite of a succulent mishti, there is no lack of local 'legendary' items to try out this Baishakh and beyond.
Jhalokathi

Roshmalai...yum. And of course, bigger the better! So it would seem that the Jumbo Roshmalai of Jhalokathi is the perfect creation for sweet lovers. And among the best known producers is Belayet Sweetmeat in Naikathi of Rajapur, some 15 kilometres away from the district headquarters. 
"We sell about 400 Jumbo Roshmalai every day, and even that is far less than the demand. But I cannot make any more for the lack in regular supply of milk," Belayet, the owner of the shop said. 
Each roshmalai is usually about 100 grams and sells for about Tk 25 each. It is a soft succulent sweet sitting in a light milky base.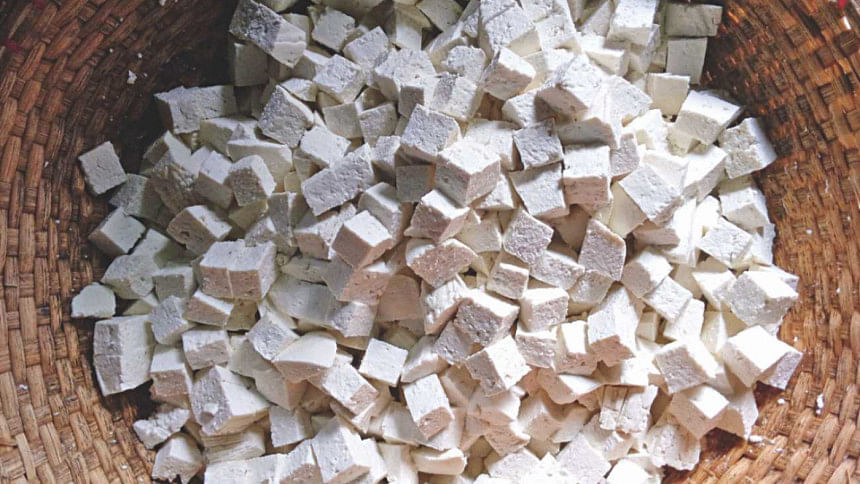 Bogra 
To start with the obvious, perhaps no other heritage dessert item is as popular as the amazing and light sweetened curd that is Bogra's Mishti Doi. The tradition of curd making is ancient, and even the current tradition is at least 150 years old, with the Ghosh family of Sherpur being the industry pioneers. Later, Gouro Gopal Ghosh of the same family received significant patronisation and even a grant of land by the then Nawab of Bogra, Altaf Ali Chowdhury. 
Later, two of his siblings also set up shops and the small cottage industry with a big reputation started off. And it is a well deserved reputation, for the makers here are very particular about the quality and process of making it. 
The makers say the area now produces about 60,000 containers of curd everyday, in some fifty factories of varying sizes! Of course, a lot of these are sent to the larger cities. 
The two oldest curd makers in Bogra are Gouro Gopal Dodhi Bhandar and Ruchita Doi Ghor. 
Asia Sweetmeat is also very popular. Interestingly, almost all of the curd produced in the region is kept in earthen pots and bowls of different sizes. 
There are now more variants to the original Bogra curd, with different levels of sweetness, especially for the health conscious. "We have also introduced the Shahi Special curd, long with the usual plain, normal sweet, and special variants. The Shahi has very low sugar content, hence very light, and is completely white," Nurul Bashar Chandan, one of the owners of Asia Sweetmeat said. Each of the makers in Bogra and of course Sherpur, where the local tradition of curd making perhaps originated, has a somewhat different texture and taste to their product, and never gets boring.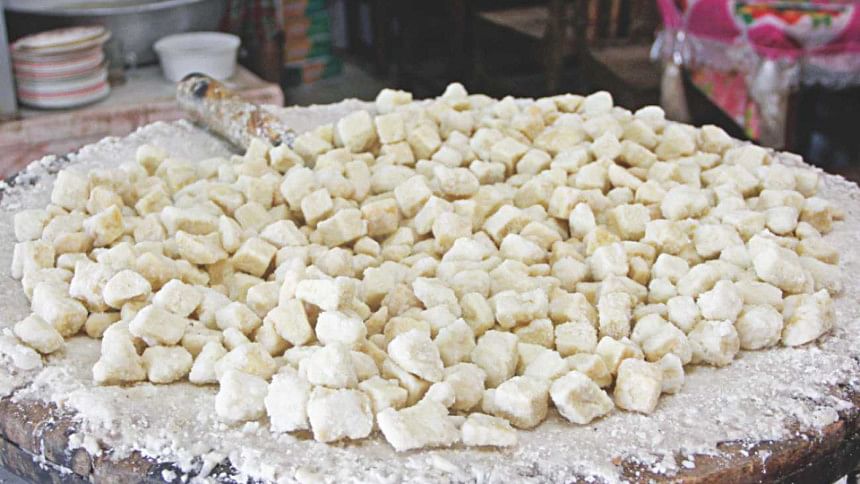 Noakhali 

Another region popular for its curd is Noakhali, as their special variant is made of buffalo milk! Mostly the buffaloes are raised in the coastal island of the region, like Hatiya, Subarnachar, and Kobir-haat. There are also some other remote and hard to access islands used to rear buffaloes, as land is a scarce thing in such a small and overpopulated country like ours. The curd is slightly tangy, and hence is recommended by doctors as being good for health, especially to cut bad cholesterol.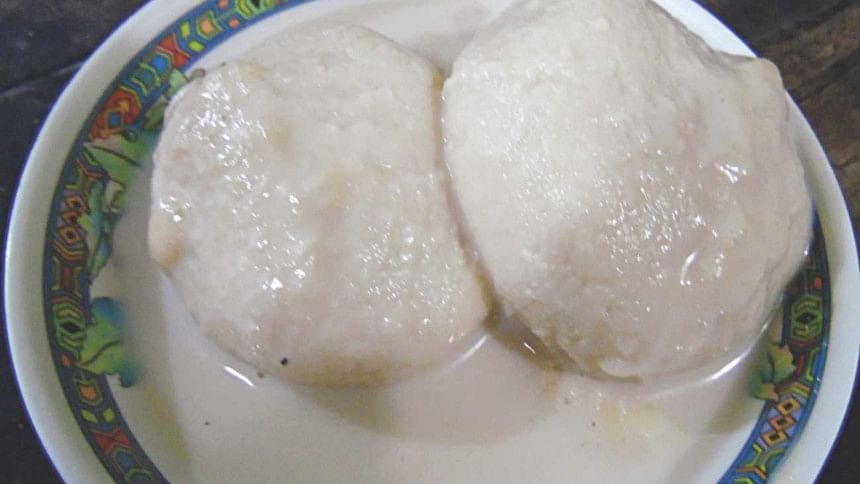 Pabna

Rosh-kodom is a familiar name to any mishti lover. Love it or hate it, you undoubtedly have seen it sitting

in the store racks - little brown spherical sweets completely covered in hard, tiny sugar-balls. Its origin is in Pabna, and it is still quite popular there, as well as everywhere else!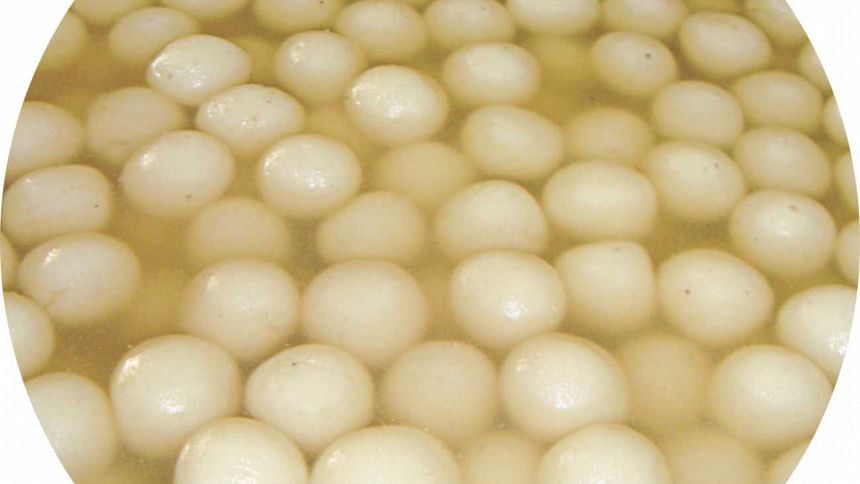 Tangail 

Ask any mishti connoisseur of what they know about Tangail, and the answer would be its famed 'Porabarir Chamcham'. 

Chamcham is a soft, syrup dripping, often white sweet, although we speak not of the famed one from Porabari, but of Bilpara area in Basail instead. 
Many local patrons claim that this variant has surpassed its famous predecessor in taste. It is slightly longish, like a rounded pillow. The chamcham here is also slightly different from traditional white ones, as the Porabari's one is deep brown, and the Bilpara version is light brown, and has a somewhat hard exterior around a soft syrupy centre. 

The best reputed maker at the moment happens to be Newaz Ali of Newaz Ali Mishtanno Bhandar, a sweet making veteran of 25 years!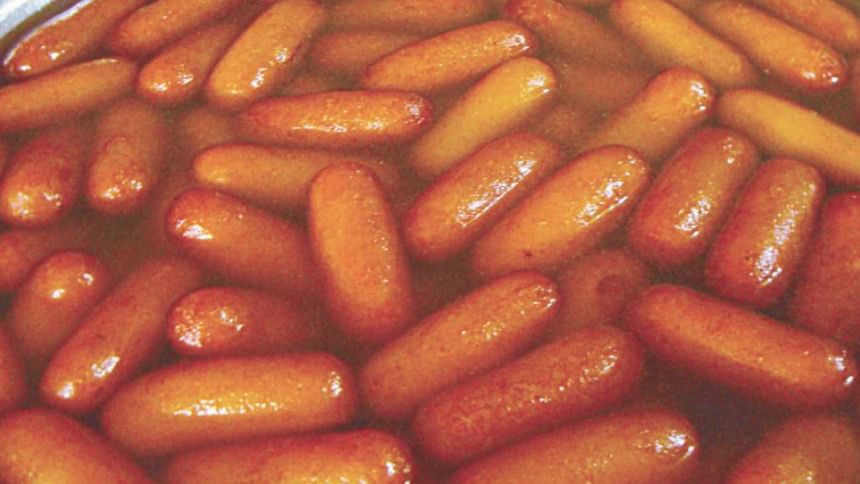 Chapainawabganj 

If you thought Chapainawabganj is famed only for mangoes then think again. It also has a wonderful and well-known chamcham, as well as Shandesh, which is also known as Pera or Misri. 
The making of chamcham in the region is essentially a family affair, as the descendants of the originally famous maker now have separate sweet shops. 
"Since the milk supplied during winter is thicker, the sweets are tastier then," said Korun Sarker, one of the owners of the original chamcham store of the area. Sometimes they make huge chamchams, about 6 kilograms large! These are made on special orders for weddings and such occasions and are much pricier than regular sized sweets, he said. 
The area's well known and very tasty Shandesh, which is locally known as Pera or Dom Misri, can be had in its locally best version at Monkosha Bazaar, at the shop called Shudhir Mishtanno Bhandar. 
The family-owned set up has been in the pera making business for over 85 years. To make Pera, a large quantity of milk is slow-boiled till it is reduced to a solid state, called mawa. This mawa is then shaped into various designs by moulding in some water. The Hilsa shape or the leaf shape pera are most popular, Bipod Saha, the owner of Shudhir Mishtanno Bhandar, said.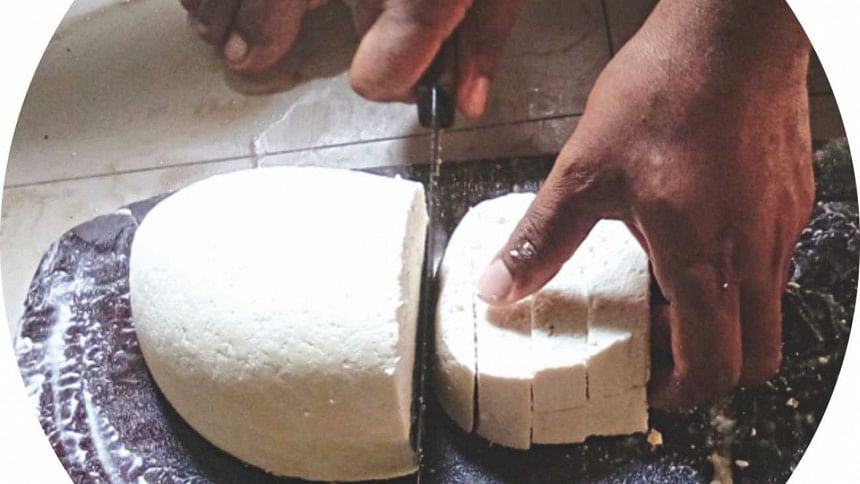 Chittagong 

Although better known for their Mezbaan and Ziafat items and a cuisine heavily reliant on beef and fish, the region is also known for its Balushahi. These are made with stiff dough of all-purpose flour. Chunky spherical or oblong discs of the dough are fried in ghee, and a pinch of baking soda mixed into the dough gives it a soft flaky texture. The fried pieces are then dunked in a thick syrup of sugar to make a uniform coating; the result is a very sweet yet tasty balushahi. 
By Sania Aiman 

Reported and photos collected by The Daily Star's correspondents Mamun-ur-Rashid (Bogra), Nurul Amin (Noakhali), Humayun Kabir Topu (Pabna), Mirza Shakil (Tangail), Rabiul Hasan (Chapainawabganj), Khalid Bin Nazrul (Comilla), Bulbul Ahmed (Natore), Mashuk Hridoy (Brahmanbaria), Azibor Rahman (Jhenidah), M Jahirul Islam Jewel (Jhalokathi) and Alam Palash (Chandpur).