Tasneem'S Couture Rredefining designer saris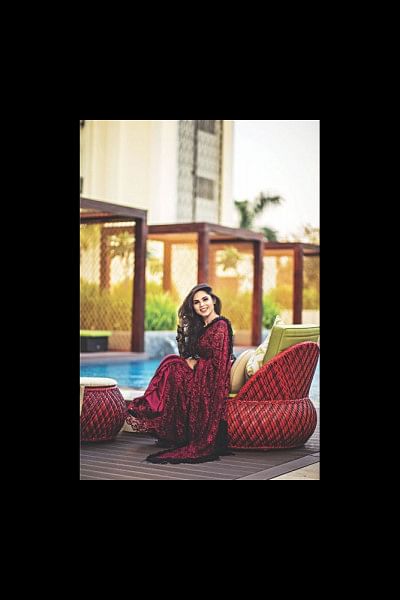 Tasneem'S Couture is a break away from traditional, and a leap towards a new generation of cocktail saris that would honestly be showstoppers at galas, balls, and masquerades. The brand specialises in saris, in combinations of silk, lace and intricate embellishments.
Their Facebook page is a catalogue of a breath-taking collection that are designed and modelled by the owner of the brand, Tasneem Chowdhury.
So, how did Tasneem'S Couture come to life, you wonder?
It's quite the romantic story.
On a summer sunset, under the dazzling colour show that played in the sky, Tasneem imagined the hues of dusk on a drape of six yards. Dhaka's twilight horizon was the inspiration behind her very first design.
The 24-year-old Tasneem is currently a BBA student, but she never let academics distract her from her true calling, and instead, she merged her artistic side with the entrepreneurial skills she learned to create her very own fashion brand.
Although the brand is only in its infancy, Tasneem was able to gain an impressive online following, and even international customers since she launched the brand in December 2018.
This young lady takes full control of her brand as she hand-picks the materials, and designs herself to make sure that each piece is one of a kind.
Her signature silk kuchi, the lace or net 'anchal', and the enhanced borders are definitely the features that make her saris stand out. The borders of the 'anchal' are embellished by faux flower petals, tassels, jewels and anything that you would never imagine would look so good in a sari.
"If you notice, the main frame of my designs is a dual motif. I always use a solid coloured silk material and make it pop with the lace, or net 'anchal'. So far, most of my collections have taken that form. At the moment, that is my niche, and young girls, who otherwise, do not wear saris love these," said Tasneem.
What really makes Tasneem'S Couture a unique sari brand in Bangladesh is the fact that each sari has its own name, like lipstick shades.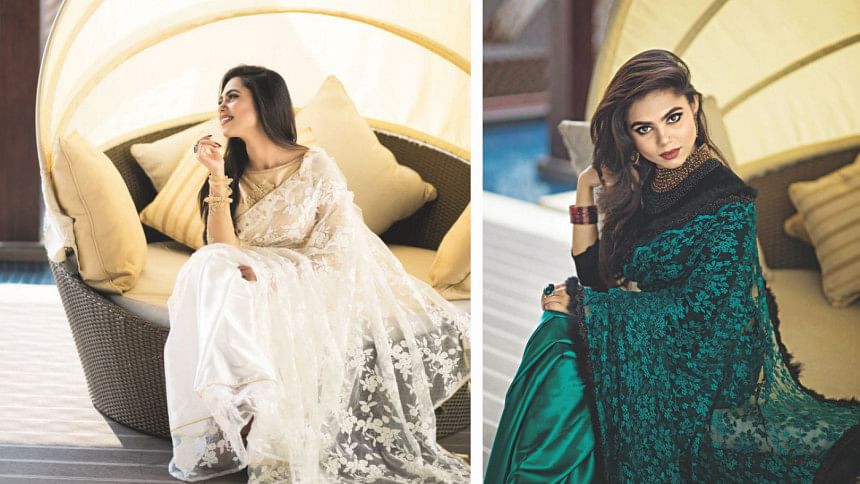 There's a sari called Pearl White, which is a stitch of unique shades and materials of white.
The Red Wine Elegance is a red and black sari, which comes with a blouse piece with sheer net sleeves, embellished with scattered faux petals all over the arms.
The theme for this year's Eid collection is inspired by desserts, and the colour palette will mostly be pink, mauve, and golden tones.
Look out for the sari, Cotton Candy, which Tasneem says is one of her best so far.
Photo courtesy: Tasneem'S Couture
Visit her Facebook page at https://www.facebook.com/tasneemscreation