Rose by Nizhu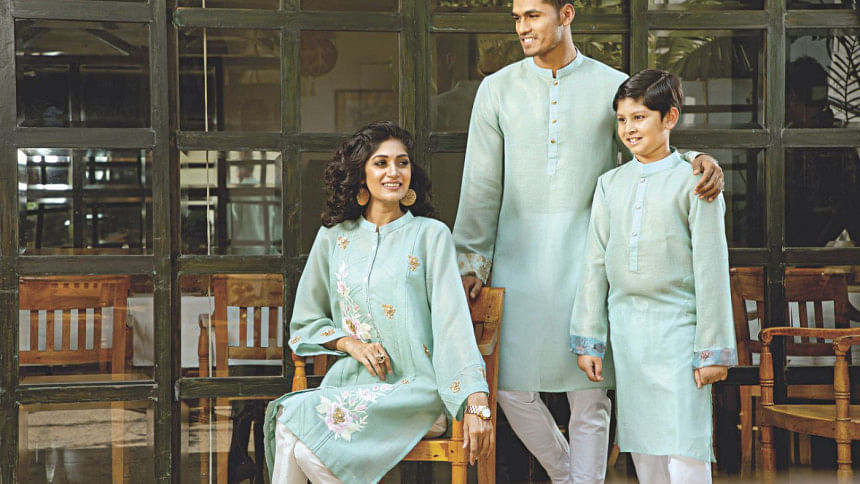 Rose by Nizhu is one designer boutique that takes immense pride in building a community that dresses in fabrics purely Bangladeshi. 

Rojina Akter Khanam, designer and owner of 'Rose by Nizhu,' believes that in order for local fashion brands to stand out, their priority should be to uphold and cherish our Bangladeshi identity. 
Rojina exclusively uses local cotton, silk, georgette, and of course, Muslin throughout her collections.
Rose by Nizhu offers sari, shalwar kameezs and kurtis for women, bridal wear, panjabis for men, and also children's wear. Her passion for style, individuality and cultural identity actually stems from her rediscovering herself as a designer.
"I did not know that I could create these designs till I dove into it. I had enough knowledge about fabrics and the textile market, but once I had all the resources around me, the ideas just started flowing. I began to imagine how I can make different coloured threads blend to make gradients, and how beautiful floral tapestry, paired with zardosi, would look in kameezs and kurtis," she said.
The exclusive signature collection are all Muslin pieces that are meant for special occasions and festive gatherings.
The silk line comprises of smart casual for evening wear. Khanam adores the fact that there's a richness to colour in Bangladeshi silk that is incomparable to any other material you can find here.
Lastly, the weather-friendly collection that focuses on cotton kurtis, both short and long, that you can wear on a regular basis.
Every Eid, Rose by Nizhu offers a really interesting family package where the entire family can get coordinated outfits. Upon order, Rojina will create a set of attires that are individually unique, while maintaining the client's desired theme.
For Eid this year, the boutique is introducing a new material that is cotton with jute finishing. Each kameez pieces are designed in various embellishments like embroidery, pin-tags, subtle frills, and pleats. Although this line is designed to be very glamorous, the soft-jute and cotton combination makes this line incredibly comfortable.
Rose by Nizhu provides a one stop solution for your glam needs. As Rojina's client, you will get an elaborate style consultation according to your tastes, current trends and also the outfit's compatibility to the weather. All kameez pieces can be customised according to the desired size. Although kameezs and shalwars are sold separately, if you wish you can order a three piece set, Rojina will definitely send a shemeez with that too.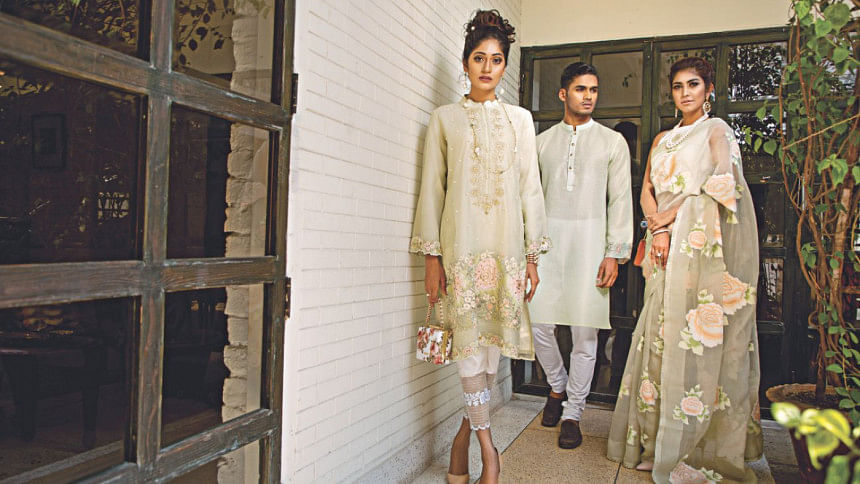 So why "Rose" by Nizhu?
"In college, my friends gave me  the nickname Rose, and I actually forgot about it because I haven't been called by that name since graduation. Fast forward to 2015, when I started my boutique, the designs that would surface in my mind the most were floral, especially roses. I participated at a Baishakh event once, where I put up my stall, and when I had to name my booth, the name Rose came without a second thought."
Photo courtesy: Rose by Nizhu
Visit Rojina at her boutiques at Banani, Gulshan 1, and Bashundhara through appointment.
Rose  by Nizhu is also available at Avanza — a multi designer store.
Call: +8801766679225
Follow them on social media: Facebook/rosebynizhu; Instagram: rose_by_nizhu
Log into: www.rosebynizhu.com