Of Artists with Beauty Brushes
As a little girl, glued to my television set, I watched in awe all the beautiful faces that flitted on the television screen; that radiantly glowing skin with just the right touch of rose on the cheek, those beautifully done eyes staring from beneath long lashes, and a pouty mouth forming a perfect symmetry along the cupid's bow.
I marvelled at how gorgeous these women looked compared to the plain looking people I saw around me in real life. Little did I know, there existed a legion of professionals, working their magic on faces and making them look breathtaking. These professionals are better known to us today as makeup artists.
For a makeup artist, the face is a canvas on which they create beauty. Whether they are highlighting the cheekbones of a bride for her special day or perfecting the smokey eye look for a fashion shoot, their range of work is extensive. Apart from beautifying, they also apply prosthetics to actors for film productions to attain a particular look. A makeup artist is truly quite an artist in every sense of the word.
Apart from being masters in the art of applying makeup, they require an in-depth understanding of various skin types and makeup ingredients. They need to be aware of all the little nuances of skin tone and colour combinations. 
Although still in its early stage, the growth of makeup artists in our local industry has gained quite the momentum, especially amongst the youth, with a few young talented women blazing the trail forward. They are quite literally the generation Z of Beauty Bloggers and YouTubers. Be it Facebook, YouTube or Instagram, they make full use of technology and social media to promote their talent, acquiring thousands of followers and subscribers in the process.
Most of these young women are self-taught and credit YouTube tutorials for teaching them all there is to know about makeup application. Unlike other countries, Bangladesh, has no proper makeup training institute. Despite this, they have managed to acquire skills which are almost at par with international standards. Investing a great amount of time and effort, they have turned their passion into their profession.
Their major source of income comes from being makeup artists and doing beauty product endorsements and reviews. Gaining and maintaining popularity is the key to survive in this industry. The more popular one gets in terms of views, subscribers and followers on social media platforms, the better chances they have of getting paid sponsorships to promote new brands and products.
Being YouTubers doesn't make a monumental difference in their income, but it does help them engage better with their viewers. They need to be up-to-date with the latest makeup trends and beauty products. As beauty vloggers, creating unique looks, interesting content and honest product reviews helps in maintaining a steady viewership with their subscribers.
Unfortunately, lack of local beauty brands prevents makeup artists and beauty bloggers/vlogger in the country from earning as much as their international counterparts. In Bangladesh, freelance makeup artists and beauty bloggers/vloggers face a lot of bias and are still not considered bonafide professionals. With local makeup brands still few and far between, these makeup maestros are optimistic that, in time, with the growth of this industry, their hard work will pay off and act as a stepping stone for future professionals who wish to enter this field.
Equipped with all the tools to further their career by exploiting social media marketing to its fullest, for these talented young women, only the sky is the limit.
Enchanted Beauty by Basma
A BSC in Computer Science and Engineering, Basma Md. Liakat Khan spent her early life in Saudi Arabia before shifting back home to Bangladesh.
A completely self-taught YouTuber and vlogger, she says, "I learnt how to apply makeup by experimenting on myself. Everything I know now is by trial and error." Basma holds regular workshops on makeup application to help share her knowledge with others.
In 2015, she spent her Eidi to purchase some beauty products, but was extremely disappointed by them. Instinctively, she uploaded a video pointing out the demerits of those products to prevent more people from falling prey. Her video was well received, and thus started her foray into vlogging. With her skills in makeup application getting more refined with each passing day, her popularity soared and at this point, she started her Facebook page and Instagram account along with a YouTube channel.
Apart from conducting workshops and doing product reviews, she does paid sponsorships and is affiliated to many popular brands.
Basma believes that makeup artists and vloggers in Bangladesh are as talented, if not more, than their counterparts in other countries, but they are held back by the lack of big brands.
"My aim is to work hard so that all major brands across the globe notice our presence and recognise the market potential of Bangladesh. I hope we are able to entice big brands from entering the Bangladesh market."
5 Summer Essential Beauty Tips by Basma
-Always use a sunscreen when stepping out
-Apply waterproof mascara
-Keep yourself hydrated to beat the heat
-Make sure to carry blotting paper to blot out sweat from the face
-Carry body mist or deodorant at all times during the summer
Makeup Maniac by Linda
Lamia Moktar Linda was fascinated by makeup and was a complete makeup hoarder.
Even though she loves doing makeup, her hobby has been to collect it, and the obvious by-product was the immense knowledge she has acquired about makeup products, range, and quality. Encouraged by her family, she stepped into the world of beauty vlogging. This LLB third year student soon realised that her followers would benefit more if they saw the beauty product in action. This led her to upload YouTube tutorials and hold Facebook Live sessions where she shares new makeup looks and reviews products.
One of her main reasons to start beauty vlogging she says was that, "I realised that there was a lack of knowledge regarding what kind of makeup suits our Bangladeshi skin tone, so my initial aim was to spread that knowledge regarding these issues." Linda is affiliated with brands like Ofra and Sigma, and does many beauty product endorsements along with product reviews and makeup tutorials.
One of her biggest achievements, and mark of her popularity, is that she crossed 1,00,000 subscribers on Youtube, a first for a Bangladeshi female beauty vlogger residing in the country. She will receive YouTube's silver play button and have her channel verified. Exhilarated with this achievement, she says, "Ever since I started my Youtube channel, I had to fight hard to reach this audience, but today, I am glad that all of my hard work has paid off."
For now, she wants to concentrate on her studies, and is considering pursuing a career as a makeup artist once she finishes her education.
5 Tips For a Flawless Base by Linda
-Always use a primer
-Use a colour corrector to blend in skin unevenness or discolouration on your face
-Use foundation sparingly as too much can make the skin look cakey
-Use loose/face powder to set your foundation properly
-Use a setting spray to get a flawless blended finish.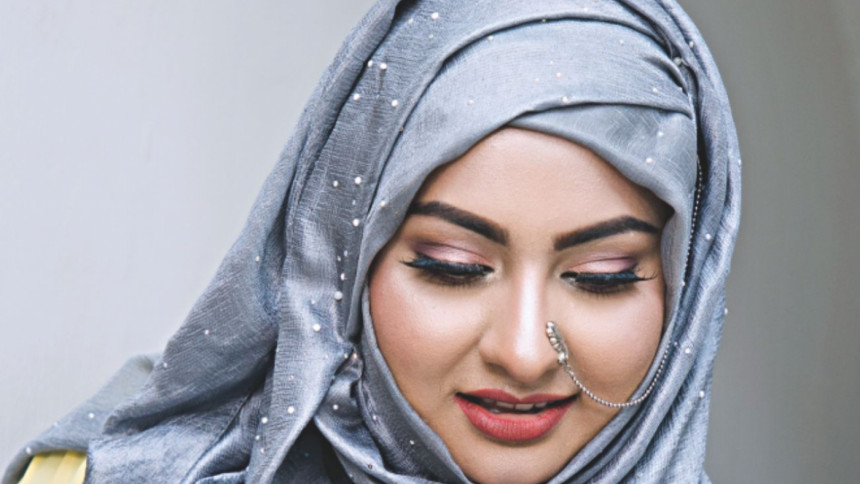 Makeup Geek by Mim Sabrin
Mim Sabiha Sabrin, a self proclaimed 'saju-guju freak' and makeup enthusiast, did her first bridal makeup for a friend when she was just in class 9. With an honours and masters in Political Science and a second masters in Governance Studies, she was aware of the scarcity of quality makeup products in the country, and duplicate low quality makeup flooding the market. Towards the end of 2013, she started her own business page, Marzuq's, where she sold original, yet affordable beauty products imported from the UK and USA.
Mim Sabrin, also a self-taught makeup artist, mastered her skills from makeover tutorials on YouTube and from experimenting different styles on herself. Being a makeup enthusiast, she was a member of many Facebook groups focusing on makeup. Whenever she experimented with a new look, she posted pictures of herself on the various pages. The positive feedback she got encouraged her to start her own Facebook page as a beauty vlogger. By popular demand, she expanded onto YouTube and Instagram.
"Since people already recognised me because of Marzuq's, I got many followers and subscribers from the beginning. They trusted my reviews, and this helped me gain popularity much faster. Unfortunately, people in our country still do not understand the concept of a freelance beauty artist, because of which I get asked whether I am a 'parlourer meye' a lot. Even though I used to do makeup for loved ones, I only became a professional makeup artist around two years ago."
Mim is very vocal about dissuading any kind of body shaming. She believes that knowing how to carry oneself, irrespective of your shape, size, or colour is the key to being a confident young person.
5 Makeup Tricks by Mim Sabrin
-Prep your skin with moisturiser before makeup
-Apply a concealer that is two to three shades lighter than your skin tone in a V shape to brighten the under eye area and use a yellow colour setting powder to set it.
-If your skin is dry, don't bake your face and use minimum pressed powder to set it
-Use a matt bronzer to warm up your look
-Use a nude or white kohl on the waterline
Makeover  by Raisa Naushin
Raisa Naushin, winner of the 2016 'Challenge With Colours' competition, jointly organised by NTV and Women's World, has made a successful career in the makeup industry, and remains an extremely popular choice for not just bridal makeup, but also makeup for professional photoshoots in the fashion industry.
From the early age of nine, makeup fascinated Raisa to no end. She taught herself different styles and techniques by watching makeup tutorials on YouTube and experimenting on family and friends. It was after her victory in the first ever makeup contest of Bangladesh that she looked at makeup artistry as a serious career option. Winning the competition was no small feat as she was selected out of 1800 participants. The contest brought her into the limelight and helped launch her professional career as a freelance makeup artist.
Raisa, also a student of Journalism, feels greatly indebted to modern technology, saying, "Ever since I won the competition I knew I wanted to be a YouTuber. I wanted to give back what I got from YouTube. Once I started my YouTube channel, I opened my own Facebook page as well, and started beauty vlogging. My main source of income comes from being a makeup artist, but it is well supplemented by the beauty product endorsements I do and my YouTube channel. The Challenge with Colours contest helped me reach many well-known industry insiders, which helps in getting clients for photoshoots of reputed brands."
When asked about the current makeup trends in the country, she informs, "Makeup trends in Bangladesh have changed now. People are very aware of international makeup trends and want to follow them. Most of my clients now don't want a cakey white look, but instead, want the highlighted glowing look. Currently highlighting is very in."
5 Makeup Essentials by Raisa
-Mac Fix Plus
-Wet & Wild Precious Petal Highlighter
-Mor Eyebrow Pomade - Ebony
-LA Girl BB Cream
-Rimmel Stay Matt Powder - Translucent
Star Lifestyle presents Raisa's unique look for the upcoming Eid. Visit Star Lifestyle's Facebook page for the full tutorial.
Photo: Basma, Linda, Mim Sabrin, Raisa Naushin
Get ready for an Eid with the latest in fashion, trends, and various makeup looks and tricks. And what better company than an all-in-one guide for your Eid shopping as Star Lifestyle brings you A Midsummer Star Eid, guaranteed to keep you in the now of fashion, our magazine has it all!
Grab your copy today!