Aappayon
Vegetarian smash-ups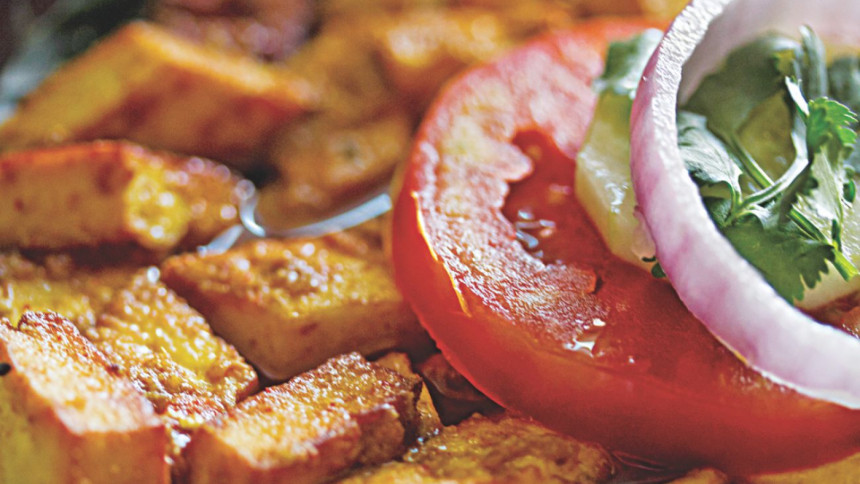 MASHED BOTTLE GOURD LEAVES
Lau is a fleshy, many-seeded fruit, commonly known as the bottle gourd and is available in a great variety of forms. With the inner flesh and seeds removed from ripe gourds and then dried, the hardened rind serves as bottles, dippers, cups, and resonator of various musical instruments. 
A line in the popular folk song 'Shader Lau' says that you can eat every part of the lau plant – its fruit, stem, young shoots, leaves, flowers, seeds and furthermore design a 'do-tara', a two-stringed musical instrument, out of its rind! 
Beside the ek-tara, do-tara and the dugdugi (tiny drums) of the bards, the famous sitar is also made from dried lau rind. We are in awe of shader lau, a term of endearment fondly reserved for the most 'cherished' vegetable of the East Indians.
The bottle gourd is one of the oldest cultivated plants in the world. The origin of the bottle gourd is acknowledged to be Africa, although archaeological evidence has placed it in Peru around 12000 BC, in Thailand about 8000 BC, and in Zambia around 2000 BC. It has travelled widely, perhaps because the hard, dry skin of the mature fruits is impervious to water and is capable of floating on salt water for the better part of a year without any loss in seed viability.
Ingredients
1 bunch (250g) gourd leaves     
10 green chillies, chopped
10 garlic cloves, crushed
1 tbsp soy bean oil    
1 tsp salt
2 red onions, sliced
Method
Steam the lau leaves for 5 minutes or simmer the leaves in boiling water for 3 minutes. Drain and then chop the leaves into large segments. Reserve leaves.
Heat oil in a wok, toss in the following:   onions, green chilli, and garlic. Sauté until they change colour. Chuck in the leaves. Sprinkle with salt and heat through. Transfer the leaves et al into a food processor. Grind to a fine paste and serve.
Note
To make the famous and most coveted East Indian dish 'lau shutki bhorta,' roast 5 pieces of dry chapila shutki on a wok for 2 minutes, roughly grind them and add to the above bhorta along with two chopped onions.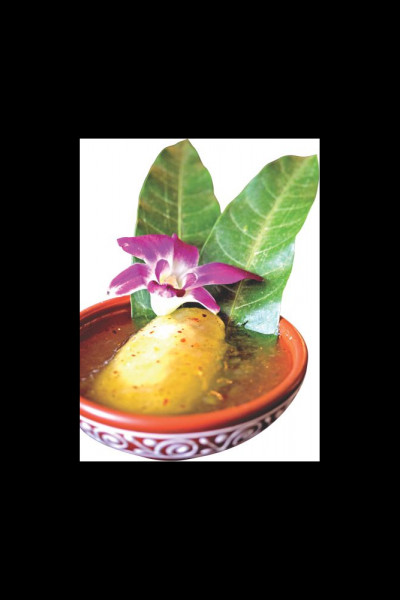 MASHED BOTTLE GOURD PEEL
A recipe for the discarded peels of bottle gourd, and is good for potol (pointed gourd) peel as well. An American nutritionist working for the ICDDR'B, during one of her village visits, informed the villagers that the peel of all gourds is very nutritious, and should not be discarded. The wide-eyed villagers listened to her with trepidation and later politely clued-up their guest that the 'very tasty' green dish she so specially relished was nothing but potol peels.
Ingredients
Peels of 1 bottle gourd    
2 red onions, chopped
5 green chillies, chopped
1 tbsp garlic paste    
1 tbsp mustard oil
2 tsp garlic paste
1½ tsp salt
Method
Boil the peels, cool and grind to a paste (should not be too soft, comparable to stiff mashed potato), set aside. Heat ghee in a wok, and chuck in the ginger paste and the garlic paste, and sautéuntil fragrant. Pour in the peel paste; stir to merge the spice with the paste. Take off the heat and cool to room temperature. To the paste now add the following: green chilli, onions, salt and mustard oil. Mix to blend in the spice with the peel paste. Serve at room temperature.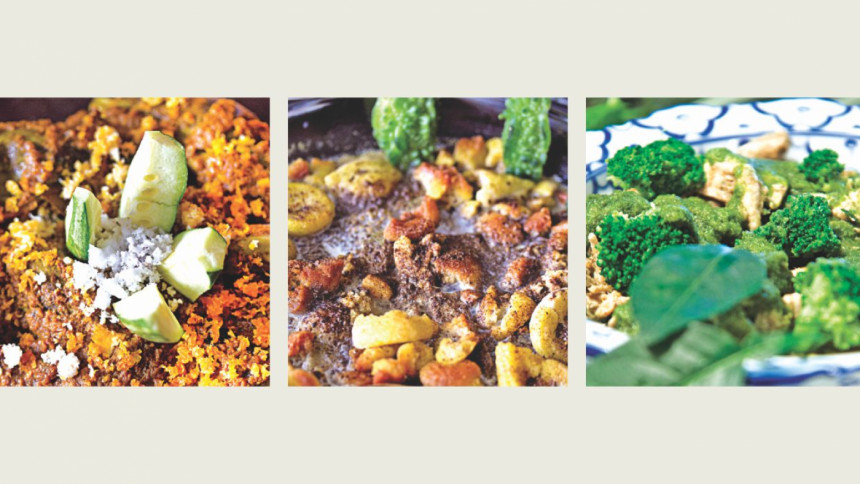 MASHED SWORD BEANS 
Mousheem a.k.a. makhan sheem, or sword beans,are grown on vines and the climbing vines need a fence or strong trellis to support the weight of the vine and seedpods, which are heavy! 
The pod of mou sheem is edible in the tender, immature stage. Owing to a local taboo it is not sliced and used as broad beans. Recent scientific reports have indicated the possibility of mild toxicity of sword beans when eaten in large quantities. Because of this, the boiling water should be drained off to remove any poisonous substances coming from the beans. They are rich in nutrients, particularly protein and carbohydrates. In some places, the plant is believed to be a snake repellent.
Sword beans are edible only when they are light green in colour. When mature, they turn dark green, finally becoming dry and brown, and literally can be used as a blunt 'sword'.
Ingredients
1 kg sword beans (mou sheem)    
4 red onions
2 tsp ginger
6 cups water    
2 tbsp coriander
10 garlic cloves
1 cup mustard oil
10 green chillies    
1 tsp salt
Method
Chop the sword beans into 4 pieces. Boil them until they're tender, with 6 cups of water, and drain and cool.In a food processorgrind the sword bean pieces into a fine paste. In a stone mortar, roughly pound the following: garlic cloves, green chilli, onions, ginger andcoriander. 
Combine all the pounded ingredients with the sword bean paste. Sprinkle with: mustard oil and salt. Rub with your fingers to give a final mix up.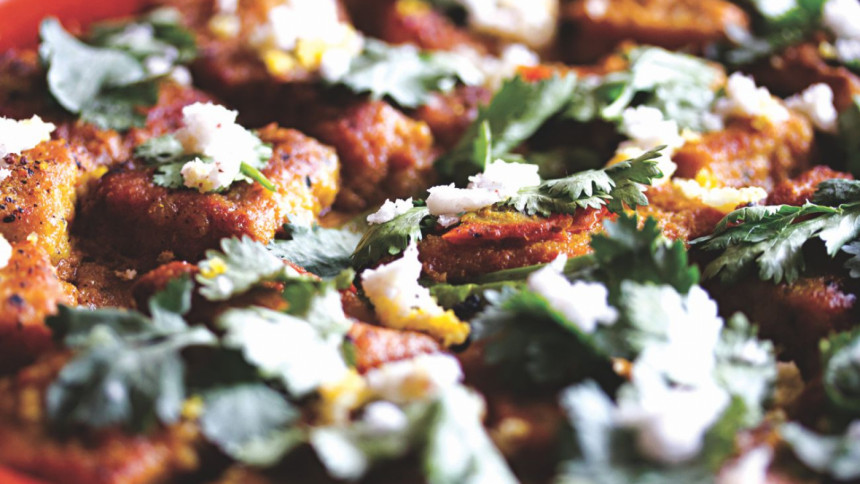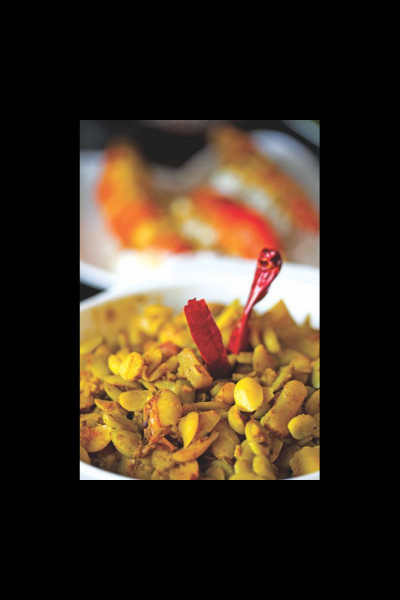 WATER LILY CURRY
Water lillies (shapla) grow abundantly in almost all shallow natural water-bodies of East India, but aremore frequent and much 
popular in Bangladesh and have been designated as Bangladesh's national flower. Each plant produces several solitary flowers with long peduncles, or stalks, and blooms above the water surface. The peduncle is a popular vegetable to villagers and a novelty among the urbanites.
Ingredients
1 kg shapla stem
1 tsp garam masala powder
2 tbsp ghee    
2 tsp red chilli powder
1 tbsp chickpea flour(beson)    
2 tsp + 2 tsp salt
2 tsp ginger paste
2 cups yoghurt
Method
Chop the stems into 15cm long segments. Boil the segments in salted (2 tsp salt) boiling water for 10-minutes. Drain and chop the stem into 2.5 cm long pieces. Keep them aside and discard the water. Lightly roast the chickpea flour on a hot griddle (tawa), until it gives off a cooked aroma. In mixing bowl combine the following: yoghurt, red chilli, garam masala, chickpea flour, 2 tsp salt and ginger. With a wire whisk, blend the mixture into a silky paste, and set aside. Heat the ghee in a wok; chuck in the lotus segments and sauté until they are coated with the ghee. Pour in the yoghurt mixture, mix up and bring it to a gentle simmer. Take off from heat and serve immediately.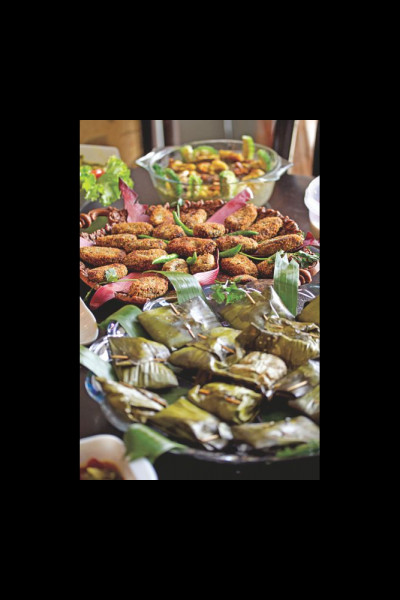 BILIMBISOUP
Bilimbi grows on an attractive tree, reaching 2-3m in height. The fruit is crisp when unripe, turns from bright-green to yellowish-green, and falls to the ground. The outer skin is glossy, very thin, soft and tender, and the flesh is green, jelly-like, juicy, and extremely sour. 
Mainly grown in Chittagong, Tripura and Manipur (India), and Burma, it is also frequent in gardens of Chittagonians living in Dhaka, planted for its tasty fruit and its pretty tree.
The bilimbi is too acidic for eating raw; the fruit has 95 percent water content with 15.5g of ascorbic acid per 100g tissue. The green fruits are prepared as a 'tok' served with rice, and frequently added to curries of small fish and vegetable. 
This dish of soup (called 'sorwa' in Bangla adopted from the Farsi word, Sorba, meaning runny gravy) is usually served to the farm hands, after the main dish is exhausted, and some rice is still left on the 'paat' (dinner plate). The stinging hot gravy helps to eat the remaining rice with great relish.
Bilimbis are said to have anti-diabetic, astringent, stomachic, and anti-scorbutic properties in traditional medical literature. Syrup made by heating the juice of the ripe fruit with sugar and water on a slow fire, is useful in relieving thirst, febrile excitement and in some cases of haemorrhage from the bowels, stomach and internal haemorrhoids. The fruit is also useful as a dietary supplement to treat piles and scurvy.
Ingredients
20 bilimbis
3 tbsp mustard oil
10 cup water    
20 dry red chillies
5 tsp salt    
10 garlic cloves, crushed
Method
In a large non-reactive metal pot, bring the bilimbi and water to a boil, and cook until the bilimbi is tender. Take the pot off the flame, and using a slotted spoon strain out the bilimbi, and mash it to a fine paste. Leave the water in the deghchi/pot. Push the bilimbi paste through a fine sieve; discard the fibre, skins, and seeds. Return the bilimbi paste to the pot. Whip hard to merge the paste with the residual water. Put the pot back on the flame and bring the broth to a boil. In a separate saucepan heat the oil to smoking point, toss in the dry red chillies, and cook until there's a change of colour. Using a slotted spoon, strain them out and set them aside. To the residual oil, add the garlic and sauté them until their edges starts to darken, pour the garlic et al into the bilimbi pot. Sprinkle the broth with salt and stir. Crush the red chillies in a mortar to a rough paste and scatter them over the bilimbi broth. Serve the bilimbi broth as accompanying gravy with any vegetable or fish dish.
RAW MANGO SOUP
Wild ancestors of mangoes originated in a region around north Burma, south-eastern Bangladesh and eastern India. The eastern Indian mango exists in two families, one from north India (grown also in Chapai Nawabgonj region of Bangladesh), and the other from Southeast Asia. The central Indian family is intolerant to humidity, has flushes of bright red new growth that are subject to mildew, and bears mono-embryonic fruit of high colour and regular form. The Southeast Asia or northeast Indian family tolerates excess moisture, has pale green or red new growth, resists mildew and is quite fibrous.
Mangoes are eaten fresh (green or mature), often as a dessert fruit when ripe, and are also cooked, dried (aam shotto), pickled, and canned. Raw mangoes are aromatic, and slightly acidic.
Ingredients
6 raw mangoes
1 tbsp mustard oil
1 tbsp mustard seeds    
5 garlic cloves, crushed
5cm long ginger root    
4 tsp salt
20 green chillies    
6 cups water
1 tsp sugar
Method
Roast the mango over an open flame, holding them with barbeque tongs, until their skin is charred. Alternatively, poke few holes in the skin and microwave them for 4 minutes. Peel the mangoes, discard the stones and skins, and mash the flesh to a smooth paste, set aside. In a stone mortar or in a food processor/grinder, grind the following: ginger, green chillies, sugar and mustard seeds. Work to get a fine paste, set aside. Heat the mustard oil in a steel pot; toss in the crushed garlic and sauté until they start to brown. Pour in the following: water, mango pulp, spice paste, and salt; bring to a boil. Simmer for 5 minutes, and check salt, add more if required. Serve hot with steamed rice.
Photo: LS Archive/Sazzad Ibne Sayed