Najmun's historic journey takes Bangladeshi flag to 150 countries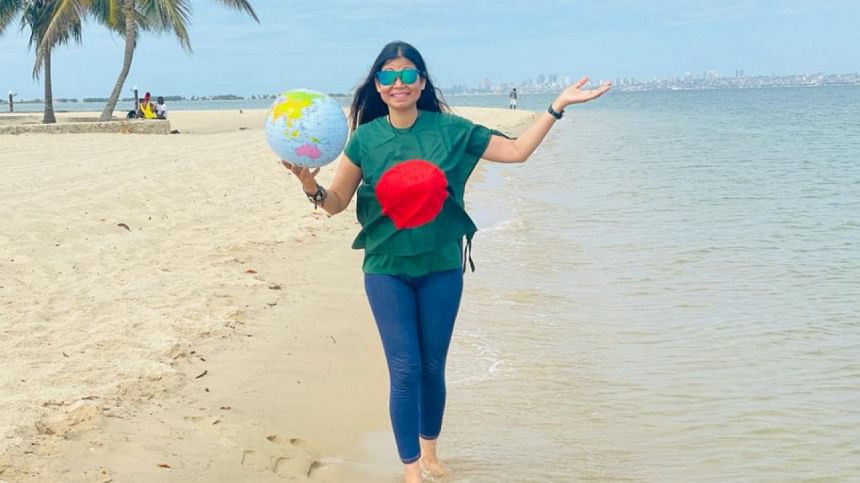 Before the 50th anniversary of Bangladesh's Victory Day, Najmun Nahar -- a Bangladeshi globetrotter -- wanted to reach her personal milestone of visiting 150 countries.
She managed to attain that goal. She took the Bangladeshi flag to 150 countries -- the latest being Sao Tome and Principe, an island in central Africa, where she arrived on October 6.
"Another dream came true today. I am so excited. I have waved the flag of Bangladesh in 150 countries as we are celebrating 50 years of our independence. This achievement belongs to all Bangladeshis," Najmun Nahar told this correspondent yesterday from Sao Tome via WhatsApp.
Before reaching Sao Tome, Najmun travelled to Burundi, Congo, South Sudan, Namibia, and Angola.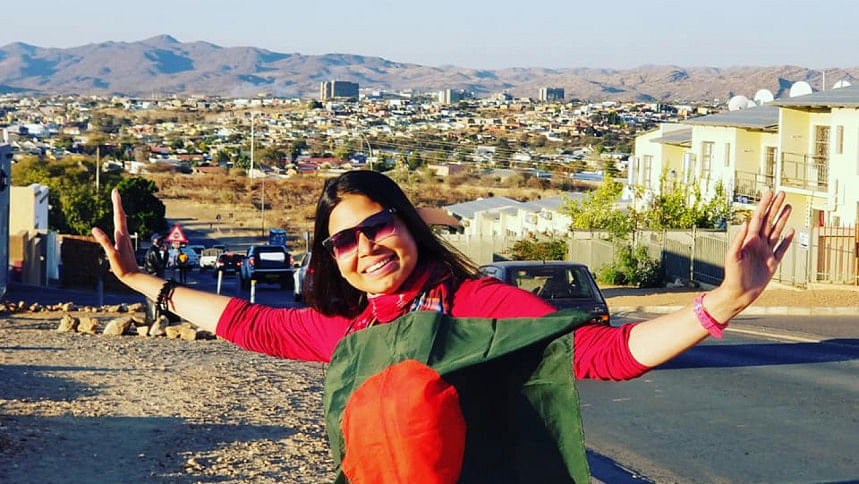 "I was born to travel," said Najmun. She had a penchant for travelogues and travel books since childhood. Her grandfather Ahmad Ullah was an Islamic scholar who visited many Arab countries, from 1926 to 1931. Najmun heard those stories from her father. Those stories were etched in her mind.
Reading travel stories awakened her desire to see the world. Her father, Mohammad Amin, further encouraged her enthusiasm.
While studying in Rajshahi University, she went to India in 2000 as a member of the Bangladesh Girls Guide Association, and this was her first travel abroad.
After graduating from university, Najmun worked as a journalist in Dhaka for some time. She left for Sweden in 2006 on a scholarship. In addition to her studies, she worked part-time. Sometimes she worked for 16-18 hours and saved money just so that she could travel. She used to stay in youth hostels to keep the costs low.
Najmun said that sometimes she had to travel by bus from one country to another. The longest she was on a bus was 56 hours. Sometimes she crossed 15 countries in a row. She has travelled to high mountains, seas, snow-covered cities and blistering deserts.
On her journey, she had to face many risks and challenges. She even had a near-death experiences.
"I was in the middle of a desert storm in the Sahara; I was bleeding. Insects bit me. I lost my way in Africa, in an unfamiliar city in the dark. Sometimes I slept on rocks. I once slept in an Aborigine mud house."
Najmun had been awarded many times in the country and abroad as she carried Bangladesh's flag and conveyed the message of world peace.  She has won the prestigious Peace Torch-Bearer Award in the United States for her rare work. She has spread many pressing messages during her travels, including protecting the earth and against wars.
When asked about her goal, Najmun said, "I carry a small red-green flag wherever I go. I feel proud to introduce myself as a Bangladeshi. I want our flag to reach all the countries in the world so that people know about it."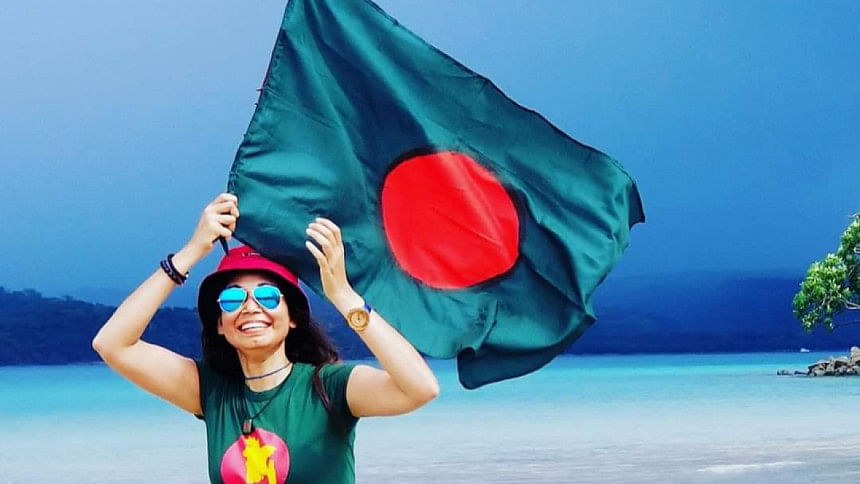 Najmun has inspired many children and youths of different countries while presenting her world-adventure in schools, colleges and universities. She is sharing a dream to see the world, a dream to think big, to convey the message that we are all people of the same world -- regardless of religion or background.
Expressing another wish, Najmun said, "The world is our home. I want all children and teenagers of the world to grow up to their full potential so that they can conquer the world."
Shariful Hasan is a freelance Journalist.