You are fasting, but are you behaving during Ramadan?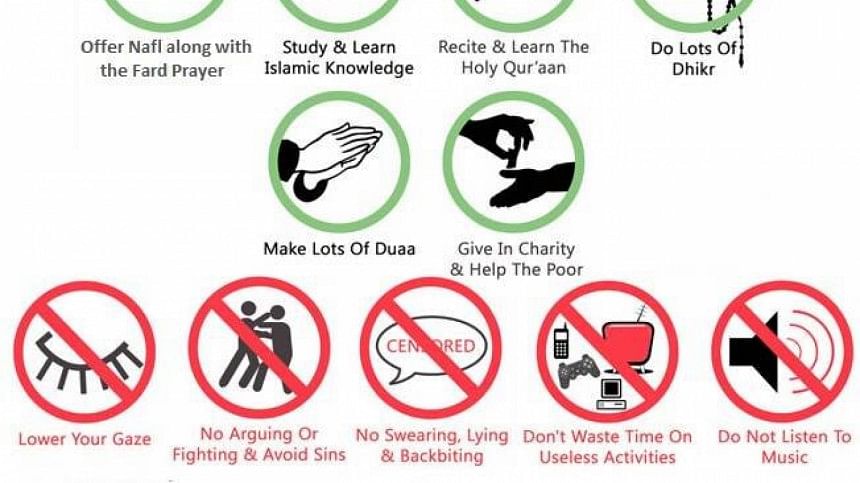 It so happens that this month is one that is supposed to teach us to practise abstinence. Having said that it is equally true it can take a toll on you, physical and mental. Observing 30 days of long fasts is not supposed to be easy and the empty stomach, dehydrated body and excruciating heat are just some of the hurdles along the way. However, especially in the spirit of Ramadan, that is no excuse to forget simple daily etiquettes and stop being considerate and decent human beings. 
While everyone knows that cleanliness is a virtue in Islam, it is often the first etiquette that is forgotten as soon as the holy month starts.
Sweating is inevitable in the scorching sun. So, opt for fresh clothes and always carry a bit of attar or 'oudh' with you that you can instantly rub onto your skin to avoid smelling bad. One of the biggest problems in Ramadan is halitosis (bad breath), which happens because of fasting. However, do not let that stop you from interacting!
Just stand a tad bit away while doing so to prevent others from getting uncomfortable. What adds to the Ramadan discomfort is the inhumane traffic situation of the city. Being stuck on the same road for hours can indeed be a trial of one's patience.
Every little thing the man beside you on the bus, or the car driving behind yours does soon becomes a source of annoyance. So, before you find yourself shouting vulgarities in the middle of a crowded road, just remember that Ramadan is all about patience.
Let your anger go, and try to realise that everyone around you is equally exhausted. Being empathetic can never go in vain.
This brings us to one of the ground rules of Ramadan etiquette — DO NOT spit on the road. The retching noise is not only uncomfortable for passersby, but making the roads dirty is also uncalled for. In fact, amidst the shopping, refrain from the temptation of littering the streets. The collective stench of litter can make people sick, especially during Ramadan.
On a different note, do not shame those who are not fasting. The spirit of the month demands maintaining the spirit of brotherhood, and that starts with being considerate. Alternatively, if you are not fasting, try avoiding eating or drinking around those who are unless it is absolutely necessary.
The path to being a good Muslim is difficult, and each person is at a different stage in their journey of faith. Instead of bad-mouthing those who start praying in Ramadan, encourage them. You could also help them with the techniques and thus be a part of their journey in being better Muslims. 
Finally, be charitable. Make sure your household workers and chauffeurs get iftar when you are at a party, or having your iftar eating at a restaurant.
Distribute iftar among the less fortunate people. Ramadan is a time of gratitude, and each small act of kindness counts.
The teachings of Ramadan go much further than just refraining from food and water. It requires one to be patient, kind and charitable. As long as one remembers that, and tries to put those teachings into practice, the etiquettes are more or less covered.