Top 6 inspirational books at Ekushey Boi Mela 2023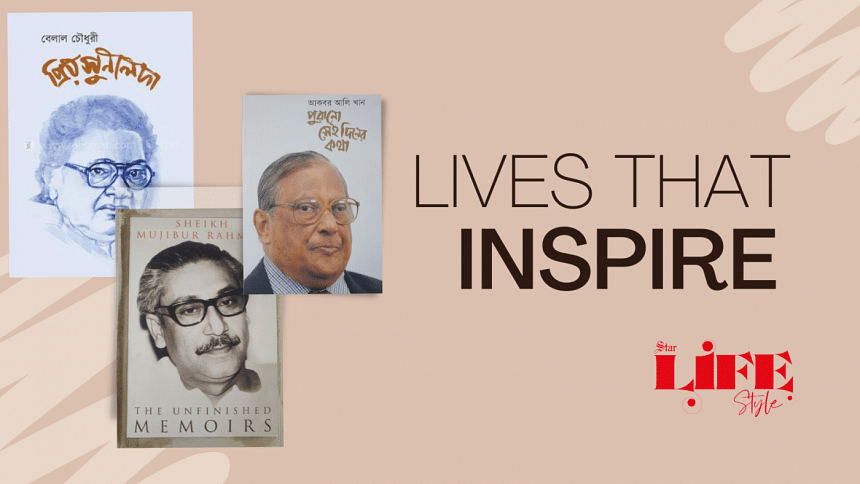 In a world where distractions are constant and time is precious, it can be easy to overlook the simple pleasures and benefits of reading a good book. Yet, the power of literature to inspire, educate, and transform lives is undeniable. From classic works of fiction, and autobiographies of successful people, to modern self-help guides, books offer a wealth of knowledge, insight, and inspiration, and what better way to find these books than at the Ekushey Boi Mela 2023!
So, let's take a look at the top 6 inspirational books at this year's Ekushey Boi Mela.
Unfinished Memoirs by Bangabandhu Sheikh Mujibur Rahman
The Unfinished Memoirs by Bangabandhu Sheikh Mujibur Rahman, published by The University Press Limited is a compelling piece of literature that offers readers an intimate glimpse into the life of the Father of the Nation of Bangladesh. Written during his time as a state prisoner from 1967 to 1969, this memoir is a vivid portrayal of the author's life in and out of jail.
What makes the Unfinished Memoirs such an inspiring read is not just the historical events that Bangabandhu recounts, but the powerful emotions that he conveys.
Smritite Humayun Ahmed by Faruk Ahmed
Actor Faruk Ahmed has released a heart-warming book through Kingbodonty Publication, featuring anecdotes about his long-time co-worker, the beloved author, and playwright, Humayun Ahmed. The book offers an intimate and unique perspective on Humayun Ahmed through humorous recollections of on-set shenanigans during the production of his famed TV dramas, as well as endearing accounts of his childlike behaviour.
The touching stories showcase Humayun Ahmed's amazing character, leaving readers with a newfound appreciation for the man behind the legend.
Purono Shei Diner Kotha by Dr Akbar Ali Khan
Dr Akbar Ali Khan's autobiography, published by Prothoma Prokashon, covers the author's family history and his first 29 years of life, including his education at Dhaka College and University and his involvement in student politics. An eminent economist and freedom fighter, he writes the book offering a personal perspective during the pre and post-liberation period, highlighting his unwavering commitment to doing what is right, prompting the readers to gain insight into the indomitable spirit of this remarkable man.
Haruki Murakami: Shakhhatkar, Boktrita O Sritikotha by Alvi Ahmed
This unique book tells the story of Haruki's journey from jazz club owner to a legendary writer through interviews, speeches, and memoirs. The book is divided into three parts: enjoyable interviews, briefings on Murakami's writing craft and philosophy, and a beautiful reminiscence of his life. Published by Baatighar, writer Alvi Ahmed's translation of all the materials is neat and minimally edited to bring out the psyche and life of the author without repetition, making this an inspiring read for would-be writers and Haruki fans alike.
Priyo Sunilda by Belal Chowdhury
This book by Belal Chowdhury, published by Prothoma Prokashon, chronicles the lifelong friendship between poets Sunil Gangopadhyay and Belal Chowdhury. The book showcases their shared love for unconventional poetry and their travels across India and Bangladesh. The story of their unbreakable bond transcends borders, culminating in Belal carrying Sunil's coffin to the crematorium on his last journey. A captivating tale of friendship that will uplift any reader.
Boi Prokashe Lekhoker Prostuti by Badiuddin Nazir                                                                                                                                          
For aspiring writers seeking to crack the tough nut that is writing, Badiuddin Nazir's book, published by Kathaprokash, offers comprehensive guidelines for crafting manuscripts that meet publisher standards. With a focus on both fiction and non-fiction, the book fills a crucial gap in the literature on book publishing. Professionals involved in book publishing and printing and publication studies will also benefit from the practical examples and real-life experiences shared in the book.
Bonus mention: Self-help bestsellers, translated into Bangla
Pursuing the goal of self-improvement, the popularity of self-help books has skyrocketed in recent years. Titles such as "Atomic Habits", "Dopamine Detox", and "Rework" have become household names, capturing the attention of individuals yearning to become the best versions of them. It's no surprise that these books have been translated into Bangla, and can be found in various stalls of the Ekushey Boi Mela. So, why not take this chance to pick the self-help book you have been meaning to read for a long time and give it a go?