BD K-Family Presents K-Meet 6.0: A Passionate Celebration of South Korean Culture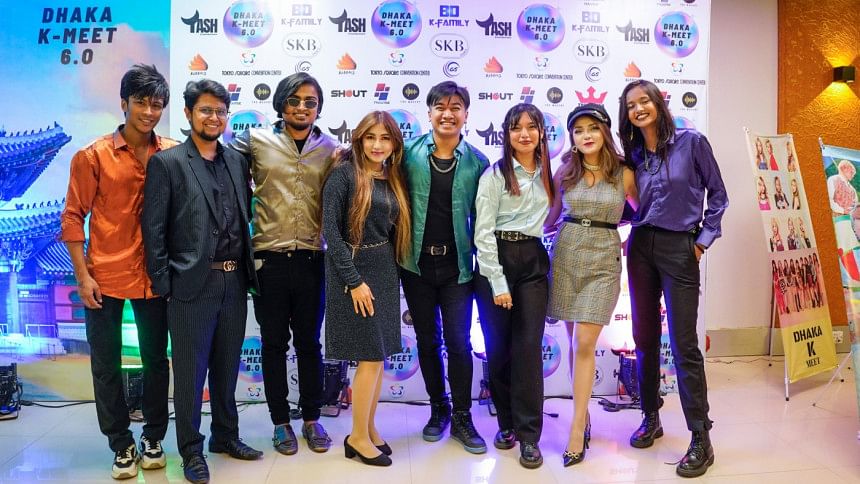 On 20 May, 2021, BD K-Family celebrated everything South Korean, starting from embracing their food, music, pop culture and many more, with their event Dhaka K-Meet 6.0. BD K-Family is the first and only South Korean cultural community to work with the South Korean Embassy in hosting multiple events throughout the year.
BD K-Family was founded by Tashnuva Zahan and Tina Zahan 12 years ago. The sisters have love and enthusiasm for South Korean culture and over time, were able to make their hobby into a successful, welcoming and vibrant passion project. They fell in love with Korean culture from a very early age.
"Listening to K-music has been our favourite hobby since we were children. As we grew up and learned about communities in South Korea organising events solely dedicated to Bangladeshi culture, we decided to reciprocate their love by organising similar events here to promote peace and harmony among both nations," says Tashnuva.
Starting from a place of love and harmony, BD K-Family now has over 40,000 members and have recently even celebrated our 12-year anniversary. With the ongoing growth of the community, Tina believes that this is an indication of acceptance of cultural diversity and a major key in "maintaining a good foreign diplomatic relationship in the future".
In 2013, the community president Mr. Saiful Islam was mesmerised by Korean culture quoting, "it's not just about music or for entertainment purposes, there are so many things to learn when there is a room for cultural exchange."
Dhaka K-Meet 6.0, with over 4000 people attending this year, strived to bring an authentic piece of South Korean culture to Bangladesh and with immense support from diplomats and guests from the South Korean Embassy including First secretary Youngmin Seo and Yuhaeng Lee. With the vibrant crowd and support from the embassy, the event was successful in more ways than one.
Photo booths highlighting South Korean heritage sites, traditional food like gimbap or kimbap along with merchandise of popular K-pop groups and casual kimono cardigans were few of the main attractions. Other attractions included a fan art section, merchandise stalls, multi-fan quiz, idol cutouts, giveaways, random dance play, K-pop and K-drama song request zone.
"This is a celebration," says Tashnuva to describe the event.
There was no competition taking place for this specific event but was only a celebration and love for K-pop, K-drama, and South Korean culture. What made the event truly indulgent was that there were 50 teams and solo performers of K-pop dance and music performances. Among the performances, Tashnuva and Tina were the opening special performers, Shouvik Ahmed and his team 2N8, and popular RnB singer Mahi Hasin.
The two sisters have held onto their passion with incentive. Tina says, "I have witnessed a lot of people giving up on their passion due to professional and educational pressure. I could personally relate to that because I'm a lawyer by profession but I didn't want my passion to go in vain. Therefore, we organise these events in a manner so that they can enjoy their passion while they continue their own personal goals." 
BD K-Family organises multiple events each year including DHAKA K-Meet, BD Korean Festival and BD K-Family birthday celebration and plan on introducing three more events this year. So, for all K-pop and K-drama fans, and South Korean cultural enthusiasts, this community is the ideal platform to feel right at home with their interests.