Soups: The supreme comfort food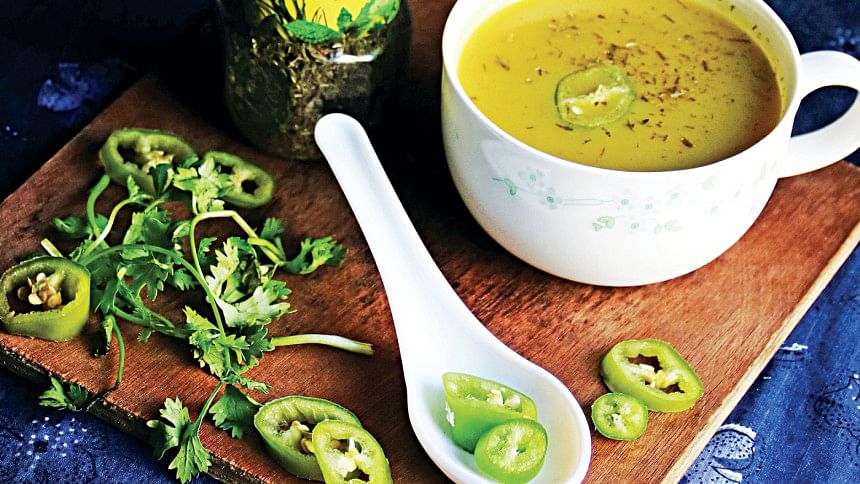 LOADED POTATO SOUP
This recipe is a transfiguration of the very popular loaded baked potato, but in soup form! It has all the elements contained in a typical loaded baked potato but disguised as a creamy and indulgent soup, which is unquestionably more filling.
Ingredients
1 tbsp oil
2 tbsp butter
2 slices beef bacon
4 spring onions
2 cloves garlic
2 tbsp flour
2 cups milk
1 cup vegetable stock
4 large potatoes
½ cup shredded cheddar cheese
½ cup sour cream
2 tsp salt
1 tsp ground black pepper
1 tsp dried chives
1 tsp dried basil
Method
Start by preparing your ingredients; finely dice the spring opinion bulbs and slice the leaves to get little circular discs. Crush, peel, and chop the garlic cloves. Peel and dice the potatoes to attain small potato cubes. Lastly, slice the bacon strips into little squares.   
Start by heating oil on medium-high heat in a soup pot and allow it to come to temperature. Throw in the sliced bacon once the oil is hot enough – you should instantly hear a sizzle. Fry the bacon squares for five minutes or until they are fully cooked. Remove them and let them drain on a kitchen paper.
Next, add in butter followed by chopped onions and garlic. Cook them until translucent before adding flour. Stir and cook the flour for a minute or so until the raw flour taste is eliminated. Gradually add milk in small amounts, half a cup in each addition. Stir immediately and continuously after each addition ensuring no lumps form. Once all the milk is incorporated, add in chicken stock at once.  
Following that, jazz it up by adding the condiments one by one; salt, ground black pepper, dried chives, and basil. Stir to combine and finally add the diced potatoes. Cover the pot with a lid and leave it to simmer for thirty minutes until the potatoes turn soft.
Once ready, using an immersion blender purée the soup so that it becomes a homogenous mixture. Finally, add in shredded cheese and sour cream and stir until they are fully incorporated. Before serving, load it up with fried bacon and sliced spring onion greens.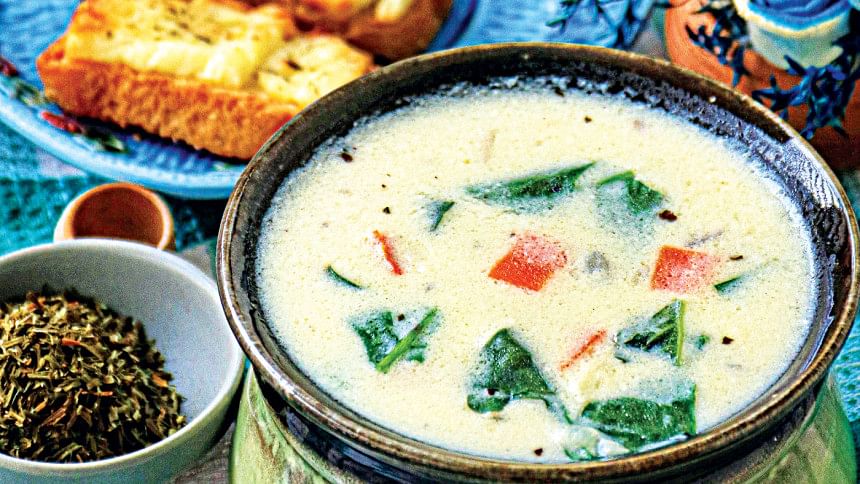 POTATO JALAPENO SOUP
This unusual combination makes for a subtly spicy soup that is delightful. The coalescence of the mildness from potatoes and the heat from jalapeno peppers will make your taste buds sing. Comprising of vegetables only, this is also a vegan friendly recipe.
Ingredients
2 tbsp vegetable oil
2 medium onions
2 cloves garlic
3 cups vegetable stock
4 large potatoes
2 jalapeno peppers
¼ cup cream
½ cup shredded cheddar cheese
2 tsp salt
1 tsp lemon pepper powder
1 tsp turmeric powder
1 tsp cumin powder
1 tsp dried chives
Method
Prepare the vegetables to begin with; peel and chop the onions and garlic into small cubes. Peel the potatoes and roughly dice them into little chunks. Handle the jalapeno peppers with caution as their heat causes a burning sensation upon contact with bare skin. It is best to wear disposable gloves before cutting into them. Cut the jalapeno peppers in half and deseed them by scooping out the seeds with the help of a spoon and then finely dice them.
In a large pot over medium-high heat, add oil and wait until it is heated sufficiently. Once it reaches that stage, add in chopped onions and garlic. Stir and cook them for a couple of minutes until they become fragrant and translucent. Following this, add in the chopped jalapeno peppers and diced potatoes. Let them meld in together for five minutes before adding the spices and condiments.
Sprinkle in one by one salt, lemon pepper, turmeric, and cumin powder along with dried chives and stir together to combine. Following this, add in vegetable stock and cream and stir to combine. After this, close the lid and let the soup simmer on medium-high heat for thirty minutes until the potatoes become soft.
Once the potatoes are cooked through, turn off the heat and use an immersion blender to transform it into a smooth and creamy mixture. While the soup is still hot, mix in the shredded cheese. Before serving, you can garnish it with a sprinkling of chives and sliced jalapenos for added zing.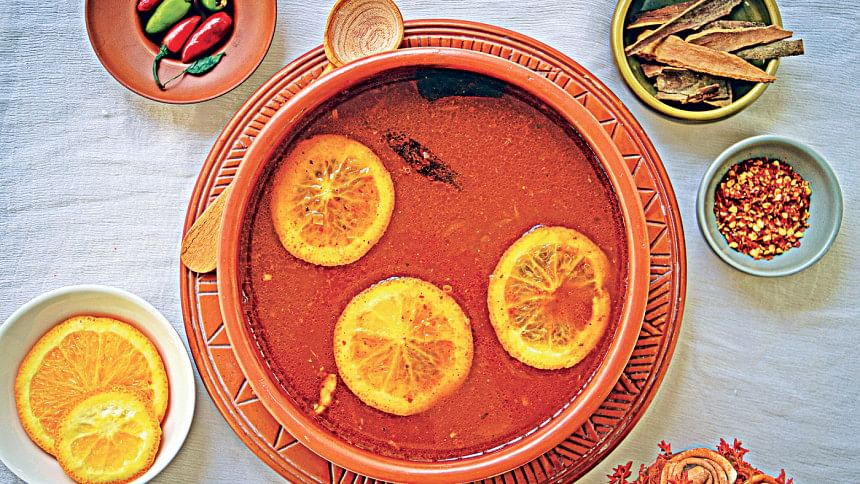 FLORENTINE GNOCCHI SOUP
This soup is hearty, rustic, and fulfilling that can substitute lunch or dinner during the rainy season. With two elements it is a little consuming to make, but the effort is completely worth it. It will surely satiate your taste buds like nothing else you have had before.
Ingredients
For the gnocchi pasta —
3 large potatoes
1 egg yolk
2 cups sifted flour
1 tbsp salt
1 tsp ground black pepper
1 tsp dried chives
For the soup —
3 tbsp butter
2 medium onions
4 gloves garlic
2 tbsp flour
1½ cup milk
1½ cup vegetable stock
½ cup diced carrots
1 cup chopped spinach
1 tbsp salt
1 tsp ground black pepper
1 tsp thyme
1 tsp chives
Method
To make the gnocchi pasta from scratch, boil the potatoes for thirty minutes in salted water until they are fork tender. Drain the water and peel off the skin and mash them finely with no lumps. Add in salt, ground black pepper, and dried chives to season and combine fully. Create a well in the middle to drop one egg yolk and incorporate that with the mashed potato. Lastly, add the sifted flour all at once and combine them together to form a dough. Knead the dough until it becomes a soft ball but do not overwork it.    
Flour your work surface and palms generously as the dough tends to be very sticky. Take a quarter of the dough and roll it out to make a lean cylinder representing a long cigar. Pinch the dough cigar at intervals and cut into them to make little bite-sized pieces. Push the dough at the centre with the tip of your finger or twirl the top with a fork to get your desired shape.
To make the soup, start by hitting a heavy-bottom pot on medium-high heat with butter. Allow it to melt before adding in sliced onions and garlic. Cook them until fragrant and mix in the flour. Whisk well to fully cook and then add milk gradually, stirring to combine after each addition. Following this add in vegetable stock as well. Throw in the diced carrots and prepared gnocchi along with salt, pepper, dried thyme, and chives. Cover the lid and let this simmer on medium-heat for twenty minutes until the carrots are soft and gnocchi is fully cooked. They will float to the top when ready. After that, finally add in coarsely chopped spinach while still piping hot.      
ORANGE CHICKEN SOUP
This is a tweaked version of a classic Chinese takeaway favourite; orange chicken in soup form! This recipe contains all the essentials flavours of a classic orange chicken gravy and concocts them to form an even heartier rendition of it.
Ingredients
2 tbsp oil
2 chicken thighs
¾ cup orange juice
2 cups chicken stock
2 tbsp soy sauce
1 tbsp balsamic vinegar
2 tbsp chilli sauce
1 tbsp tomato sauce
2 cinnamon sticks
2 cloves garlic
1 onion
1 thumb ginger
1 tsp Chinese five spice
1 tsp lemon pepper
1 tsp orange zest
1 tsp paprika powder
1 tsp brown sugar
Method
Begin by deboning the chicken thighs and slicing them into thick juliennes. Chicken breast is not recommended as they will dry out easily. Coat the pieces of chicken with Chinese five spice powder, lemon pepper, orange zest, and paprika powder and leave it to rest for at least fifteen minutes to let the flavours seep in. Finely chop the onions, garlic, and ginger.
Heat oil in a large soup pot on low heat and let it come to temperature. Slide in the chopped onions, garlic, ginger, and cinnamon sticks. Stir and cook them for a couple of minutes and then add in the chicken juliennes. Cook the chicken on low heat until it just starts to harden. Then, add in the seasonings one by one; tomato, chilli, and soy sauce along with balsamic vinegar. Stir well with the chicken pieces and aromatics to incorporate everything well. 
Following this, add freshly squeezed orange juice and chicken stock. Freshly squeezed orange juice is preferable over canned alternatives. Sprinkle in the brown sugar to balance all the acidity and sourness from the sauces and fruit juice. Give it a light stir and cover the pot with a lid. Allow this to simmer on low heat for fifteen minutes to let the chicken cook fully. Once ready and smoking hot, garnish with orange wheels before serving.  
Food and photo:Fariha Amber