Hebaang: Bringing you the taste of authentic Chakma cuisine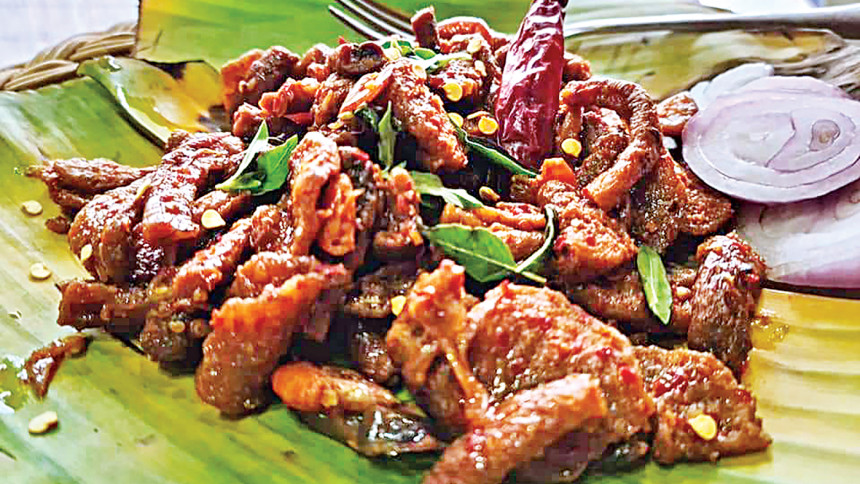 Located in one of the busiest areas of the city is a quaint little restaurant that will transport you right to the hills of Khagrachari and Bandarban, known as Hebaang. Although Hebaang has been established for a few years now, the charm of this place has never faltered.
First inaugurated online in February 2016, the immense number of responses inspired them to open a brick-and-mortar store in December 2018. With the mission of making the general populace familiar with Chakma cuisine, it is the brainchild of Priyanka Chakma, one of the four co-owners of the family-run business, the others being Biply, Shuchinta, and Swasti Chakma.
"Our aim is to bring the taste of our local food to the general populace, while eradicating any stigma associated with it. Albeit initially, most of our customers belonged to our community, now we have more people outside of it coming in to try our delicious food," informed Biply.
Stepping in through the wooden door, the first thing to note is the distinct aroma of food being cooked that sings umami flavours. This fragrance wafting throughout alone is enough to make anyone salivate. At Hebaang, everything from the ambience and décor to food will give you the sense of dining somewhere in the hilly areas.
Speaking of interior, bamboo, that is omnipresent in the hilly districts, has been incorporated in every detail. The bamboo lights hanging from the ceiling cosily lighting up the space, bamboo blinds to shade from the sun during the day, and paintings and pictures reminiscent of hilly areas synchronise harmoniously.
A particular section is dedicated to create a relaxing atmosphere by replicating a "jhum house" which refers to a resting place in areas of "jhum" cultivation. Little details such as "hutti" which is a clay container to store water and "kulo" for sifting rice are used as accoutrements. Complete with comfortable cushions, it draws an accurate picture of people resting after a hard day's work. 
"We not only want to give people the experience of tasting our delectable cuisine, but also want them to know regarding our culture and tradition, how we live, and the things that are customary in our everyday life," explained Biply.
Food from the hilly region is typically made using less oil and spices, keeping intact the actual flavour of every ingredient. Despite this healthy and organic approach to cooking, the food is tremendously delicious that will compel you to go back for more.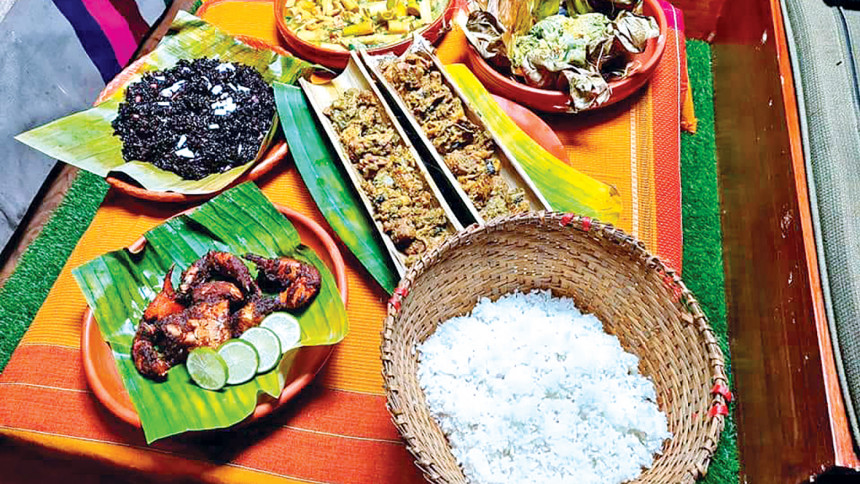 The sourcing of ingredients also deserve credit for its freshness, as much of the poultry and seasonal vegetables are sourced from the hilly regions. Even some select fishes are obtained directly from Kaptai Lake whenever possible. Hebaang offers an array of vegetable dishes that are common in their locality, such as ginger flower, bamboo shoot, radish, mushroom, and French beans. A light and soothing dish made of fresh mixed vegetables offered is known as "pajon." 
While most dishes are usually mild, some require being heavily spiced and are prepared with a special chilli paste. Some must-try items in their selection include raw jackfruit gravy, snail gravy, spicy crab gravy, special duck gravy, chicken horbo, and hebaang. Hebaang is a cooking procedure based on steaming food that can either be made inside bamboo, banana leaf, or in a pan.
Apart from these savoury delicacies, Hebaang offers sweet treats such as steaming hot pitha perfect for winter evenings and payesh that will soothe the soul, both made from binni rice. Another standout in the menu is rosella tea — a bright red drink that has a floral and tangy taste, which can effortlessly de-stress your mind.
In an effort to keep their authenticity of food, Hebaang has never meddled with their recipes to create fusion versions, bringing to you the taste of authentic Chakma cuisine just how they prepare it in their homes located in the midst of nature deep inside the hilly regions.
Photo:Hebaang
Essentials:
Address: 571 Begum Rokeya Sharani, East Kazipara, Dhaka – 1215
Facebook: https://www.facebook.com/hebaangbd/
Instagram: https://www.instagram.com/hebaang/?hl=en