Injecting intimacy into wedding photography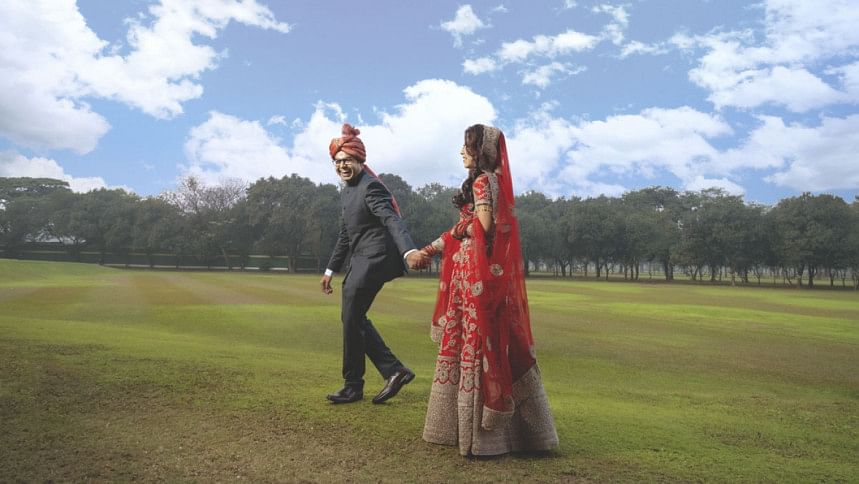 The wedding photography sector was one of the hardest hit industries during the pandemic lockdowns. While the turnover for most wedding photography groups critically plunged, some wedding photographers even had no option but to sell their equipment to make ends meet. However, it soon became apparent weddings are inevitable, and the wedding industry revived with a few tweaks. An essence of intimacy was added to every aspect of it.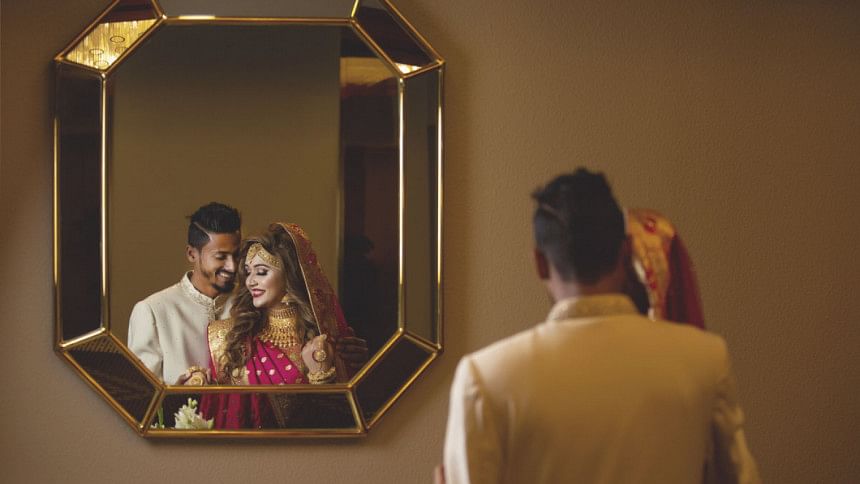 The rise of the 'intimate' wedding
"It was not until August 2020 when the wedding photography industry could get back in action. For most of 2020, intimate weddings were tremendously popular and that was what we photographed," reflected Jobayer Hossain Shuvo, the CEO & chief photographer of Dream Weaver.
Guest lists usually never went beyond 150 people at intimate weddings. Roof tops, lawns, living rooms, and resorts replaced community centres as wedding venues. Besides the changes in preferred location and guest list, all wedding budgets were cut back, be it for clothing, event management, lighting, decor, photography or food.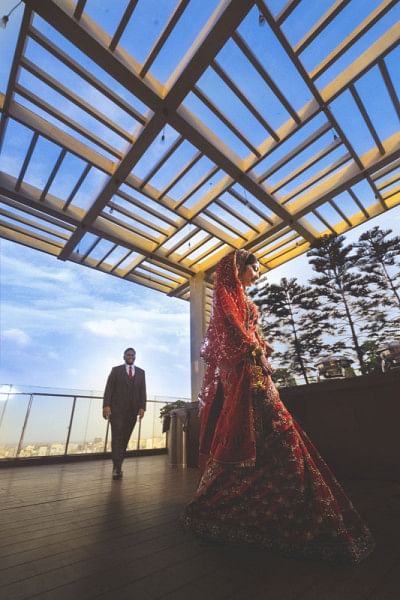 While some clients went for photoshoots, which solely starred the bride and groom, others opted out of professional wedding photography altogether by assigning friends or family members to photography duty. Custom tailored packages and deals were heavily sought out by potential clients. Venue changes, budget adjustments and health concerns often led to only one photographer representing an entire team. Unlike before, community centres no longer restricted the duration of events due to temporary shutdowns. This frequently led to customers requesting packages which extended up to eight to twelve hours at private venues instead of the usual five.
Before the pandemic, wedding events were about a lot more than the matrimony of two individuals. The families involved in the wedding would have to shoulder the responsibilities of hundreds of guests and attend to countless hosting related tasks and obligations, which are usual by-products of big fat weddings. They also had to continuously attend to catering, decor, and clothing related issues.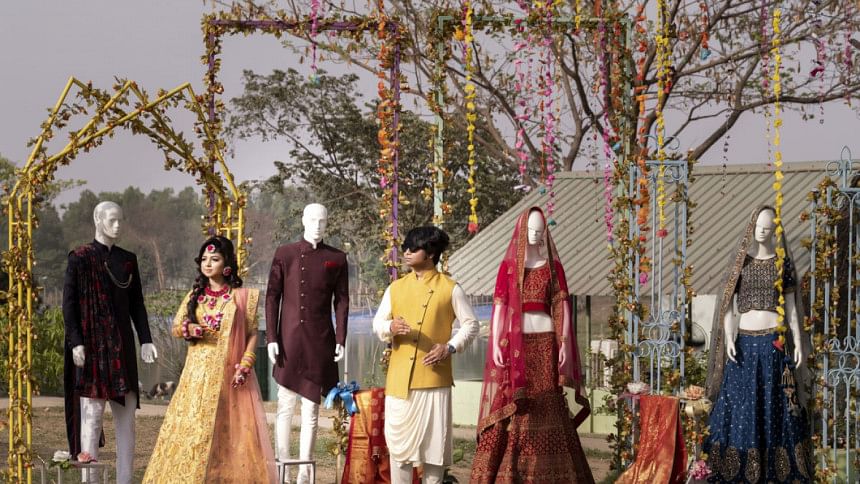 With a reduced guest list, drastic cuts to wedding budgets, and a change in venue, the focus shifted back to the bride and groom, and became a celebration of the bonds between close friends and family present at the wedding.
"Intimate weddings during the pandemic era are basically the weddings we would have back in the day with a modern twist. The ones we saw last year were similar to the weddings back in the '90s which took place at home and had a cosier vibe. We may not have alpona embellishing the staircase, or one person doing all the groceries but the atmosphere remains similar. Us photographers shifted to capturing more intimate candids as the setting automatically allowed it," said Jobayer Hossain Shuvo.
With shorter guest lists, candids usually become more natural and emotion fuelled.
"Only people close to the bride and groom are present. The venues for these intimate weddings are usually within the home itself. People are well within their comfort zones because of the guest list and venue. Everyone is more spontaneous, relaxed and connected with one another — which enhances all the candid 'moment' photos we captured," remarked Ishrat Amin, the CEO of Ishrat Amin Photography.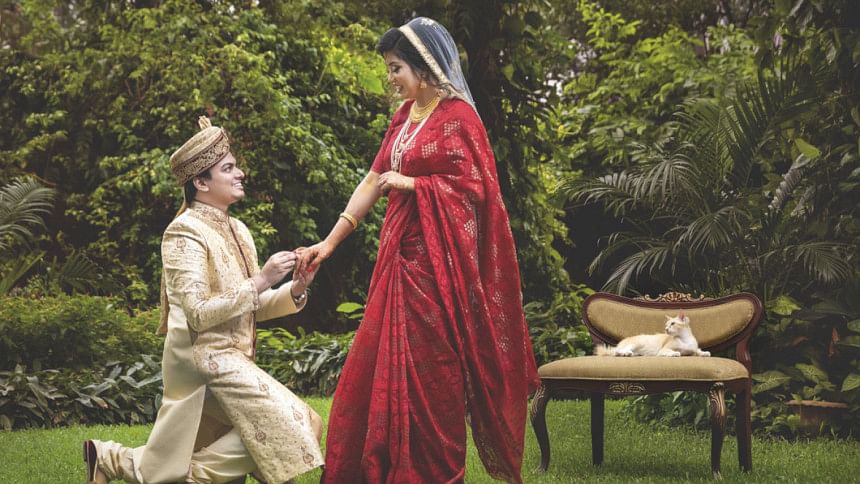 Candids aside, posed photos were also elevated by the contextual changes. Intimate weddings supplied photographers with an array of novel elements to work with, making the photoshoot of each wedding noticeably distinct from the rest. Each lawn, roof or living room offered its own unique aesthetic, making photoshoots one of a kind.
"We had noticeably more photo opportunities. We could make use of new lighting sources, be it the table lamps or natural daylight. We could work with the sky from a rooftop, make use of turf and shrubbery, take the shoot to the streets and basically utilise props and settings we simply did not have access to before. Community centres do not offer as many interesting visual opportunities due to uniformity," stated Prito Reza, wedding photographer and founder of Wedding Diary.
COVID-19 and its aftermath
At present, while some groups and photography companies are approaching the sales volume they experienced in 2019, others believe they still have a long way to go before embarking on recovery. This wedding season is predicted to be especially hectic as those who had previously postponed their wedding ceremonies are planning to make up for lost time by going big.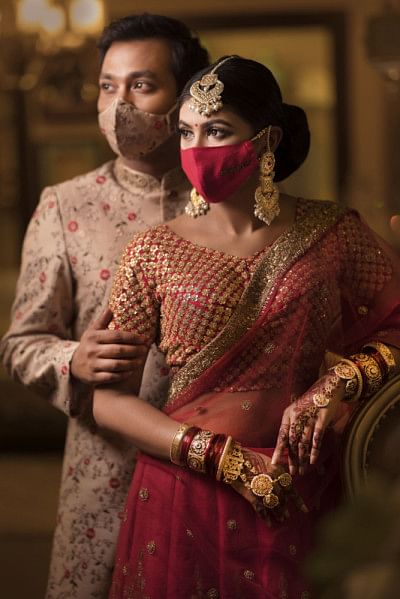 The modifications made to the public's taste in wedding planning, and wedding photography by association have lingered. People are starting to disconnect grandeur and extravagance from matrimony. Although the long-term effects on wedding trends are unpredictable, a cluster of factors have led to various people opting for small scale weddings even when community centres are an option.  Be it due to the uncertainty of the future, the need to cut costs, or its general stress-free nature, intimate weddings may be here to stay for many this wedding season. While some families settle on a mix between bigger, community-centre-based events with one or two homely events, others mix both simultaneously.
"There is an emerging trend of people using community centres as their venue, while keeping the guest list at a 100-150 people limit. While the props, lighting and background of the usual intimate wedding can no longer be used, the celebration of relationships and bonds is still apparent in candids," observed Ishrat Amin.
Preparing for this wedding season
If you are rightfully concerned about your health in the upcoming wedding season, you can always turn your posse into your wedding photography team. They are likely to know your aesthetic taste and your best angles. You can also only go for a single wedding shoot solely consisting of you and your partner to ensure the maintenance of safety measures.
Adding a pre-wedding shoot may also prove to be beneficial. Pre-wedding shoots are an excellent way for your photographer to get to know you, your story, your taste, your most flattering facial expressions and profiles. Photography is a form of story-telling, which is highly enhanced when both parties know each other. Plus, pre-shoots can get as creative as you would like it to, from photoshoots surrounding you two sharing a cup of tea to ones revolving around shared hobbies.
If intimate weddings spark your interest, you could consider alternating between bigger, fatter events and intimate ones. Intimate occasions can help sprinkle in a bit of relaxation within hectic event streaks, help you cut down costs, and also remind you of how much love you are surrounded by.
To explore more wedding trends, check out:
https://www.facebook.com/IshratAminPhotography
https://www.ishrataminphotography.com
https://www.facebook.com/DreamWeaver.com.bd
https://dreamweaver.com.bd
https://www.facebook.com/weddingdiarybd
http://www.weddingdiary.com.bd