Enchanting colours on Mayasir by Maheen Khan's Eid Collection
Mayasir by Maheen Khan's Eid collection is a treat for people who love a touch of colour.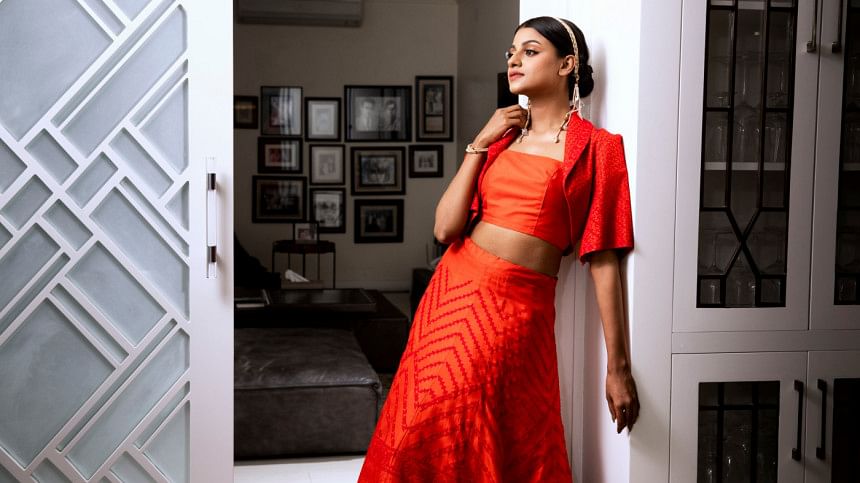 As the joyous occasion of Eid approaches, many people are focusing on finding the perfect outfit. Mayasir by Maheen Khan presents a stunning and colourful collection this year that is sure to captivate fashion lovers. This brand's Eid Collection exudes elegance and grandeur with stunning pieces in bright pink, rich purple, golden yellow, and lush green.
Mayasir is a well-known fashion brand that has been a fan favourite for many years now. The brand caters to women of all ages and preferences, from traditional to contemporary, and is known for its exceptional and distinctive designs. The focus on vibrant and bold colours distinguishes this year's Eid collection.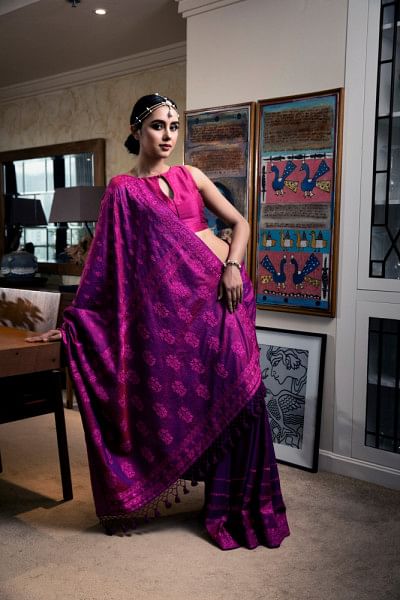 The vibrant and colourful Eid collection embodies the joy and festivity of the occasion. The collection includes a wide variety of saris and lehengas with stunning designs and patterns.
A bright pink silk sari with intricate pink stitchwork is one of the collection's standout pieces. The sari embodies elegance and grace, and its vibrant colour adds a playful and youthful touch. The intricate stitchwork gives the outfit a unique texture and dimension, making it ideal for those looking for a chic, refined look.
The purple lehenga with exquisite pink stitching is another standout item in the collection. The purple hue adds a regal touch, while the delicate pink embroidery creates a lovely contrast. Intricate details on the lehenga include a beautifully embroidered blouse and a sheer dupatta. The outfit is ideal for those looking for a traditional yet modern look.
The bright orange lehenga with playful sleeves adorned with stitchwork adds texture and depth to the outfit for those who prefer something more fun. The lehenga is ideal for those who want to brighten up their Eid celebrations by exuding joy and optimism. The outfit is perfect for a daytime event and will make you feel beautiful and confident.
The bottle green lehenga with light green contrasting colour is an exquisite blend of traditional and contemporary styles. The colours work well together, adding richness and depth to the outfit. The lehenga has intricate details such as a high-neck blouse making it ideal for those looking for a one-of-a-kind and elegant look.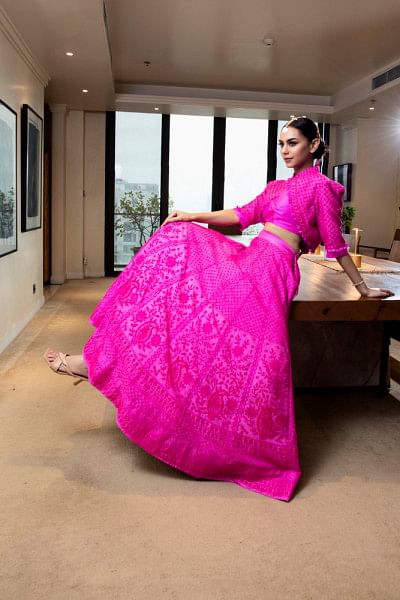 Another masterpiece features a Jamdani texture with flowers and geometric patterns among other motifs. The motifs are delicately woven to create an elegant and subtle effect. The metallic threads add a touch of glitz and sophistication to the sari, making it ideal for formal occasions. The bright fabric, rich colour, and intricate Jamdani pattern of the sari create a majestic and royal aura that is ideal for formal occasions. The sari is an exquisite example of Bangladesh's rich cultural heritage, and it is certain to make the wearer feel exceptional and beautiful.
Mayasir by Maheen Khan's Eid collection is a treat for people who love a touch of colour. From traditional to modern designs, each piece in the collection is made with meticulous attention to detail. The intricate embroidery and beading on the designs exhibit the craftsmanship and dedication of the brand's artisans, which makes each piece a work of art.
 The collection's entire concept is to immerse oneself in an ocean of colours, which it does splendidly. The outfits are stunningly beautiful and dazzling, sure to make anyone feel unique and confident. The collection is ideal for women who want to make a statement and flaunt their style.
Model: Antora, Simmi, Torsha
Makeup: Piash
Styling: Sonia Yeasmin Isha
Wardrobe: Mayasir by Maheen Khan