USAID's strategic dialogue on legal aid held at BUP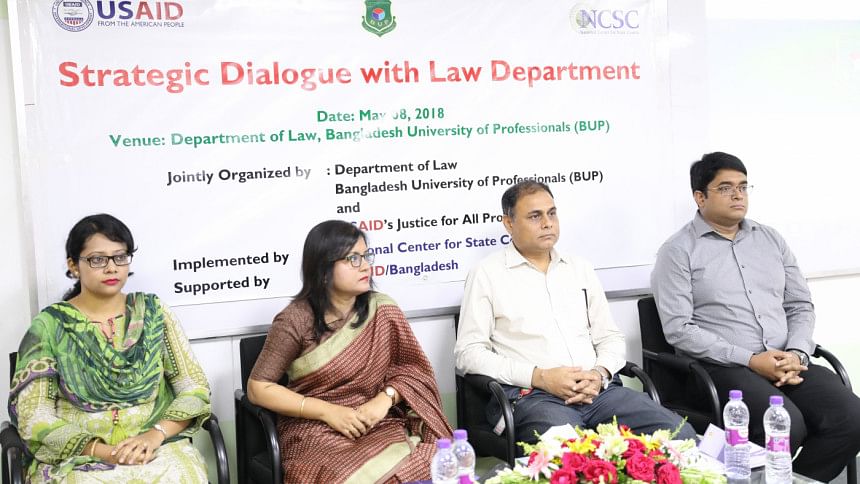 On the 8th of May 2018, USAID's Justice for All (JFA) Program and Department of Law, Bangladesh University of Professionals (BUP) jointly organised a strategic dialogue with BUP's Law Department, in association with National Center for State Court (NCSC). A total of 80 participants attended the programme, including seven faculty members and law students.
Resource persons in this dialogue included Ms. Sharmeen Farouk, Chief of Party, USAID's JFA Program; Ms. Ismet Jihan, District Legal Aid Officer (Senior Assistance Judge), Gazipur; and Mr. Kazi Yasin Habib, Assistant Director, National Legal Aid Services Organization (NLASO).
Lt. Col. (retd.) Siraj Uddin Ahmed, Chairman, Department of Law, BUP inaugurated the program with his welcome speech. He observed that law students should learn about practical experiences on legal and access to justice so that they can prepare themselves for professional career.
Ms. Sharmeen Farouk from USAID, elaborately discussed about objectives of the programme and introduced the participants with the activities and operational area of the National Center for State Court (NCSC). According to her, for improving access to justice, USAID's JFA Program is strengthening legal aid services by delivering proper knowledge to the root level, by providing improved court services to the public with the help of Bangladesh Supreme Court. She also added that, the key purpose is to contribute to the society with legal awareness, access to justice for unrepresented community, building programmes for sustainable legal aid services and finally to craft a part of positive change to the society – where law students can make proper utilisation of their legal knowledge to facilitate every sphere of people with legal aid services.
Ms. Ismet Jihan, Senior Assistance Judge from Gazipur, shared her practical experiences while working as a District Legal Aid Officer. She said that the government has proposed to establish Legal Aid Committees in each district for the economically insolvent, poor, widow and illiterate ones. In recent time, most of the litigations are tried to be solved by mediation process. When the mediation process does not work, the District Legal Aid Officer appoints Panel Lawyer for proceeding to the stages of filing suit.
Mr. Kazi Yasin Habib gave an overview of the government legal aid services. He talked about NLASO's success and development process. He advised law students to get involved in the Student Legal Aid Forum and work directly with NLASO.
While participating in the dialogue, law students, resource persons and faculty members shared their experiences. Finally, vote of thanks and concluding remarks were respectively delivered by Mr. Abu Bakar Siddique and Mr. Emraan Azad, Lecturers in Law, BUP.
The event was covered by Saima Siddika and Sujana Sabrin, Department of Law, Bangladesh University of Professionals (BUP).