Seminar on law making process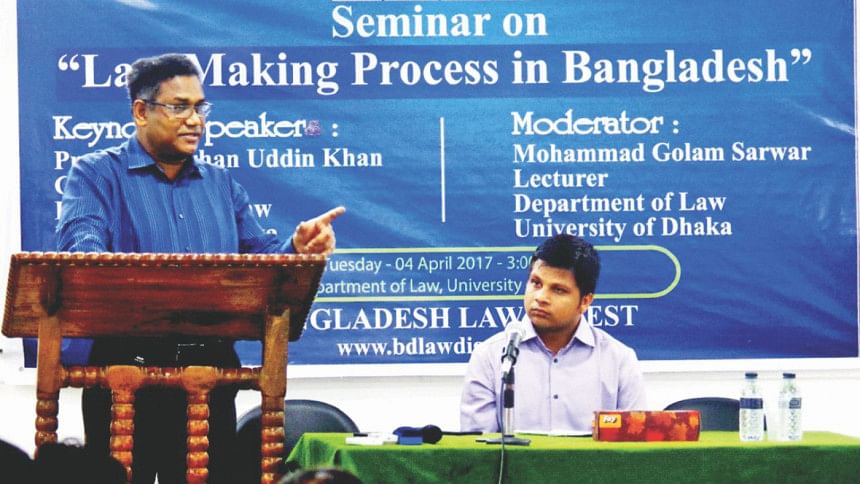 Organised by Bangladesh Law Digest (BDLD), a seminar on 'Law Making Process of Bangladesh' was held on 4 April 2017 at the Department of Law, University of Dhaka. Prof. Dr. Borhan Uddin Khan, Chairman at Department of Law, University of Dhaka, spoke as the keynote speaker of the program. The seminar was moderated by Mohammad Golam Sarwar, Lecturer in Law of the University of Dhaka.
In the lecture, Prof. Khan introduced the participants with different sources of law; from divine to modern age with step by step reformations, exclusions and inclusions of laws practised in this subcontinent. He also discussed in detail the enactment procedures of Act, Order, Ordinance, Rules, Regulations, etc. Being the editor of 28 volumes of 'Bangladesh Code', Prof. Khan shared his experiences and struggles while collecting all the laws and also depicted the methods of codification of laws in Bangladesh.
In his closing speech, Mohammad Golam Sarwar focussed on the loopholes in law making process in Bangladesh and lacking of check and balance in existing legal mechanisms. He also emphasised on making laws befitting the time.
The seminar was participated by law students of around twenty universities. Besides them, law practitioners, social workers, teachers and government officials also attended the seminar. This was the second event of BDLD's Seminar Series. BDLD is an online law magazine introduced by some law students of Dhaka University. It aims at keeping the legal minds in touch with the current legal realm of the country.
The event is covered by Nishat Subah Maliha, a student of LLM at the University of Dhaka.