Advocating for Law Reform
The necessity of enacting witness protection law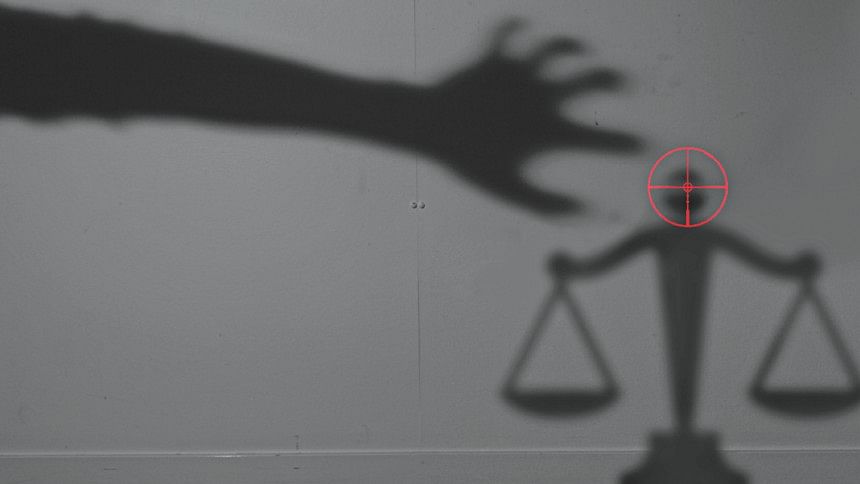 In the administration of justice system, be that criminal or civil, complainants as well as their witnesses perform a very decisive and significant role, since to a great extent dispensation of justice profoundly relies on evidences put forward by them. However, witnesses are often vulnerable to threats, intimidation, coercion, duress, harassment, etc. by the offenders or their accomplices that prevent them from testifying before the investigating officers (in the stage of investigation) or from giving evidences before the Court or Tribunal during trial, thereby occasioning the probability of miscarriage of justice. Thus, to secure ends of justice, both victim's testimony and evidences gathered from the witnesses are imperative elements in establishing any guilt or civil claim and also a congenial social atmosphere, which is a condition precedent, to relieve them from fear and pressure in support of administration of justice in the society at large. Hence, it has now-a-days become rudimentary for any State to ensure adequate protection to victims as well as witnesses so that cogent evidences in trials before the Court become available to avoid miscarriage of justice.
Unfortunately, Bangladesh and India still do not have any independent law for this above odious situation, except our other colonial neighbour, Pakistan [where Witness Protection, Security and Benefit Act, 2017 was enacted (except for Province of Sindh and Baluchistan having their own separate laws)]. However, India, does have a Witness Protection Scheme, 2018 which has been prepared with inputs and suggestions gathered from open sources, police personnel, judges and civil society that ultimately being finalised by the National Legal Services Authority (NALSA) and got approval of the Supreme Court of India by the landmark judgment in Mahender Chawla and others v Union of India and others (2018 SSC OnLine SC 2679) that initiated a step forward towards the above concern.
In this context it is noteworthy to mention, a three member Committee of the Bangladesh Law Commission headed by Lordship Mr. Justice Mostafa Kamal as Chair has in fact, recommended for a new law to enact towards protection of victims and witnesses along with their rights and privileges as early as 2006 (Bangladesh Law Commission Report No. 74) and also a Bill on the subject for the Parliament was drafted for consideration and enactment as a new law. However, statistics of the Law Commission reveals that a second report (being no. 108) was also submitted in 2011, but alas, the same has not been enacted.
Internationally in some countries witness protection is based on legislation, while in others it has evolved naturally as part of police activities. The Federal Witness Security Programme (WITSEC) which began in 1971 in USA (mandated under the Organised Crime Control Act of 1970 which subsequently amended in the Comprehensive Crime Control Act, 1984), probably the oldest such initiative in the world and widely acclaimed as an exceptional as well as valued tool for the USA to fight back criminal conspirators and such groups engaged with organised crime. Under the programme, victims, witnesses along with families would get new identities having proper documentation, accommodation, facilities and allowances towards basic living expenses or medical care.
European scenario in the matter is to some extent, different and varied, as in Germany, Italy, Czech Republic and Lithuania protection of witness are controlled by specific legislation, although this is not so in others (i.e. Austria, Denmark, Finland, Greece, Ireland, France, Luxemburg, Spain and the Netherlands). While in Austria, Slovakia and the UK, witness protection is embedded and managed within the Police Administration, in others (e.g. the Netherlands), the Executive or Judiciary of the country operates the programme. However, in Italy and Belgium, the Witness Protection Programmes are looked after and implemented by multi-disciplinary bodies (comprising of the Central Commission, made with the Under-Secretary of State of the Interior Ministry, two Judges/Prosecutors and group of Experts having knowledge of organised crime along with the Commission on Witness Protection).
Earlier though, EU Millennium Strategy of 2000 outlined planned EU actions in this regard and proposed to develop and prepare an instrument in the form of an EU Model Agreement for protection of witnesses to operate across all EU member States by taking into account the experiences of Europol and use of bilateral understanding between member States. But with utter surprise and dismay, the EU Commission in 2007, after assessing the feasibility study of an EU Legislation for protection of witness concluded that time is yet not ripen and further studies are required to be carried out to identify an acceptable way forward. Afterwards, in the year 2009 the above fact was confirmed in a parliamentary deliberation that the EU Commission did not intend to legislate (in the aforesaid matter) as contemplated earlier.
To conclude, above being a precise world scenario of existing endeavours on the issues of protecting and preserving testimony of victims and witnesses, now time has come for us to decide as to whether Bangladesh should hang its decisions 'in limbo' like the EU countries or embark upon the Bangladesh Law Commission's recommendation and act as the USA did and thus, move forward for a new enactment.
.............................................................................
THE WRITER IS THE DEAN, SCHOOL OF LAW, BRAC UNIVERSITY.