The legal conundrum of male rape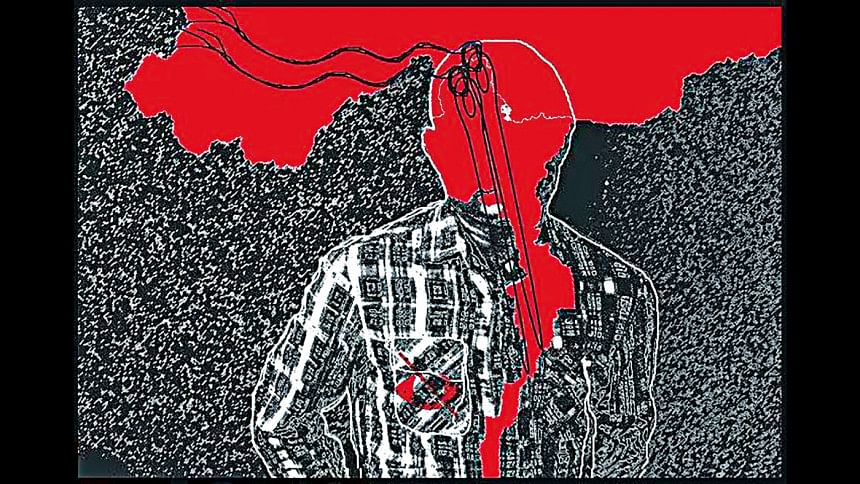 In 2019, a 45-year-old man was gang-raped in Gazipur while the rapists videotaped it and blackmailed him for 2 lakh taka. Afterwards, the victim committed suicide without seeking any legal remedy. Sexual harassment remains a pervasive and alarming issue in Bangladesh, with many victims reluctant to report their experiences due to cultural and social obstacles. Although most victims are women and children, it would be impractical not to address the male victims of sexual harassment as well. Regardless of the low number of reported cases, the rape of adult men is not a new phenomenon in the country. The idea that men can be raped is not widely recognised. A 2013 study by the United Nations found that 2,374 male-on-male rape occurred in Bangladesh. Ten years later, the subject is still so taboo that it is difficult to get precise data on it.
This problem is exacerbated by our legal system, where there is no such thing as male rape. According to section 375 of the Penal Code of 1860, only rape of women by men has been made a punishable offence. Though male children under the age of sixteen can seek remedy under the Nari O Shishu Nirjatan Daman Ain of 2000, the legal resolute to adult male rape is non-existent.
Male victims, however, can file a case under section 377 of the Penal Code in case of rape of men by other men. But the section itself talks about unnatural offences and was introduced during the British period to establish Victorian principles and condemn homosexuality. It is apparent that the provision does not sufficiently cover male rape. Also, sexual assaults of transgender people are not addressed by this provision. Last year, following a writ petition, the High Court Division of the Supreme Court of Bangladesh questioned why the definition of rape in the Bangladesh Penal Code has not been amended to provide legal protection for both male and female victims. However, there has not been any progress on the matter since then.
Numerous countries have recognised that males can be victims of rape, including the USA, Canada, and Australia. Male rape has been recognised as a crime in the UK since 1994. In 1995, 150 cases of male rape were reported in England and Wales. In 2004-2005, ten years after the introduction of the law, reports of male rapes increased sevenfold to 1135. This indicates that more victims gained the courage to report this heinous crime after the definition was made inclusive of all rapes. However, even though many of our laws on sexual offences were derived from the British colonisers, Bangladesh is yet to make similar changes.
There is a stereotypical belief that "real men" are tough and can defend themselves, and those who cannot protect themselves are not men enough. This type of perception makes victims more afraid to open up. They fear societal perceptions of their sexual orientation and masculinity. Most of the victims blame themselves as if it was their fault. In most cases, it remains a long-term trauma for the victims.
Even those countries in the world where the legal system is considered to be very advanced are struggling to reduce male rape. Despite the recognition, it remains taboo, and stigma and discrimination against male victims persist. Recognition of male rape is the first step in solving the problem. Legislative bodies should focus on making rape laws gender-neutral instantaneously. We need to reform section 375 of the Penal Code. Offenders and victims should be defined as 'persons' instead of using gendered pronouns. It should be recognised that not only men or women, but transgender people can also be the victims of sexual harassment. As there are already several instances of male rape, the concerned authority needs to work on improving the mental health of the victims. Like in developed countries, an independent sustainable institution can be considered for their mental health in Bangladesh.
The writer is a Student of Law, University of Chittagong.