Ragging is a heinous crime, so is the culture of impunity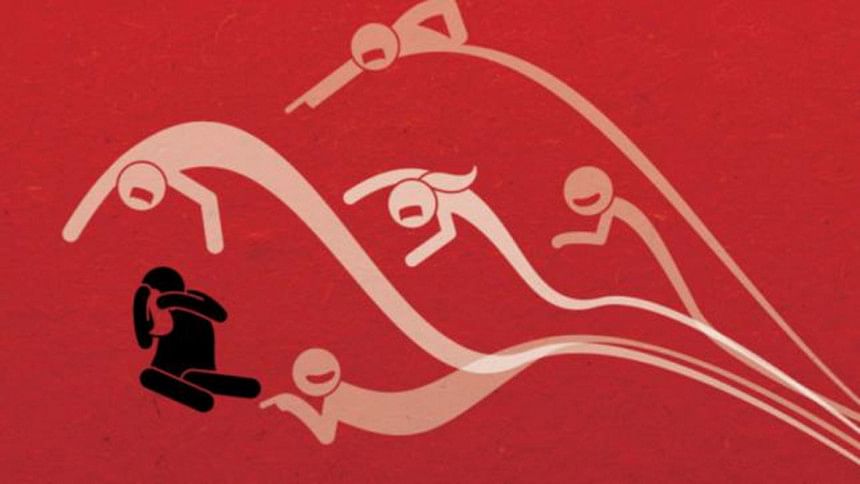 Incidents of ragging are making regular headlines these days. Students who enrol in higher education institutions with the goal of a better future have to confront this bizarre culture of ragging as soon as they arrive on campus.
Ragging is a form of assault where senior students verbally or physically abuse new students in educational institutions. This is frequently used to establish dominance and hierarchy within student groups. Ragging occurs in both public and private areas of universities.
Ragging at IU
One of the latest incidents of ragging took place at Islamic University in Kushtia. Fulpori Khatun, a first-year student, was identified as the victim.
On February 12, Fulpori was tortured and humiliated by IU Chhatra League Vice-President and her accomplices at Deshratno Sheikh Hasina Hall. The incident was revealed after the victim departed the hall and informed her seniors and family members the following day.
According to the complainant, the Chhatra League leader also threatened to post the footage on social media if Fulpori revealed the matter to anyone.
On February 14, Fulpori filed a written complaint with the university administration, including the proctor, student adviser, and hall provost, demanding that those engaged in the incident be punished. The High Court ordered the authorities to expel five of its students who were found to be engaged in the torture and humiliation.
The court also ordered the university to discharge hall Provost Shamsul Alam, the house tutor, and several others of their responsibilities.
It is deeply regrettable that such incidents seem to be never ending. It is, however, encouraging that the victim spoke up about the incident, but several instances of ragging occur in other universities that go unnoticed, and the victims or their guardians do not speak up out of fear.
Effects of Ragging
Ragging instils fear in new students, causing them to become mentally depressed. They often develop a hatred for their institution. Victims experience depression, isolation, and get demoralised.
Anti-Ragging Laws in Bangladesh
The government has enacted a new policy that imposes severe penalties on both teachers and students who are found to be involved in bullying or ragging. Suleman Khan, secretary of the Secondary and Higher Education Division of the Education Ministry, said the Educational Institution Bullying or Ragging Prevention Policy 2023 will be finalised soon.
The policy defines ragging as name-calling, making lewd gestures, teasing, putting emotional pressure on, neglect or avoidance, and defamation. Furthermore, it requires the formation of anti-ragging committees at all educational institutions. The committees will be in charge of monitoring the situation and must hold regular meetings and file reports.
In 2020, the High Court division declared that, if a student commits a serious crime in any educational institutions of the country, legal actions can be taken against them under criminal law. The court ordered the authorities to add the word "ragging", along with "harassment", in the policy.
How can you avoid ragging
To avoid ragging, the students as well as the authority must be more aware. For the victim, a neutral, confidential, and supportive environment is required. Discipline in institutions is extremely important, and the law must be enforced regardless of someone's political identity or any political regime. Anti-ragging laws must be strongly enforced. Universities and other educational institutions must take a strong anti-ragging stance and implement a zero-tolerance policy. Authorities must take strict action against those who engage in ragging and hold them accountable for their actions. Institutions must also have effective reporting mechanisms in place to allow victims to report ragging incidents anonymously. This makes victims feel more comfortable coming forward and reporting the incident.
Ragging is a heinous crime that cannot be eradicated solely through legislation. To avoid this, students must speak up and be aware of their rights. The university administration and other relevant stakeholders must work together to end the culture of impunity with regard to the ragging. It is our duty to explore this matter thoroughly so that no other students become the victims of brutality and violence at the campus.
The writer is an official contributor, Law Desk, The Daily Star.