LAw Letter
Legal complications in controlling smoking in public place and transport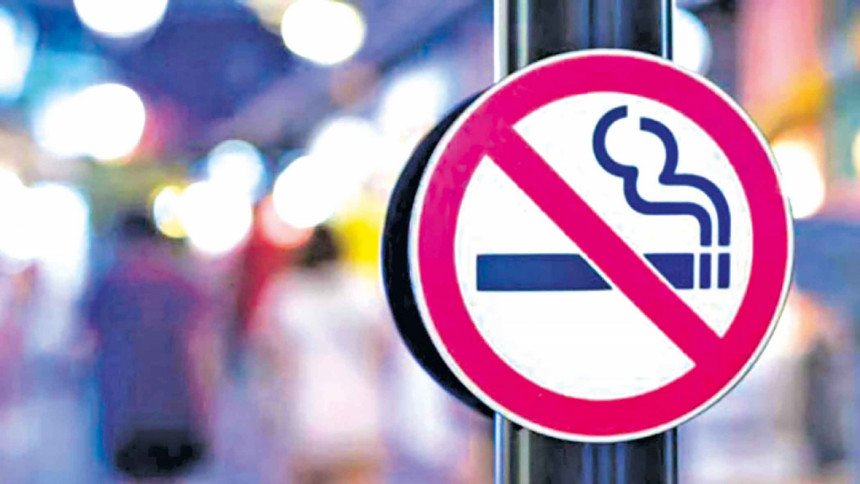 Effortless smoking in public places or public transport is nothing new. To control smoking in these public places/transport, we have a special law called the Smoking and Tobacco Products Usage (Control) Act 2005.
According to the preamble of the Act, it is designed to regulate the production, use, sale and advertising of smoking and tobacco products. This law includes some provisions on smoking in public places and public transports where smoking in public places and public transport has been made a punishable offence. Now the question arises, which are the public places or public transports?
This is explained in section 2 of the Act, which states that 'public place' means educational institutions, government offices, semi-government offices, autonomous offices and private offices, libraries, elevators, indoor workplaces, hospitals and clinic buildings, court buildings, airport buildings, seaport buildings, naval port buildings, railway station buildings, bus terminal buildings, auditoriums, exhibition centres, theatre halls, marketing buildings, theatre halls, marketing buildings, restaurants, public toilets, children's parks, fairs, or specific queues for passengers to wait to board public transport, any other place used collectively by the public or any or all other places declared from time to time by government or local government institution, by general or special order. In the same section, public transport is referred to as motor cars, buses, rail carriages, trams, ships, launches, all types of public vehicles, aircraft and any other vehicle specified or declared by the government, by notification in the Official Gazette.
One cannot smoke in these places. If one does so, it will be an offence punishable under section 4 for which punishment is not more than BDT 300/-. A concerning issue is that there are also some exceptions to this, when smoking in public transports will not be considered an offence.
According to section 7 of the Act, the owner, caretaker or controlling person or manager of a public place and the owner, caretaker, controlling person or manager of a public transport may identify or specify a place for smoking therein. Smoking in these identified places of public transport and public places shall not be an offence under section 4.
In order to effectively implement this law, the Smoking and Tobacco Products Control Rules were promulgated in 2015. In the Rules, the particulars for establishing specific places for smoking in public places and public transport are provided.If we look at the method of applying this law, it is seen that some officers have been given the power to implement it. According to section 2, authorised officer means Upazila Nirbahi Officer or Upazila Health Officer or any equivalent or superior officer of Directorate of Health and shall include any or all officers empowered by different laws to carry out the concerned duties. The 2015 Rules also include the names of some other officers – police officers not below the ranks of Sub-inspector, officers not below the rank of Assistant Director of the Directorate of Narcotics Control, and a number of officers who may enter and inspect a public place or public transport in their respective jurisdictions, and any person who has violated the provisions of this Act may be expelled from a public place or public transport by an authorised official. They can make a written complaint in the prescribed manner to the court for trial.
This law, with some others, has two issues to generate concerns. The first is that some certain places are defined as public places and the second is that no court shall take cognizance of any offence under this Act for trial except with the written complaint of an authorised officer. That is, if a person is to be punished for smoking in a public place or in public transport, he will have to smoke in the place mentioned in this Act and a written complaint of the authorised official will be required in this regard. Therefore, a person who is smoking in public places/transport cannot be easily held responsible under this Act for smoking due to some legal and practical complications.
To eliminate these complications, especially without limiting the definition of a public place to a specific place, it can be interpreted in such a way that a public place would mean a place to which the public has access. It is also necessary to exclude the provision in the Act which is called 'Designated place for smoking' in public places/transport. Further, it is important to reconsider the amount of the penalty (fine) for the offence. Considering these factors, if the law is amended, it will play an important role in controlling smoking in public places/transport.
The writer is a law student, University of Dhaka.