BARRISTER MOZAMMEL HOSSAIN: Another Bangladeshi-born QC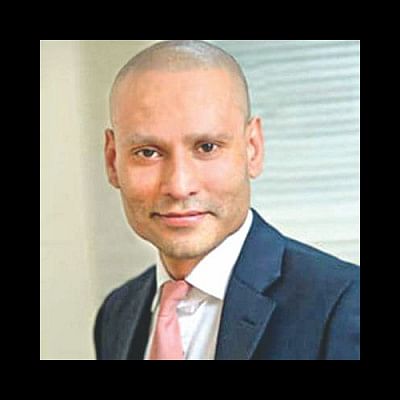 Queen's Counsel (QC), also known as taking silk, is appointed from legal professionals who demonstrate distinct expertise in advocacy. Her Majesty The Queen appoints the QCs on the advice of the Lord Chancellor. A Selection Panel, independent of the Bar Council, the Law Society and of Government, receives and considers each application and makes recommendations as to the appointment.
Mozammel Hossain is a Bangladeshi-born Barrister amongst the 108 barristers and solicitors whose appointments have been approved recently as new Queen's Counsel. Amongst 30 applicants who declared an ethnic origin other than white, 13 got appointed this year. Whereas, 18 such applicants out of 33 were appointed in the previous year.
Barrister Mozammel Hossain is one of youngest barristers to have been appointed as Queen's Counsel. He will be sworn in on 11th March at a ceremony at the Westminster Hall at the Houses of Parliament. He is the second Bangladesh-born person to achieve such an esteemed feat after Ajmalul Hossain QC. Previously, Sir Akhlaq Ur-Rahman Choudhury (Honourable Mr. Justice Choudhury) was appointed as the first British-Bangladeshi (Bangladesh-origin) QC in 2015.
Barrister Mozammel Hossain was born in Barisal. He studied at the Dhaka College, and later pursued law at University of Dhaka. Thereafter, he completed LL.B. (Hons) from the University of Liverpool. He later obtained the Bar Vocational Qualification from the Inns of Court School of Law. After completing the academic and vocational stages of his Barrister training, Mr. Hossain was called to the Bar by the Honourable Society of Inner Temple. He then completed his pupillage at 187 Fleet Street.
He was the first overseas student to become the president of the Students' Union of the Inns of Court School of Law (ICSL). During 1999-2000, he was a governor of ICSL.
Barrister Hossain has been described by the Court of Appeal as an advocate of 'great eloquence'. He mainly practices criminal law, and has been involved in some of the most high profile criminal cases in UK.
His notable contribution in terrorism cases are; Operation  Gospodar (2017), Operation Yiges (2016), Operation Guildship (2014), Operation Movie (2013), Re CD (2013), R v I and Ors (2010) (the 'Blackburn Resistance' case), R v Lusha (2009).
He has been instructed as Leading Counsel in several murder, complex fraud, international money laundering, and kidnapping related cases. Remarkably, he has been instructed in R v A & Anor (2012), and Operation Departer (2017) – a case involving 'ISIS' inspired murder of a local imam. Operation Endorse (2018) – drug related revenge shooting, Operation Newton (2018) – gang related Oxford murder and Operation Holms (2018) – gang related shooting.
Many of his cases attracted media attention including R v H (2013) – involving Hollywood actress Tara Reid, R v A (2009) which concerned a religious ceremonial self-flagellation of a child, and R v G (2009) that involved organised brothel keeping. The investigation of R v G was filmed by the BBC.
The writer is a student of law, University of Dhaka.