Law Vision
Bangladesh needs MSME law instead of SME policy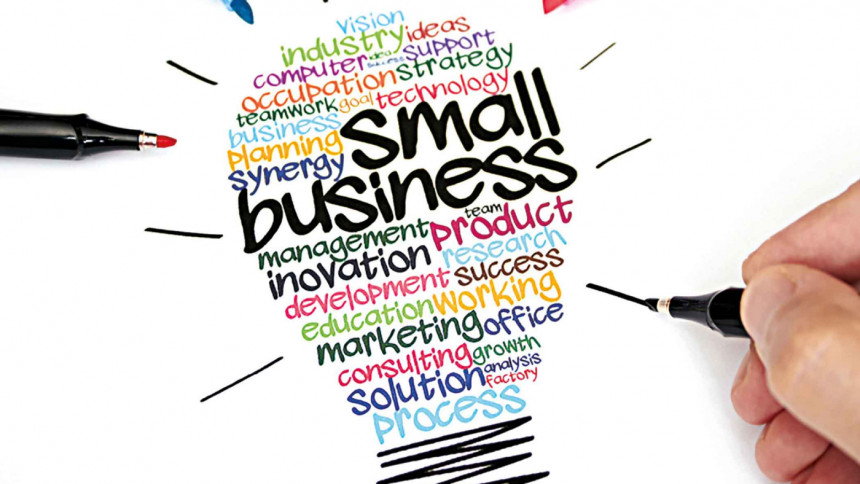 There is every reason to devote public resources to strengthen (Micro, Small and Medium Enterprises) MSMEs in any country. The MSMEs generate most of the employment opportunities in any country. The growth of MSMEs can make a balanced development through economic, social and environmental protection of a country. It also ensures relatively fair distribution of wealth among the citizens.
Most of the countries have policies or laws for the development of MSMEs. The overarching goal of a MSME policies or laws is to reduce poverty by increasing economic growth and decreasing income inequality so that all share in a growing economy.
A standard MSME policy element covers four areas: legal/regulatory reforms, access to markets, access to finance, and building skills and knowledge. The policy and its implementation frame­work fit well with Government's commitment towards rapid, inclusive, and sustainable economic growth and towards the role of a strong private sector in that growth. The Industrial policy and strategy policy documents of Bangladesh also highlighted the role of SMEs in poverty elimination and economic development in the country.
Bangladesh adapted MSME policy 2019 for strengthening Small and Medium-sized Enterprises (SME) sector by enhancing efficiency, improving business environment, providing easy access to finances, ensuring better marketing facilities, upgrading technology and innovative capabilities, and creating employment opportunities.  It has been proposed to be implemented from 2019 to June 2024. It has focuses on the followings six different kinds of services to the SME: (1) access to finances; (2) access to technology and innovation; (3) access to market; (4) access to education and training; (5) access to business support services; and (6) access to information. The female entrepreneurs proposed to get similar kinds of facilities for running their SME units.
The policy also includes the strategies, which are set for the development and strengthening of the country's SME sector in line with the Vision, Mission, Goals and Objectives described in the SME Policy 2019. The policy include (1) to improve business environment and institutional framework; (2) to increase scope of the SME sector to receive institutional funding facility; (3) to support to increase competitiveness capability and access to SME products market; (4) to support short-term, low cost SME business support services to the start-ups; (5) to develop and expand SME Cluster-based Business Network; (6) to increase use of ICT and other technologies; (7) to expand of skill developing education and training programs for entrepreneurs; (8) to expand women entrepreneurship development programs and providing specialised services; (9) to establish SME as a backward and forward linkage enterprises to the large industries and ensure protection of SME products; (10)  to establish environment-friendly SME industries and develop better capacity for waste management; and (11) to institutionalise SME statistics and conduct research and development activities.
The SME shall register with the relevant department. The administrative procedures of SME entrepreneurship will be simple to improve the SME related business environment and to protect the rights of investors. Necessary steps will be taken to attract domestic and foreign investment to ensure desired development of SME, especially export-oriented SME industries and its capacity building.
It includes strategic tools to simplify the legal and administrative procedures for enhancing SME business, simplification, and rationalisation of SME tax policy. It proposes to provide investment and revenue incentives for export-oriented SME sector, strengthening of coordination among institutional structures, strengthening of capacity building activities of BSCIC, SME Foundation and other SME related trade bodies.
The policy comes with a Credit Guarantee Fund (CGF) to act as guarantors for them when they apply for loans to banks or financial institutions to launch their venture. The CGF will arrange collateral-free loan for small and medium entrepreneurs, especially start-ups. Entrepreneurs will not need to submit any document as mortgage to banks or financial institutes as the government will be the guarantor under the CGF.
The suggested necessary measures will be taken to simplify procedures to receive trade license, expedite the provision of start-up support services with easy access of SMEs online registration facilities, one-stop service centre and other types of financial and non-financial support for SMEs. CGF will act through some companies form under its regulations to act as guarantor for the SME loans.
A start-up cell will be formed under the SME policy. Start-ups will have to apply to the cell first and officials will scrutinise the applications. The start-up cell will help fresh entrepreneurs get loans, licences and other necessary documents and find market-related information.
It proposes to start an appropriate entrepreneurial education and training programme in the Technical and Vocational Education and Training (TVET) and higher education system of the country to develop skilled human resources in the SME sector. The regulators will organise SME related training and curricula, research work, demand-based training, internship etc.
The responsibility for overall implementation of strategic goals and action plans described are entrusted to BSCIC and the SME Foundation. BSCIC will implement its own strategic action plans in collaboration with other implementing agencies subject to the approval of the Ministry of Industries. The SME Foundation will inform Ministry of Industries about its own yearly strategic action plan and implement it in collaboration with implementing agencies. The Ministry of Industries will regularly monitor and evaluate the progress and implementation of the action plans/activities of BSCIC and SME Foundation and will provide necessary financial and other supports.
A policy is mostly a wish list and the regulating authorities are not bound thereby. The regulating authorities seem inactive and financial institutions hardly abide by the policy to give priority to MSME. The tax authority does not incorporate any special tax rebate or easy procure for MSME yet. The other countries have specific laws in this regard. Bangladesh should also have MSME laws making all policy mandatory for all the stakeholders including government agencies.
 The writer is a Legal Economist.