Of my cosmetics, and my rights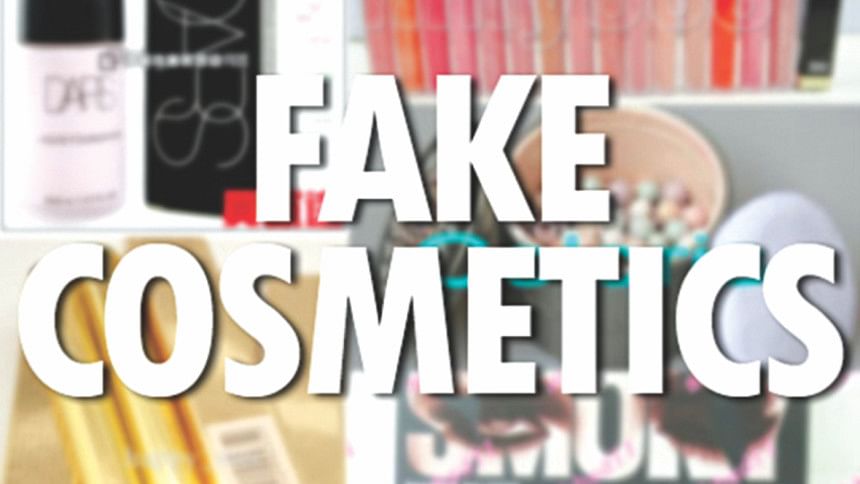 The internet is filled with videos of duplicate cosmetics being produced in different parts of the country. Perpetrators tend to fill empty containers of the original cosmetic products with duplicated liquids and scents. These cosmetic items include shampoo, body spray, body lotion, and soap from brands like Vaseline, Pantene, Head & Shoulders, Sunsilk, Clear, Garnier, and Rejoice among others. Use of these substances containing harmful chemicals can cause itching, hair loss, swelling, pigmentation and even skin cancer. We often read at the national dailies regarding mobile courts destroying tons of fake cosmetics, while imposition of fine is a common practice. Recently a lot of initiative is being taken by mobile courts to impose fine on shopkeepers and grocery shops, which use pesticides like formalin and other means to adulterate food. However, the focus on ensuring prevention of fake chemicals on cosmetics is not as much.
According to a study by the Consumer Association of Bangladesh(CAB), 45% of the country's cosmetics have no certification of the BSTI (Bangladesh Standards and Testing Institutions). Many cosmetics are also being sold with 'ISO' (International Organisation for Standardisation) seals on them, which hardly make sense considering the fact that it only deceives consumers – ISO essentially sets a standard for the managerial functions of an organisation. Any organisation including banks and even schools or universities can obtain ISO certification.
The Consumer Rights Protection Act, 2009 (CRPA) states that it is anti consumer rights practice to sell adulterated goods, to sell goods that have harmful ingredients, to deceive consumers by untrue and false advertisement and to manufacture any fake goods and medicine among others (Section 2 (20)). Imprisonment for a period not exceeding three years or fine not exceeding Taka 200,000/- or both, are stated as punishments for the offences.
The Act also provides for a National Consumer Right Protection Council, and also a Directorate of National Consumer Rights Protection where the Director General is appointed to oversee the consumer rights practices throughout the nation. To facilitate the functioning of National Consumer Right Protection Council, there is to be a district committee in every district – District Consumer Rights Protection Committee. An aggrieved person shall be able to file a complaint with the Director General, who will then investigate the matter and eventually take it to Court. An aggrieved person may also file a civil suit against the person indulging in anti consumer rights practices and claim compensation up to five times of that of his measured damage.
Even though the law provides various remedies for consumers, the key problem is the lack of awareness among the consumers of the legal protection they are entitled to. Electronic media, print media and social media has been playing a commendable role in creating awareness among people; however most of their campaigns are limited to adulterated food products, but not cosmetics. The few who are aware of the markets being flooded with fake cosmetics probably tend to avoid the hassle of lodging a formal complaint. The existing Consumer Rights Protection Department is situated inside the Secretariat where an aggrieved person must lodge a complaint.
The first initiative that is to be taken to implement consumer protection is to educate the people of their rights as consumers and encourage them to complain against any anti consumer rights practices. People should also be made aware that provided a complaint is proved true upon investigation, and a fine is imposed on the guilty party either by the Director General or by the concerned court, 25% of the realised fine shall be paid to the complainant. The complainant can also get additional compensation by instituting a civil suit. Secondly, there should have been frequent monitoring, checking, examining or testing of the quality and standard of a product in conformity with its labelling and law. Thirdly, the punishment for committing crimes against consumer rights should be increased to have a deterrent effect. Fourthly, the government should encourage and support non-government, non-political, non-profit and voluntary organisations like CAB, which act as a watch-dog to ensure consumer rights. One of the most significant steps CAB has taken is to run a 'Complaint Cell' in order to receive and document complaints and grievances from the aggrieved consumers related to violation of their rights and interests involved in the purchase and use of commodities and services. The cell initiates investigations into those complaints and provide redressal in the form of settlement through negotiation and mediation between the parties. The National Consumer Rights Council can also take measures to provide such alternate dispute mechanisms.
Enactment of the CRPA in 2009 was a major step in protecting consumer rights; however, the nation still has a long way to go in implementing its provisions. One must remember that the Act does not only provide for remedies against adulteration of food, but other goods as well. Equal importance should be given to consumer rights violation regarding other commodities of daily use such as cosmetics.
THE WRITER IS A LECTURER OF LAW AT NORTH SOUTH UNIVERSITY, DHAKA.