Digital Security Act: Charges pressed against Kishore, Mushtaq, Didarul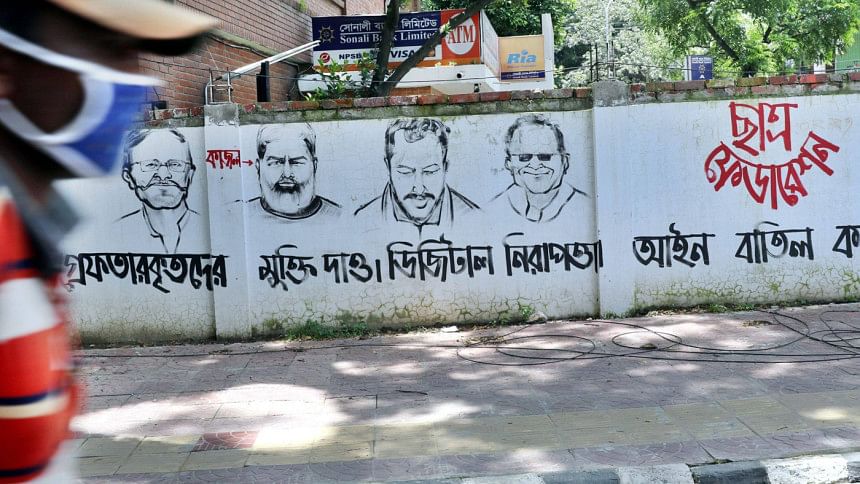 Police have pressed charges against cartoonist Ahmed Kabir Kishore, writer Mushtaq Ahmed and Rashtrochinta activist Didarul Islam Bhuiyan in a cased filed under Digital Security Act last year. 
A total of 11 people were prosecuted in the case filed by Abu Bakar Siddique, assistant director of Rab-3, with Ramna Police Station on May 6 last year.
Court sources confirmed that the police submitted the charge sheet at the Chief Metropolitan Magistrate Court of Dhaka on Thursday. 
Charges were framed against three of the accused, while eight others were let off, due to lack of evidence against them, the court sources confirmed. 
The eight others include Swedish-Bangladeshi journalist Tasneem Khalil who runs Netra News; US-based journalist Shahed Alam; Germany-based blogger Asif Mohiuddin; Minhaj Mannan Emon, managing director of BLE securities and shareholder-director of Dhaka Stock Exchange; expatriate Zulkarnain Saer Khan; Ashik Imran; Shapan Wahed; and Philip Schuhmacher. 
The 11 accused were prosecuted under section 21, Section 25(1) (b), Section 31 and Section 35 of the law, which prosecutes anyone running propaganda or campaign, "against the Liberation War of Bangladesh, the cognition of the Liberation War, Father of the Nation, National Anthem or National Flag",  anyone "tarnishing the image of the nation or spread confusions" or attempting to "create hostility, hatred or adversity among people or destroy any communal harmony or create unrest or disorder or deteriorates or threatens to deteriorate law and order."
Kishore and Mushtaq have been in prison for the last 9 months, while Minhaj and Didar were granted bail by the court last September. 
Kishore and Mushtaq's bail petitions have been rejected as many as six times, their legal team informs. 
Jamshedul Alam, sub-inspector of Ramna Police Station, is investigating the case.