Fewer observers in Dec 30 polls
Fund crunch seen as key reason; EC secy asks local observers not to talk to media at polling centres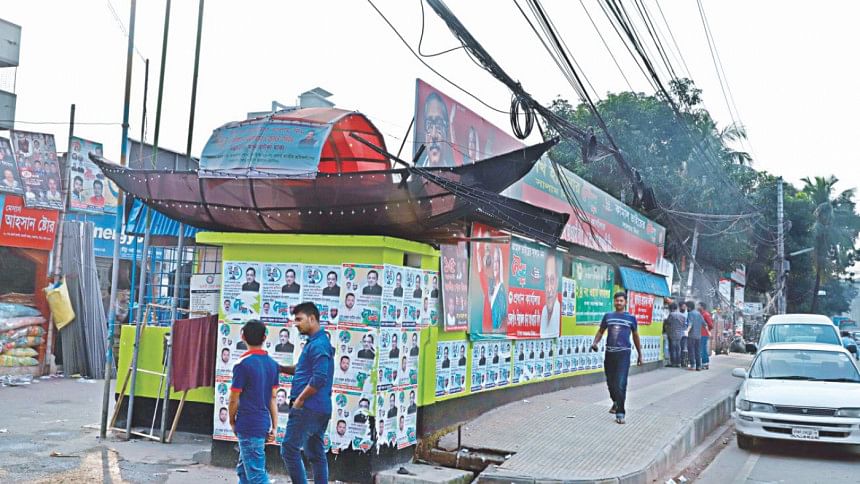 The presence of observers in the upcoming election will be thinner compared with that in 2008, as both domestic and international organisations are unwilling to deploy strong workforce mainly due to fund crunch.
The European Union, for example, will not send any election monitoring team this year.
Around 1.6 lakh domestic and 600 international observers monitored the December 29, 2008, election.
In the 11th parliamentary election set for December 30, it may come down to 40,000, said senior officials of several election monitoring groups and organisations.
However, the number of voters and the polling stations is much higher this time than in 2008.
In the 2008 polls, 35,263 polling centres were set up for 8.1 crore voters. In the upcoming election, around 42,000 polling stations will be set up for more than 10.41 crore electorates.
Election observers contribute greatly to making sure elections are free and fair. Their presence in large numbers is therefore very crucial, said M Hafizuddin Khan, former adviser to a caretaker government.
"In our country, a lot of disputes arise centring on elections. This is why deployment of fewer observers is not a good sign. Many polling stations may remain uncovered as a result," he told The Daily Star yesterday.
Currently, 118 organisations are registered with the Election Commission to observe elections. The EC asked them to apply by Sunday, specifying the number of observers they would deploy.
Although a senior EC official said some 1 lakh to 1.5 lakh observers may be deployed, senior officials of election monitoring organisations said the number would be much less.
"In the 2008 polls, we deployed around 70,000 observers. This time, we are planning to field 15,000,"    said Abdul Awal, chairman of the Election Working Group (EWG), an alliance of 23 local organisations that monitor election under the banner of EWG.
"We have decided to deploy fewer observers due to unavailability of funds," he told The Daily Star yesterday after attending a briefing for local election observers organised by the Election Commission.
"In my estimate, around 40,000 observers may be deployed in the upcoming election," he said, adding that training, logistic support and remuneration for observers require huge funds.
Asked about the reason behind the fund shortage, Awal said development partners were losing interest to fund election monitoring missions across the world. "This can be one reason."
Their priorities for Bangladesh   are also changing. Many development partners are now channelling funds for the Rohingya refugees, he added.
Harun-Or-Rashid, chief executive of Light House, another election monitoring organisation, echoed his views.
His organisation deployed 5,500 observers in 2008. "This time, we are preparing to deploy only 800 because of fund shortage," he said. 
Also, in 2008 their observers were stationed at polling centres. This year, they will deploy only mobile observers, who will move from one polling station to another.
Mostafa Kamal Akond, assistant director and principal information officer of Coast Trust, said they fielded 3,900 observers in 2008. "But this time, we plan to deploy 1,100 for   fund crunch," he told this paper yesterday. 
The presence of international observers will also be thinner.
Explaining why they would not send any election monitoring team this time, EU Ambassador Rensje Teerink told the DW on October 31, "That's because sending a credible observer mission is a very big operation. It requires a big number of observers and months of preparation. So, in budgetary terms, it's quite expensive. And it takes a lot of effort and preparation.
"We have therefore decided not to send a team this time round. That doesn't mean that we're not going to follow these elections. We will definitely be paying close attention to the developments in the country."
In 2008, the EU sent about 100 observers.
A senior EC official said the Commonwealth may send a small team. Some embassies and international organisations stationed in Dhaka may deploy some of their staffers to monitor the election process.
'DON'T TALK TO MEDIA'
EC Secretary Helal Uddin Ahmed issued a stern warning to the local election observers yesterday, asking them not to talk to the media on the voting day.
"Stand like a statue inside the polling station and observe the voting process. You cannot talk to the press no matter what," he told the briefing for the observers at the EC Bhaban in the capital.
Representatives from most election monitoring organisations were present.
Helal also asked them not to enter the polling stations with mobile phones or take any photos inside the stations.
If they find any irregularities, they can inform the EC instantly about it and can publish those in their reports. Observers must be neutral and they cannot do anything to favour any candidate, according to the EC instructions.
Also, election monitoring organisations cannot deploy any member of a political party as an observer.
At the briefing, representatives from a number of organisations    said election observers needed to keep their organisations updated during voting.
"If they cannot carry their mobile phones, how will they contact their senior officials?" asked Harun-Or-Rashid of Light House.
In response, the EC secretary said they would consider the matter.