Level playing field EC's responsibility
Quader says; countrywide Bijoy Mancha on Dec 16, says Nasim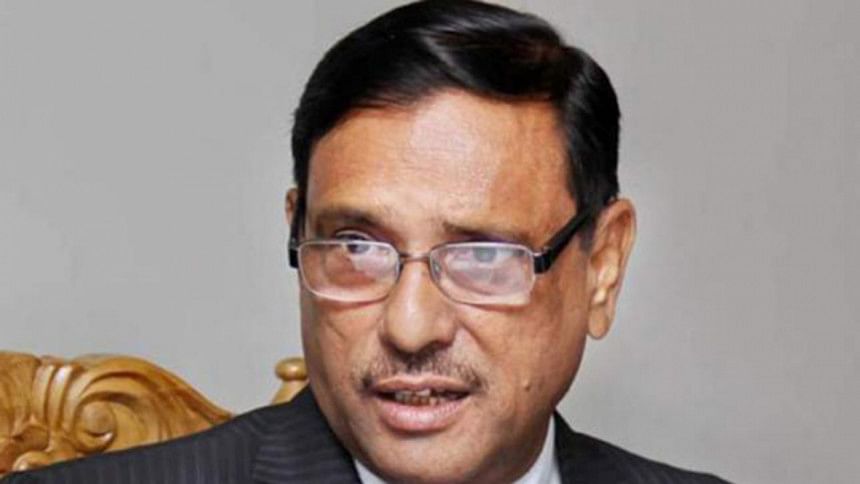 It is for the Election Commission, not for the government, to ensure a level-playing field for the election, Awami League General Secretary Obaidul Quader said yesterday.
The matter has gone to the EC's hands after the announcement of the polls schedule, he told reporters at a hotel in the capital.
 "The government has no hand in it," the minister for road, transport and bridges said.
He also said that he was the first person to ask who would be the prime minister if the Jatiya Oikyafront won the election. "I have not received an answer yet."
Reminded that some countries have expressed their concerns over the fairness of the election at a recent meeting between diplomats and Oikyafront leaders, he said, "One or two countries may raise such questions about the election.... This could be the outcome of lobbying. The BNP is spending a lot of money on lobbying."
Commenting on BNP's recent warning about boycotting the election if the atmosphere is not congenial, he said, "Do they want a congenial atmosphere? Their activities do not reflect that. They swooped on police in broad daylight." 
Referring to Wednesday's clash in Nayapaltan, he asked, "Are they now asking for a fair environment?
Asked about the clash between two factions of AL in Narsingdi that left four, including a teenager, dead and many injured on Friday, he said such incidents had been taking place in villages across the country for the last 50 years and were not connected to the AL.
BIJOYMANCHA AT ALL UPAZILAS
Mohammed Nasim yesterday said Bijoymancha would be set up at every upazila and district on December 16 to celebrate victory day.
Besides, the AL-led 14-party alliance will form teams to conduct campaigns across the country ahead of the 11th parliamentary election.
Nasim, also the health minister, was talking to reporters after a meeting with allies of the AL at the party's headquarter on Bangabandhu Avenue yesterday, reports BSS.